Antalya 2019: 6 things learned
Para taekwondo Worlds filled with surprises
11 Feb 2019
Imagen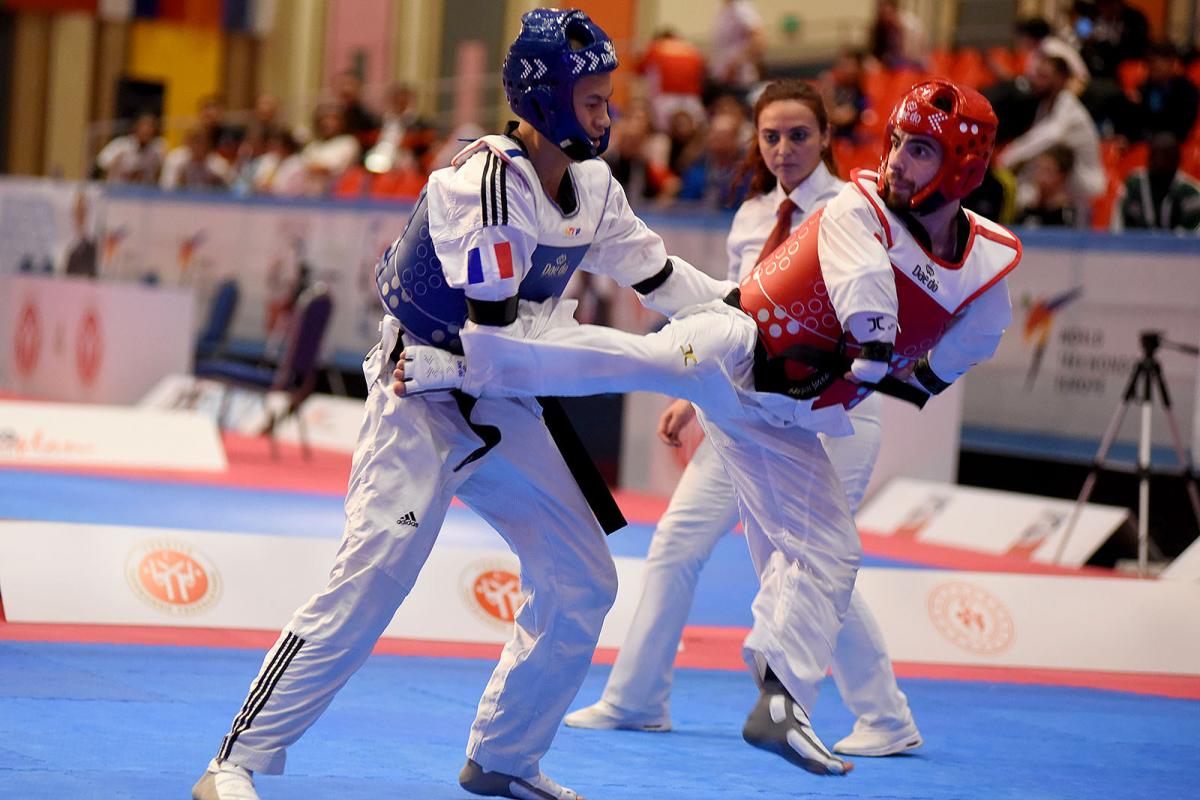 ⒸTurkey Taekwondo Federation
By Lee Reaney | For the IPC
The 2019 World Para Taekwondo Championships in Antalya, Turkey, will go down as one of the most memorable in history ahead of the sport's Paralympic debut at Tokyo 2020. Here are six reasons why:
1. WOW! moments
Fans and athletes were buzzing after the epic men's up to 61 kg K44 semi-final between Mongolia's three-time world champion Bolor-Erdene Ganbat and hometown favourite Ali Can Ozcan. In what was called "The greatest fight in Para taekwondo history," Ozcan battled back from 20 points down before falling 40-34 in a display that had fans saying: "Did you see that fight?"
Not to be outdone, Russia's* Daniil Sidorov topped Turkey's Mahmut Bozteke in another thrilling semi that left both fighters on the mat afterwards gasping for air. Ganbat would eventually top Sidorov for his fourth title.
2. Throw numbers out the window
Only one world No. 1 in the six K44 divisions won a title, and that was Ganbat. But even he was in danger of losing.
Other top-ranked fighters were not so fortunate. Iran's middleweight champion Mahdi Pourrahnama failed to win a fifth straight crown, exiting in the round of 16 – only his second loss in eight years.
Great Britain's Amy Truesdale, the defending world champion in the women's over 58 kg, failed to medal, falling to Japan's Shoka Ota.
Croatia's Ivan Mikulic, the No. 1 in the men's over 75 kg, did not even register a point at the Worlds. The 2015 world champion fell 13-0 in his first fight against Russia's Bilal Iakhiaev.
Danish dynamo Lisa Gjessing was denied her fifth straight title in the women's up to 58 kg after withdrawing from the semi-final due to injury.
Mongolia's Enkhtuya Khurelbaatar could not defend her title in the women's up to 49 kg, being disqualified for a head kick in the final.
3. Paralympic hosts could party
Japan sent just three fighters to the last Worlds in 2017, with pioneer Chikara Ito's quarter final finish being their best result.
Less than 18 months later, the nation returned home with its first World Championships medals and plenty of hope for 2020.
Shunsuke Kudo secured arguably the biggest upset in the sport's history by beating legend Pourrahnama by a golden point. He went on to qualify for the semis, where he fell to eventual champion Juan Diego Garcia Lopez from Mexico.
Later, teammate Ota stunned Truesdale. Down by two points with less than 10 seconds to go, Ota came back to win by golden point.
Both fighters won bronze – Japan's first world medals in Para taekwondo.
Mitsuya Tanaka reached the round of 16 in the men's up to 75 kg K43. Kenta Awatari nearly upset Canadian silver medallist and tournament MVP Anthony Cappello in the men's up to 61 kg K43.
4. Diversity in winners
World champions in the 12 Paralympic-affiliated divisions came from 10 different countries, while 22 different nations won medals.
The Americas have their first world champions in Mexico's Lopez and Brazil's Debora Menezes.
Thailand won their first title, with Khwansuda Phuangkitcha topping the women's up to 49 kg K44.
Matt Bush also became the first man to win a world title for Great Britain – in both Paralympic and Olympic competitions – after surprising the men's over 75 kg K44.
5. Lima 2019 preview
The sport will also make its Parapan American Games debut this August in Lima, Peru.
Cappello was impressive in knocking off Spain's Alejandro Vidal Alvarez – winner of four of the last five Worlds – on his way to a silver in Antalya.
The USA will also hope to get back on track. After failing to win a title as Pan Am Championships host last year, they were also left disappointed in Turkey, where a pair of No. 2-ranked fighters fell early. Evan Medell was upset in the men's over 75 kg K44 quarter final, while Brianna Salinaro could not manage to get out of the women's up to 58 kg K44 in the round of 16.
Both fighters will look for redemption at Lima 2019.
6. Tokyo thriller to come
After eight editions, these World Championships were filled with upsets, crazy comebacks and dazzling performances.
It was one of the most unpredictable and historic Worlds, and perhaps that was due to the stakes being high ahead of taekwondo's Paralympic debut at Tokyo 2020. The Games' newest sport will certainly be thrilling to watch.
*Editor's note: The International Paralympic Committee suspended the Russian Paralympic Committee on 7 August 2016 for its inability to fulfil its IPC membership responsibilities and obligations, in particular its obligation to comply with the IPC Anti-Doping Code and the World Anti-Doping Code (to which it is also a signatory). As a result of the suspension, Russian athletes cannot enter IPC sanctioned events or competitions, including the Paralympic Games