Antalya 2019: Day of upsets at taekwondo Worlds
World No. 1s falter on opening day of tournament
06 Feb 2019
Imagen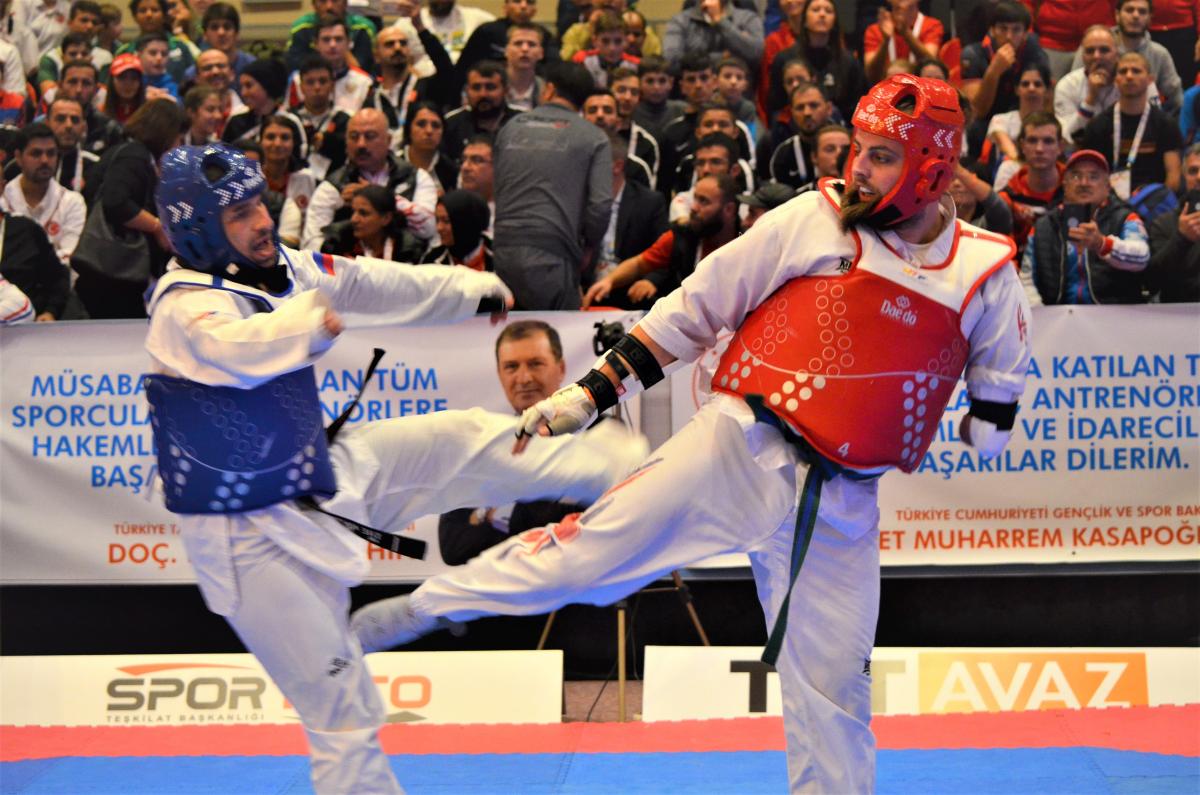 ⒸLee Reaney
By Lee Reaney | For the IPC
Favourites fell, new nations emerged and new world champions were crowned on a wild first day (5 February) of the 2019 World Para Taekwondo Championships in Antalya, Turkey.
Unexpected wins for Great Britain's Matt Bush (men's over 75 kg K44) and China's Yujie Li (up to 58 kg K44) highlighted Tuesday's action. Neither were ranked in the top 10 in the world and picked up the sport less than two years ago.
Shock of the day
One of the sport's biggest stars in Denmark's Lisa Gjessing was forced to withdraw in the women's up to 58 kg K44, opening the floor to a new world champion.
That person would be China's Yujie Li. In her first international competition, Li looked strong in upsetting home favourite Gamze Gurdal and Mexico's Jessica Garcia Quijano. Those victories advanced her to face Serbia's Marija Micev, also appearing in her first international final, with Li taking home the top honour.
For Gjessing, who had been undefeated prior to Tuesday, the result was unexpected. The Danish fighter was forced to withdraw from her semi-final match after re-injuring the arm she broke while winning her fourth European Championship last June.
"We're Para taekwondo fighters – we know pain," said Gjessing. "But this was different."
After x-rays came back negative, the Dane speculated that pins in her arm from her last surgery might be covering a fracture. She is expected to miss up to nine months.
'Sleeper' in men's heavyweight
Matt Bush had a tricky path to becoming Great Britain's newest world champion. He had to get by Iran's No. 3-ranked, two-time world champion Asghar Aziziaghdam and Russia's* 2015 Worlds runner-up Zainutdin Ataev, the latter in a thrilling golden point title fight.
He had an unusual routine before his final. But it appeared to work well.
"There was a long delay before the fight, so I took a nap," Bush said.
Adding to the tournament shockers, the men's over 75 kg saw also its world No. 1 Ivan Mikulic from Croatia and Russia's No. 4 Aliskhab Ramazanov out before the quarter finals.
Thailand has a world champion
Thailand's Khwansuda Phuangkitcha emerged as one of the strongest fighters in the women's up to 49 kg K44. She captured her second international title in just her third tournament, becoming her country's first world champion in the process.
She shocked Turkey's No. 2-ranked Meryem Betul Cavdar in the first round, before getting by Azerbaijan's Royala Fataliyeva in the semi-final. Fataliyeva had an upset of her own, surprising Mexico's world No. 3 Claudia Romero in her quarter final fight.
Phuangkitcha capped her first Worlds after Mongolia's top-ranked Enkhtuya Khurelbaatar was disqualified for an illegal kick.
Upsets continue
In a sign that parity has reached the top end of the divisions, new faces from new places shocked their more experienced opponents.
There was no shortage of top-ranked fighters who failed to live up to pre-tournament expectations. Only three of 15 top-five seeded fighters in the K44 divisions made it to the semi-finals; four top-five seeds did not make the quarter finals.
The women's up to 58 kg saw defeats for USA's world No. 2 Brianna Salinaro and Turkey's No. 4 Gamze Gurdal in the round of 16.
Dominant performances in K43
In contrast, Ukraine's Vika Marchuk showed why she is the top fighter in the women's up to 49 kg K43 division with a dominant 20-point win for her sixth world title.
Turkey's Mehmet Vasif Yakut was one of the other few favourites who lived up to expectations, winning the men's over 75 kg K43 division. He outscored his opponents 42-2 in two fights.
Action resumes on Wednesday (6 February) with the men's up to 75 kg K44, men's up to 61 kg K44, and women's over 58 kg K44.
*Editor's note: The International Paralympic Committee suspended the Russian Paralympic Committee on 7 August 2016 for its inability to fulfil its IPC membership responsibilities and obligations, in particular its obligation to comply with the IPC Anti-Doping Code and the World Anti-Doping Code (to which it is also a signatory). As a result of the suspension, Russian athletes cannot enter IPC sanctioned events or competitions, including the Paralympic Games