Antalya 2019: History made on final day
Fighters from Mexico and Brazil stun at Taekwondo Worlds
07 Feb 2019
Imagen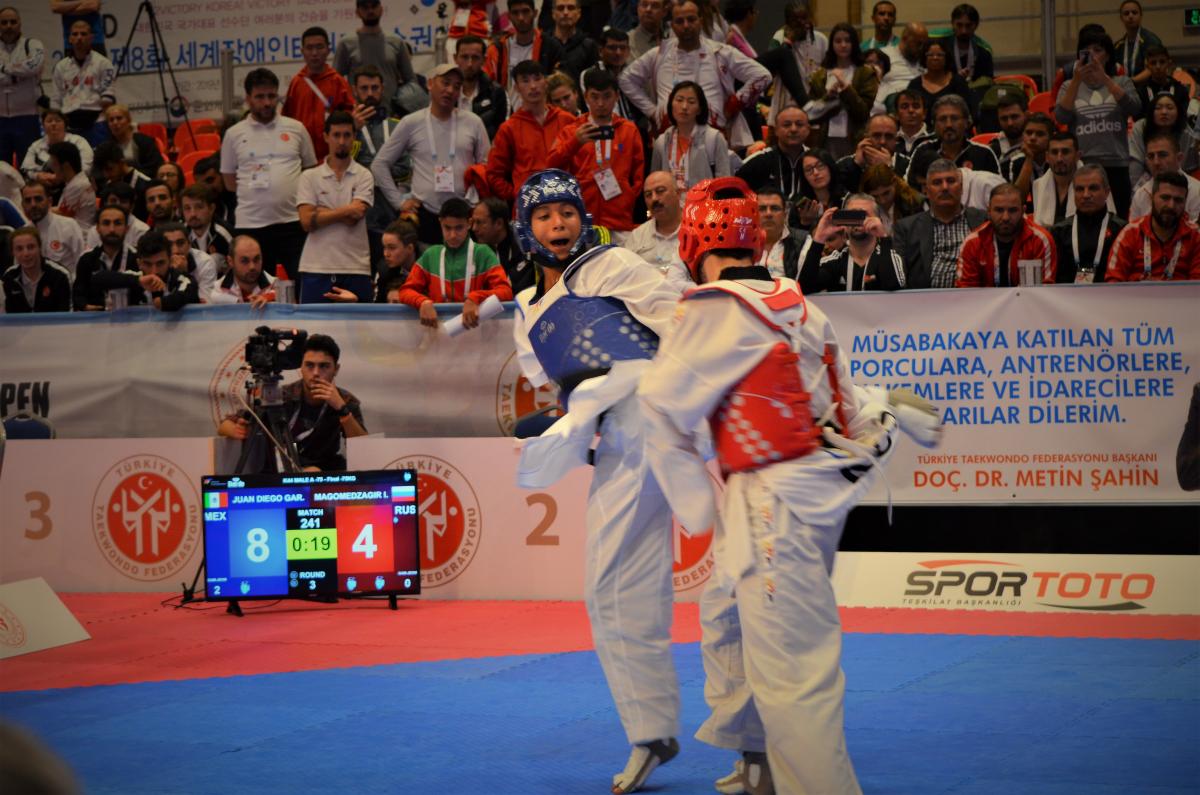 ⒸTetyana Kushch
By Lee Reaney | For the IPC
If day one was wild, then the second and final day of the 2019 World Para Taekwondo Championships was just plain crazy, as competition concluded on Wednesday (6 February) in Antalya, Turkey.
Mexico's Juan Diego Garcia Lopez and Brazil's Debora Menezes surprised with unexpected world titles in the men's up to 75 kg K44 and women's over 58 kg K44, respectively.
They made a statement not only for the sport's Paralympic debut at Tokyo 2020, but also for August's Parapan American Games in Lima, Peru.
'Just wow'
Ranked No. 6 in the world entering Antalya, Lopez capped a remarkable tournament with a confident 8-4 victory over Russia's* No. 3 Magomedzagir Isaldibirov.
"It was difficult to deal with the techniques from the new athletes," Lopez said. "They were quite a surprise."
His team staff were just as elated.
"The [Mexican federation] President is very happy with Juan's win," said team chair Veronica Sanatana Rangel. "He's just shocked. Just wow."
The division's favourite, and perhaps the World Championships' strongest athlete, in Mahdi Pourrahnama from Iran was out in the round of 16. The world No. 1 had lost one fight in the last eight years and won four straight world titles. But that came to an end in Turkey, as he fell to the kicks of Japan's Shunsuke Kudo.
Brazil brings it
Menezes captured Brazil's first Para taekwondo world title with a clinical 7-3 win over Uzbekistan's Guljonoy Naimova.
"I can't find words to express how it feels," Menezes said. "I just want to share this with all the people working with me from the beginning."
But her golden title almost did not happen. She needed a last-second score to squeeze past Nepal's Palesha Goverdhan in her first fight.
"I almost didn't make history," Menezes said.
The women's over 58 kg K44 division saw its favourite fall in the quarter final.
Great Britain's 2017 world champion Amy Truesdale failed to replicate teammate Matt Bush's success from Tuesday. Despite leading with less than 10 seconds to go in her fight, Truesdale could not hold off Japan's Shoka Ota.
"I just needed to finish it off," Truesdale said. "But my congratulations to Debora on a well-earned victory [in the gold medal match]."
Not all fell
Mongolia's Bolor-Erdene Ganbat was one of the few top-ranked athletes to survive the wild Worlds.
He won his fourth straight world gold after getting by Russia's No. 3-ranked Daniil Sidorov in an entertaining final in the men's up to 61 kg K44.
Turkey's Ali Can Ozcan gave Ganbat an early fight for his gold, as he rallied from 20 points down in the semi final before falling 40-37.
On the K43 side, France's Bopha Kong breezed through the division to pick up his fourth world title – and first since 2015.
"We trained very hard for this," said Kong. "It was important to not leave again without the gold medal [like in 2017]."
But there is always more work.
"[Thursday] morning, we train at 6am," said his coach Oury Sztantman with a smile. "Well, maybe on Friday."
Rise of Japan
Both Ota and Kudo shocked the world's No. 1 seeds in their respective divisions with stunning golden point victories. And both went on to win bronze medals.
The 2019 result was a huge improvement for the Tokyo 2020 hosts. Japan had one fighter competed at the 2017 Worlds.
Kudo lost his hand just a couple of years ago and picked up the sport just last year. Ota started in 2016, well after Para taekwondo was named a Paralympic sport.
Both are now world championship medallists.
*Editor's note: The International Paralympic Committee suspended the Russian Paralympic Committee on 7 August 2016 for its inability to fulfil its IPC membership responsibilities and obligations, in particular its obligation to comply with the IPC Anti-Doping Code and the World Anti-Doping Code (to which it is also a signatory). As a result of the suspension, Russian athletes cannot enter IPC sanctioned events or competitions, including the Paralympic Games