Basel boost gives Suter-Erath big dreams for third Games
Impressive performance at home World Champions makes Swiss player set sights on Tokyo 2020
18 Sep 2019
Imagen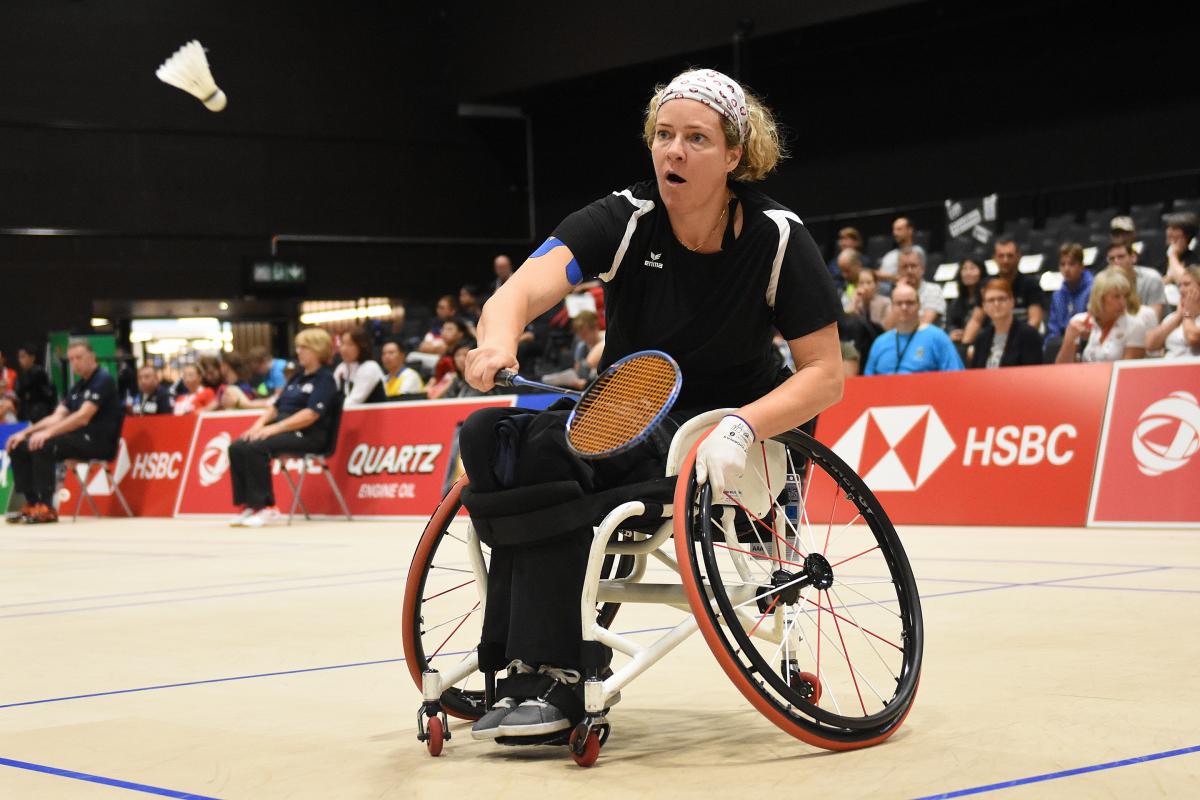 By Amp Media | For the IPC
Para badminton star Karin Suter-Erath is targeting a third Paralympic Games appearance in Tokyo next summer after an impressive show recent home World Championships in Switzerland.
The No.2 seed for the women's singles WH 1 at Basel 2019, Suter-Erath advanced to the semi-finals without losing a game before bowing out to eventual winner Sarina Satomi of Japan. 
"It's been amazing. The World Championships is always fantastic and with it being held together with the able-bodied players' event and at home, it's really unbelievable," said the Swiss shuttler following her matches in Basel, her hometown.  
Suter-Erath remained a visible and popular figure inside the St Jakobshalle, which is located less than a one-hour car drive from her current home in Wettingen, east of Basel. 
At one point during day two of competition, the 48-year-old sports teacher found herself surrounded by schoolchildren in the waiting area for the wheelchair hall, signing countless shirts and autographs. 
"So many people are coming to support me, it's a big motivation and I love it," she said. "Obviously this is not daily business for us. It's nice, cute that they're so interested."
For almost ten years from the age of 17, the sport that Suter-Erath was hooked on was handball. She played for top-level clubs in Basel and Lucerne in Switzerland, and in Madrid in Spain. 
But then came the accident in 1997 which left her paralysed from the waist down and in need of a new outlet for her obvious sporting talents. 
"I tried out different wheelchair sports in rehabilitation," she said. "I love basketball, tennis, anything with balls. I liked badminton even then, but the structure was not that good. It wasn't in the Paralympics and there were not many tournaments. 
"Tennis was much more organised plus my husband, whom I met in 1998, already played wheelchair tennis. I started to do both and then I decided to switch to only tennis."
The decision reaped dividends. At the Athens 2004 Paralympic Games, Suter-Erath won the bronze medal for Switzerland in the women's doubles alongside Sandra Kalt. 
By 2006 she had reached a career-high of No.6 in the world singles rankings, and in 2008 she qualified for a second Paralympic Games appearance in Beijing, where she was knocked out in the last 32. 
After retiring from competitive tennis soon after, Suter-Erath said she was she approached about a possible move into competitive Para badminton, during the build-up to the 2010 European Championships in Switzerland.
She was certainly no stranger to the sport at the highest level. 
"I first competed in Para badminton at the [inaugural] World Championships in Amersfoort in the Netherlands in 1998," reveals Sandra Kalt adding, "Not many people know that - I went almost directly from rehabilitation to a world championship. So, when they asked me if I would play with my mixed doubles partner from 1998, I started to train again."
Suter-Erath was impressed by what she found. 
"The sport had become bigger, better and more organised," she said. "And then in 2014 there was the decision that it would be included in the Paralympics programme. I decided that I wanted to go for that one, one more time." 
The Swiss star is now focussing her efforts on making the grade for Tokyo 2020. 
"This is the main event. I've already played in two Paralympic Games with tennis, and it's just so different to everything else. 
"The Paralympics is what we are doing everything to be a part of, so I just hope I can come through the qualification to compete in Tokyo."
Suter-Erath fared less well in the doubles at Basel 2019, losing in the quarter-finals of the mixed with partner Luca Olgiati, and going out at the same stage of the women's doubles after an epic three-game battle with Henriett Koosz of Austria and Marcela Quinteros of Spain.