Beijing 2022: Takeaways from Para snowboard
Host nation dominates action at Genting Snow Park but watch out for Canada and athletes with names starting with M
12 Apr 2022
Imagen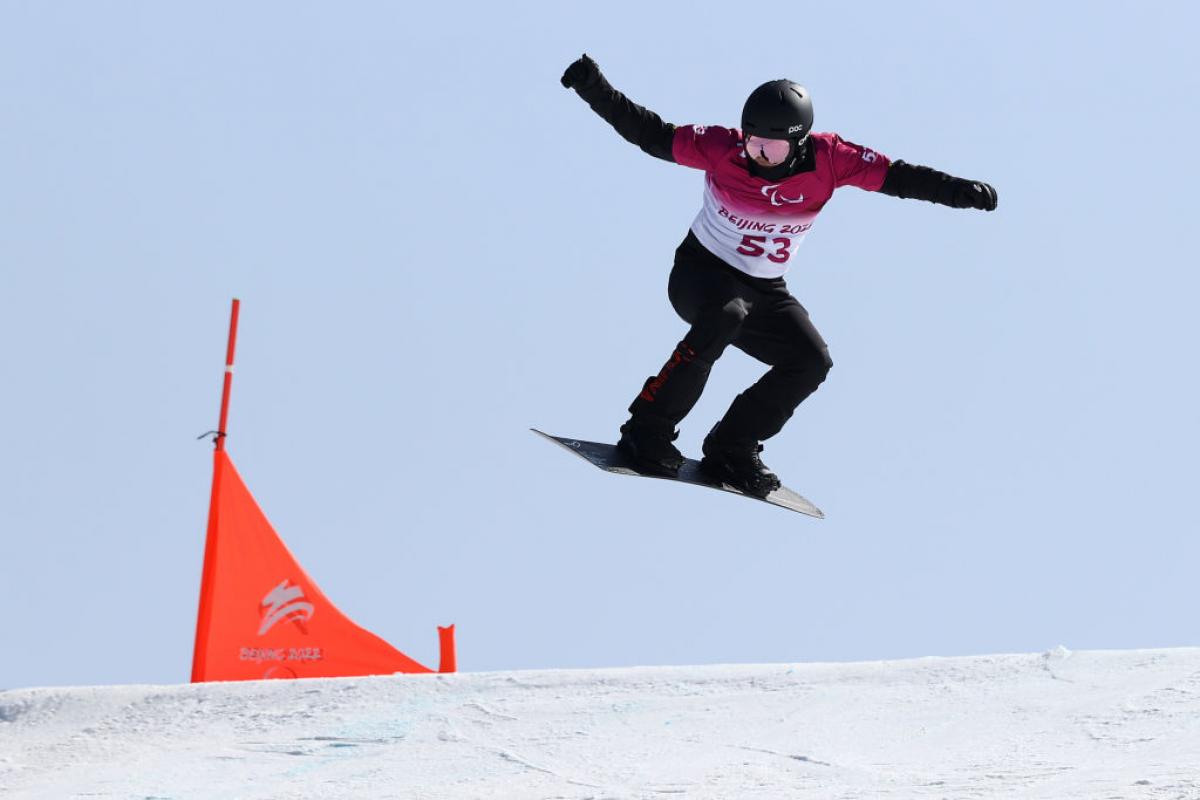 ⒸMichael Steele/Getty Images
By Aurore Gander | For World Para Snow Sports
It has been a month since the Para snowboard action wrapped up at the Bejing 2022 Paralympic Winter Games.  
 
Time to look at the main takeaways from Genting Snow Park in Zhangjiakou. 
CANADA'S TURN
Canada had not picked up a single medal in Para snowboard until the Games in China where its athletes returned home with one medal of each colour. 
Only four years after starting the sport, Tyler Turner became the first Canadian athlete to win a Paralympic medal in snowboard in the men's snowboard cross SB-LL1. And, obviously, the first golden one.
Turner underwent an amputation of both legs after a skydiving accident in 2017. Before that, he practised snowboard since a young age and decided to follow his passion. Beijing 2022 was his first Games and he arrived as the world champion from Lillehammer, Norway in January 2022. 
His second podium came with the bronze in the men's banked slalom SB-LL1. Fellow Canadian Lisa Dejong added a silver medal to the list in Beijing, becoming the first female rider from her country to be on the podium at the Winter Paralympics.  
…UNLESS YOUR NAME STARTS WITH 'M'
If your name started with an "M" and your country's name with an "F" chances were that you would be on the Para snowboard podium at Beijing 2022.
Frenchman Maxime Montaggioni finally took his Paralympic gold medal after an injury at a PyeongChang 2018 training session prevented him from competing in those Games. 
Montaggioni defeated Chinese Lijia Ji to in the men's banked slalom SB-UL to claim the only title he missed in his impressive prize list.
"I can't believe it. It's incredible. I knew that I could go for a medal but a gold medal is incredible," said Montaggioni after his triumph. 
Finland's Matti Suur-Hamari was the most successful rider in China – the only one to take a gold and a silver in Para snowboard. He began by defending his men's snowboard cross SB-LL2 title and later finished second in the banked slalom SB-LL2.
… AND THE CHINESE GIANT AWAKENS
China made its Para snowboard debut at the PyeongChang 2018 Games with four riders and a ninth place as the best finish. Four years later, they emerged as the No.1 force in the sport. 
The host nation picked up 10 medals at Genting Snow Park, including three golds: Zhongwei Wu in the men's banked slalom SB-LL1, Qi Sun in the men's banked slalom SB-LL2 and Lijia Ji in the men's snowboard cross SB-UL. 
That particular race had all four finalists coming from China, ending in a podium sweep.
Yanhong Geng and Tiantian Li were the first female riders from China to bag a medal at the Winter Paralympics. Geng took silver and Li the bronze in the women's banked slalom SB-LL2. 
Watch out for them at Milano Cortina 2026!