Bochet, Bugaev secure five gold sweep at Panorama 2015
A series of surprise results mark the last day of the 2015 IPC Alpine Skiing World Championships as a challenging course claims world and Paralympic medallists.
11 Mar 2015
Imagen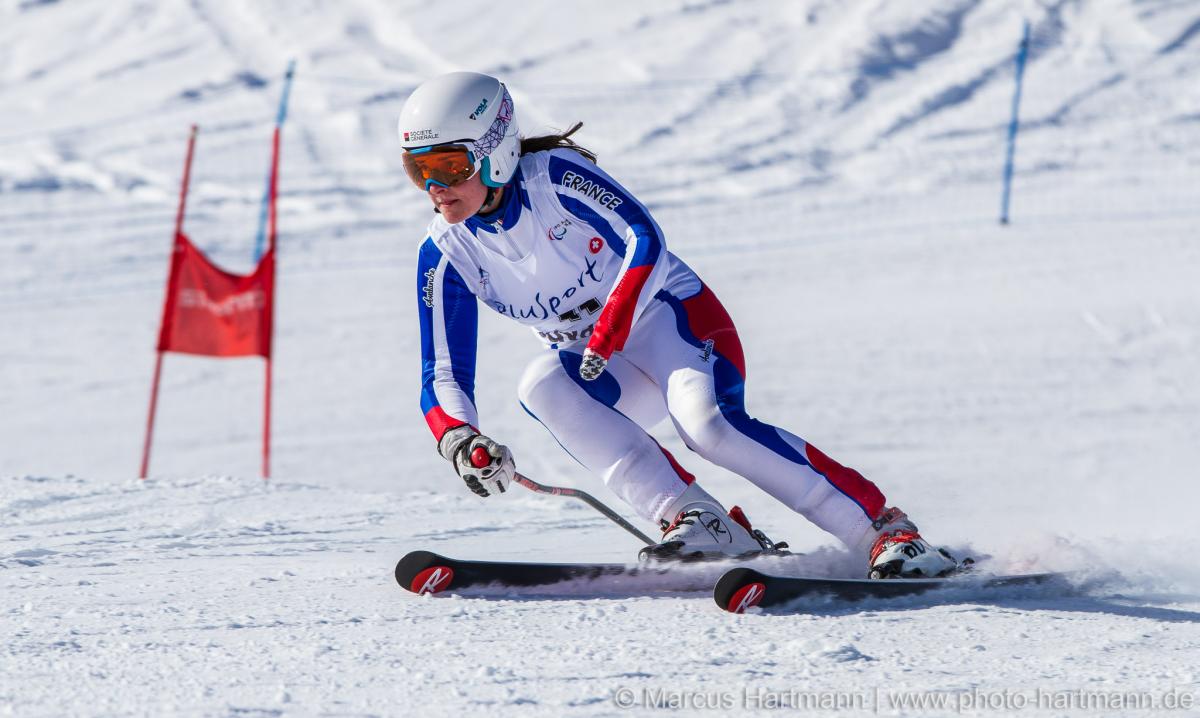 ⒸMarcus Hartmann
By IPC
"I was a little nervous maybe because it was the first slalom in the big event since Sochi and I just wanted to be the world champ. I am very happy to do very nice skiing in the second run."
France's Marie Bochet created history on Tuesday (8 March) by becoming the first skier ever to win gold in all five disciplines at back-to-back IPC Alpine Skiing World Championships with victory in the slalom on the final day of competition in Panorama, Canada.
In 2013 Bochet claimed all five world titles in women's standing events in La Molina, Spain, but this year the 21-year-old was not alone in completing a clean sweep; Russia's Alexey Bugaev also remained undefeated in all five of his men's standing races.
On a thrilling final day of competition there was a dramatic reversal of the events that unfolded at Sochi 2014 one year ago; Germany's Paralympic champion Andrea Rothfuss fell in the first run of the women's standing leaving the door open for Bochet (1:58.67).
With her 11th consecutive world title in sight, Bochet, who crashed out of this event in Sochi, did not make it easy for herself. Trailing Russian silver medallist Mariia Papulova (2:04.22) after the first run by just 0.01 seconds, Bochet left it all on the hill with a 55.81 fastest second run to take the victory.
"It's been a very difficult day. It's not so easy, the first run was very icy and I didn't find the right route and maybe I didn't really wake-up!" Bochet said. "I was a little nervous maybe because it was the first slalom in the big event since Sochi and I just wanted to be the world champ. I am very happy to do very nice skiing in the second run."
Bronze was taken by Romanian Laura Valeanu (2:09.55) for her first major international medal.
Bugaev (1:39.05) claimed his own clean sweep in the men's standing with another solid performance.
"I am really happy," the 17-year-old said. "Yes it was hard but I like it when I win medals. It was a good day for Russia because we have three golds today."
Teammate Alexander Alyabyev (1:46.15) finished in second whilst Canada's Matt Hallat (1:47.86) rounded-off a great competition for the hosts, winning their third medal with bronze. It was also the last race of Hallat's career at 30-years-old.
"I don't think it's hit me yet really," Hallat said. "I knew what I had to do here, I've trained this hill in so many different conditions and I did what I had to do and thankfully it was enough. I knew just to trust my process."
Austria's Claudia Loesch (2:03.28) took the last gold on offer in the women's sitting, leading to her third title of the competition against German silver medallist Anna Schaffelhuber's two.
"It was incredibly difficult today because of the conditions especially in the first run," Loesch said. "But I skied strategically and very good on the lower parts – it was great today.
"That is what ski-racing is supposed to be – a few girls really fighting for it and trying to make the best of it."
Loesch went faster than 2013 world and Paralympic champion Schaffelhuber (2:03.38) by just 0.10 seconds overall.
Schaffelhuber's Sochi 2014 silver medallist teammate Anna-Lena Forster (2:04.31) held on for bronze after posting the fastest time in the first run.
The challenging course claimed a series of Paralympic and world medallists in the men's sitting. However Japan's Paralympic champion Takeshi Suzuki (1:47.93) was masterful in his first and second runs, laying down the two fastest times to win Japan's first gold.
"I am very happy. It was hard and very icy," Suzuki said.
His teammate Taiki Morii (1:53.67) repeated his performance from 2013 with silver and Germany's Thomas Nolte (1:55.38) helped secure Germany's third place in the medals table with bronze.
The women's slalom visually impaired was won by 2013 silver medallist Aleksandra Frantceva (2:03.31) and guide Semen Pliaskin after the two fastest runs. Australia's Melissa Perrine (2:04.50) completed a 100 per cent podium record in all events with guide Andrew Bor in silver. Great Britain's Millie Knight (2:13.81) won her second medal with bronze, guided by Jen Kehoe.
Russia's Paralympic champion Valerii Redkozubov (1:47.71) and guide Evgeny Geroev won the men's equivalent for their second gold, following on from their giant slalom triumph on Sunday (8 March).
Slovakia's Miroslav Haraus (1:48.90), guided by Maros Hudik, led Spain's Jon Santacana (1:53.05) and guide Miguel Galindo onto the podium.
At the end of five days of intense competition, Russia finish at No.1 in the medals table with 19 medals in total consisting of 10 gold, four silver and five bronze. France finish second with five gold, one silver and one bronze and Germany third with four gold, six silver and three bronze.
Panorama 2015 has featured over 100 athletes from 23 countries in the biggest gathering of alpine skiers since the Sochi 2014 Paralympic Winter Games.
Official results are available at IPC Alpine Skiing's website.
Images from each day will be available at the IPC's Flickr page. Media wishing to receive high resolution images should contact [email protected].
Broadcast interviews will be available from a selection of winning athletes on each day. For access please contact [email protected].