Brazil hungry for more goalball success
Men's team preparing for Americas Regional Championships.
12 Jun 2017
Imagen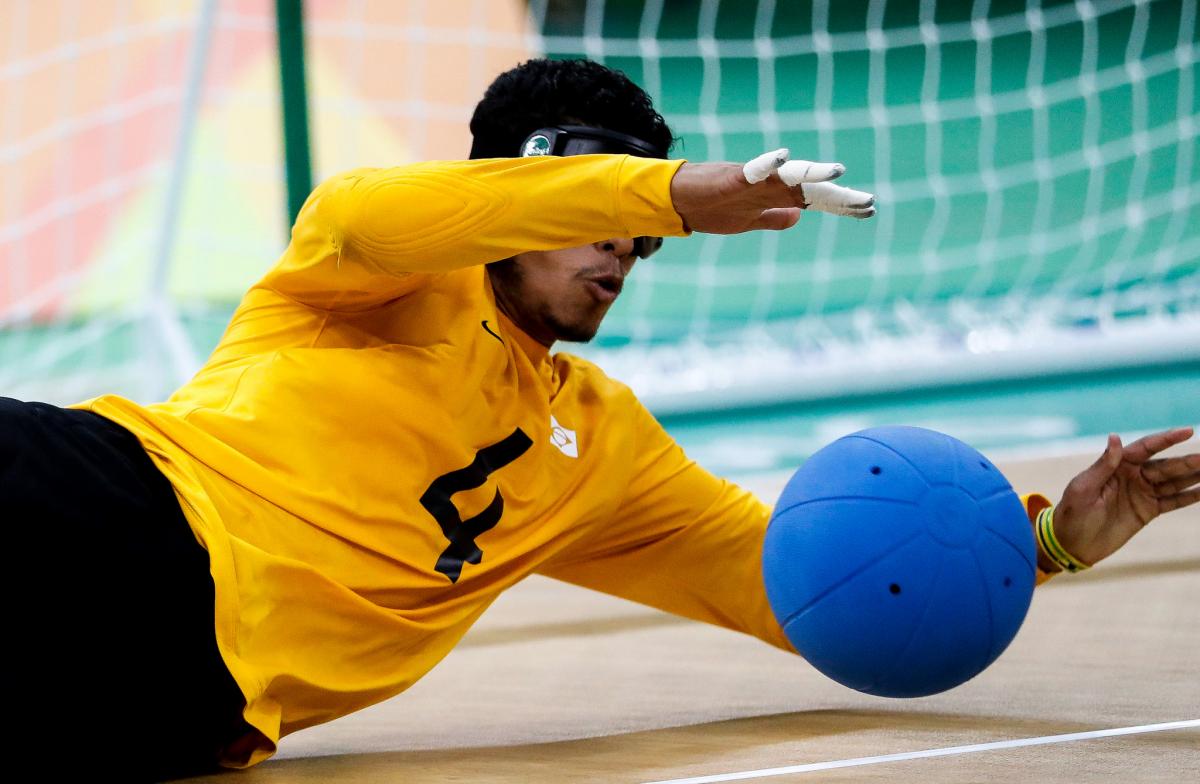 ⒸWashington Alves/MPIX/CPB
By Sean Cartell | For the IPC
"I'm sure good results are the goal of every person related to goalball in Brazil. Nothing is better than a united nation with the same purpose."
It would be easy for Brazil men's goalball to rest on its successes, which have included the first two Paralympic medals in the sport in the country's history in back-to-back Games.
But Brazil, led by standout Leomon Moreno, is doing just the opposite as it prepares for the 2017 IBSA Americas Regional Championships in Sao Paulo this November and, ultimately, for the 2018 IBSA Goalball World Championships in June 2018, less than one year away in Malmo, Sweden.
"After a great competition, there is always a resting break," Moreno said. "However, we have been training since January, aiming for the 2018 World Championship. In this year, there is a very important event for our preparation – the IBISA Parapan. Before that championship, we will be doing our regular preparation, but for sure, we are always trying to innovate and be different. Because if a team does not look for these evolutions, it ends an easy target for opponents and will not succeed in the next events."
Evolution has been a life-long quest for Moreno, who has starred for Brazil since the London 2012 Paralympic Games, helping his country to the silver medal – the first Paralympic medal in its history. At the Rio 2016 Paralympic Games, Moreno led his team with 27 points. The successes in Rio – on the biggest stage – last year, has brought increased confidence to he and his teammates, who are prepping for their next challenges.
"I believe our nice performance in Rio brought more confidence and the idea that we are one of the best teams in the world," Moreno said. "Then, we will arrive far more mentally strong as a team to face any opponent we play against."
It was a journey that began at the age of seven for Moreno, who was born with the degenerative eye disease, retinitis pigmentosa. He dabbled in various sports and athletics, but ultimately decided to focus on goalball, a sport practiced by his brothers.
Moreno has achieved his sport's highest honours, leading Brazil to the gold medal at the 2014 World Championships and the 2015 Parapan American Games. It has been an accomplishment that he hopes inspires many others in his native Brazil.
"I hope that I inspire them to want to train hard, play strong to reach the podium top and make them feel the goal-accomplishment sensation, something that is irreplaceable for an athlete," Moreno said. "The feeling we are representing people from our country makes me always keep my preparation. I attribute my success to my effort, my trainings, my brothers, my teachers and to my team partners. Without all this, I would not be an athlete."
Moreno's team are striving to be innovative in their preparations, but it is the constant emphasis on the basics that they believe will bring continued achievement.
"I like to work a lot as a team and I believe achieving good results is the wish of all Brazilian athletes through hard training, teamwork and focus," Moreno said. "I'm sure good results are the goal of every person related to goalball in Brazil. Nothing is better than a united nation with the same purpose."
The emphasis on representing their country is an intrinsic value as important to Brazil Goalball as any tactics and preparation. In fact, Moreno and his teammates see that patriotism as central to achieving their goals.
"The athletes need to keep training and get ready to fight for their country," Moreno said. "They must not allow the patriotic feeling to die, [they must] keep the effort and gain more investment from Brazilian Paralympic sport organisers."