Brazil renews partnership with three Latin NPCs
Under the agreement, the CPB will continue helping NPC Chile, Ecuador and Peru develop in Para sport.
21 Mar 2017
Imagen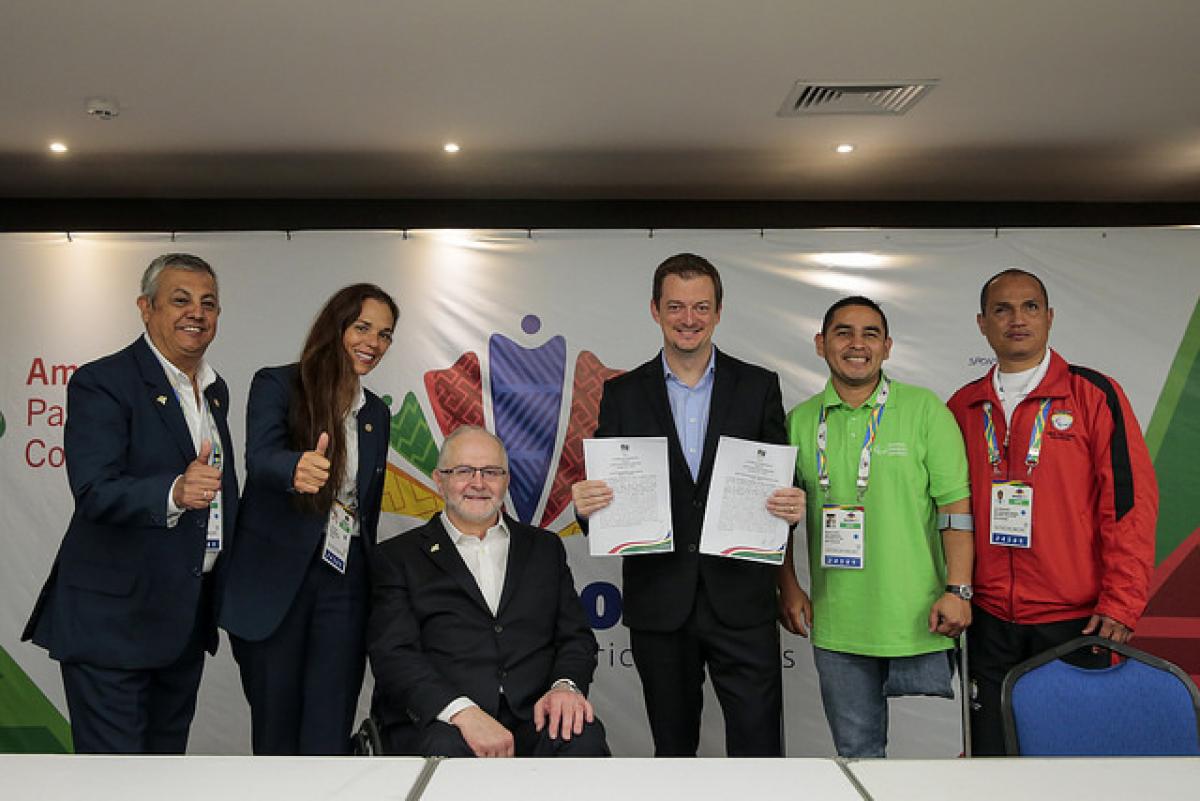 ⒸALAOR FILHO/CPB/MPIX
By CPB
The Brazilian Paralympic Committee (CPB) renewed a partnership agreement with the National Paralympic Committees (NPCs) of Chile, Ecuador and Peru, during a ceremony at the 2017 Youth Parapan American Games in Sao Paulo, Brazil.
Under the terms of the agreement, the CPB will continue exchanging information, and technical and organisational knowledge with the other three NPCs to help them develop in various areas. The partnership will also see Brazilian coaches, classifiers and technical officials help train Chile, Ecuador and Peru's professionals and athletes.
"Cooperation is in the DNA of the Brazilian Paralympic Committee," said CPB President Andrew Parsons. "Over the last 15 years, we have grown a lot, but it is important to share this with the whole world, and especially with our neighbours.
"That is the reason why we are very happy to renew this corporation agreement, where we are only formalising a friendly relationship we already have."
Professionals working in Para sports in Chile, Ecuador and Peru will also travel to Brazil to learn from the Rio 2016 hosts.
"Our aim is to help them become self-sustainable so that they can reach a very good level in the near future," Parsons said.
"To sign this agreement is a pleasure, an honour and an expression of friendship amongst the countries. We compete against each other on the field of play, but outside of it we are all friends."
Lucha Villar, President of NPC Peru, said: "It is so important to sign this agreement with the CPB. Brazil is a role model for the rest of the NPCs.
"They have been supporting us for some time already and have helped us develop the Paralympic Movement in Peru."
-------------
The 2017 Youth Parapan American Games will run until 25 March and feature a record over 800 athletes from 19 countries.
The 12 sports at Sao Paulo 2017 are athletics, boccia, football 5, football 7, goalball, judo, powerlifting, sitting volleyball, swimming, table tennis, wheelchair basketball and wheelchair tennis.
The last edition at Buenos Aires 2013 attracted more than 600 athletes from 16 countries, who competed across 10 sports. Brazil topped the medal table and 15 countries reached the podium at least once.
Barquisimeto, Venezuela, staged the inaugural edition in 2005, with athletes from 10 countries competing, whilst a total of 14 countries attended the event in Bogota, Colombia, in 2009.
For more information visit Sao Paulo 2017's website.