Central Asian nations to attend OCP training workshop
With support from Toyota, five Central Asian nations will learn more about how to develop Para sports.
23 May 2017
Imagen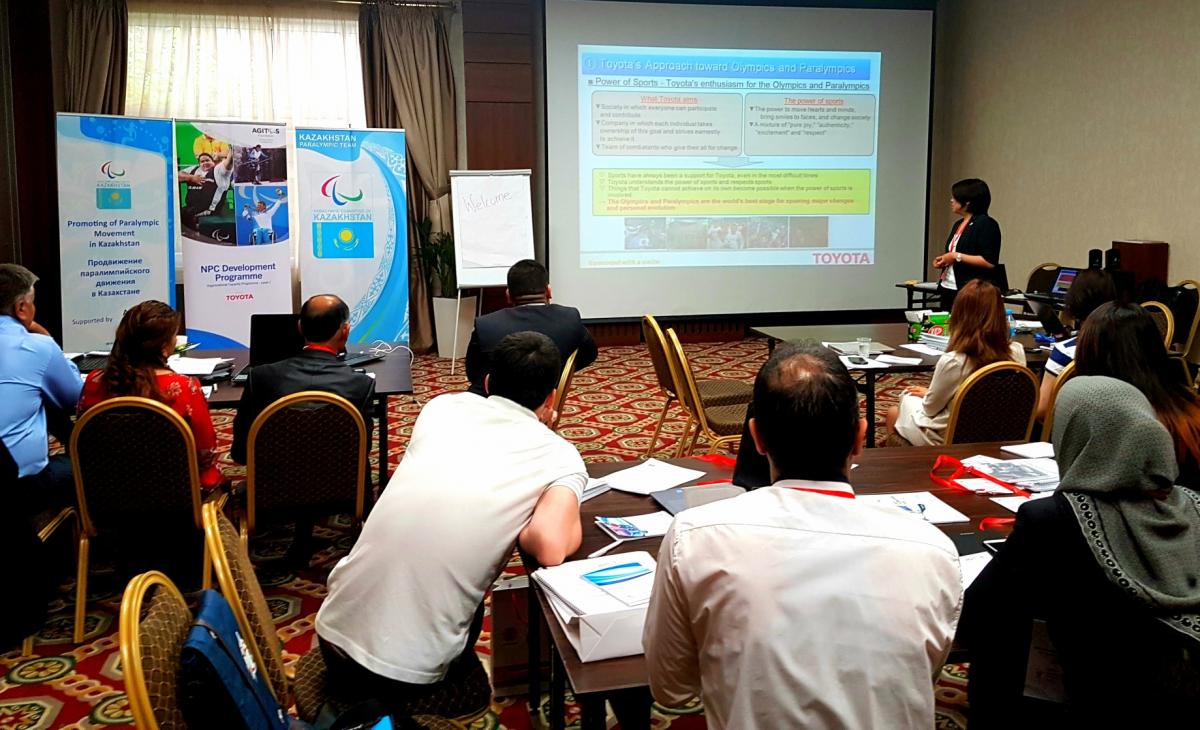 "This training has shown how impressive leaders are, how great their potential is to development and promote IPC values in the region"
Five Central Asian National Paralympic Committees (NPCs) will receive valuable training on Para sport development from a four-day workshop organised by the International Paralympic Committee's development arm, the Agitos Foundation, with support from Worldwide Partner, Toyota.
Two representatives each from the NPCs of Iran, Kyrgyzstan, Tajikistan, Turkmenistan and Kazakhstan, will attend training sessions from Tuesday (23 May) in Astana, Kazakhstan, as part of the Agitos Foundation's Organisational Capacity Programme (OCP). The OCP is designed to strengthen NPCs in focus areas: governance, marketing and athlete development, and enable them to strengthen athlete development and diversify their funding streams.
Toyota's support for this workshop includes the presence of a representative from their Global Activation Group who will be on hand to observe and learn about the OCP, NPCs and the Paralympic Movement.
Sir Philip Craven, IPC President, said: "It is exciting to see how committed Toyota are to the development of the Paralympic Movement. Since becoming a Worldwide Partner in 2015, they continue to seek out ways to support all NPCs.
"Their support of the OCP will go a long way toward strengthening smaller NPCs as they aim to develop Para sport in their nations.
"The NPC of Kazakhstan has also shown great support and collaboration with the Agitos Foundation in getting the workshop going, and I am confident all participants will take back to their home nations useful knowledge and skills that will benefit the Movement in the long-run."
Two Programme Leads – one from the NPC leadership and the other from the younger generation who is engaged in their country's Paralympic Movement – from each NPC will receive training that will prepare them for their ultimate role in conducting similar workshops in their own nations.
"Engaging in the first ever training in Kazakhstan establishes a dialogue, trust and mutual cooperation among participating states," Kairat Boranbayev, President of NPC Kazakhstan, said. "All five central Asian countries must co-operatively develop solid strategies to promote Paralympic Movement. This training has shown how impressive leaders are, how great their potential is to development and promote IPC values in the region."
The first day of the workshop will inform participants more about the OCP's three focus areas. Over the next two days, they will learn how to improve facilitation skills with support from the IPC Academy educators. . On the final day, they will plan the national OCP implementation to achieve tangible outcomes.
After the workshop, the Programme Leads will take what they have learned to conduct three OCP national workshops within a time frame of 18 months.
"In our NPC's plan for 2016-2020, special attention has been made toward the development of organisational capacity considering the development of Para sports, from public sports to elite levels," said NPC Iran Secretary General Masoud Ashrafi. "Such national development undoubtedly will contribute to improvement of communication and cooperation of NPCs in Asia and other parts of the world, and also with Paralympic sports and IPC as well."
Added Yusup Dzhafarov, Secretary General, NPC Turkmenistan: "We hope to gain solid knowledge and distinct methods of developing Paralympic Movement in our country, such as athlete development, administration system perfection, fundraising and marketing."
The OCP workshop follows after representatives from the NPCs met back in February in Almaty, Kazakhstan, to get introduced to partners and understand more about Para sport in Central Asia.
They are the fifth group of countries to benefit from the OCP since it began in February 2014. So far over 1,000 people from 39 countries all around the world have been involved.
The OCP is designed to encourage increased professionalism, more support from governments, corporates and development agencies, new local partnerships and better visibility, with the ultimate aim of creating sustainable pathways for Para athletes of all levels.