Day 3 review: McKeever, Turner, make history for Canada
A great day for Canada propels them to third in the medals table
First Para Snowboard medals are awarded
Taste of technical prowess comes in Para Alpine Skiing as super-combined takes place
07 Mar 2022
Imagen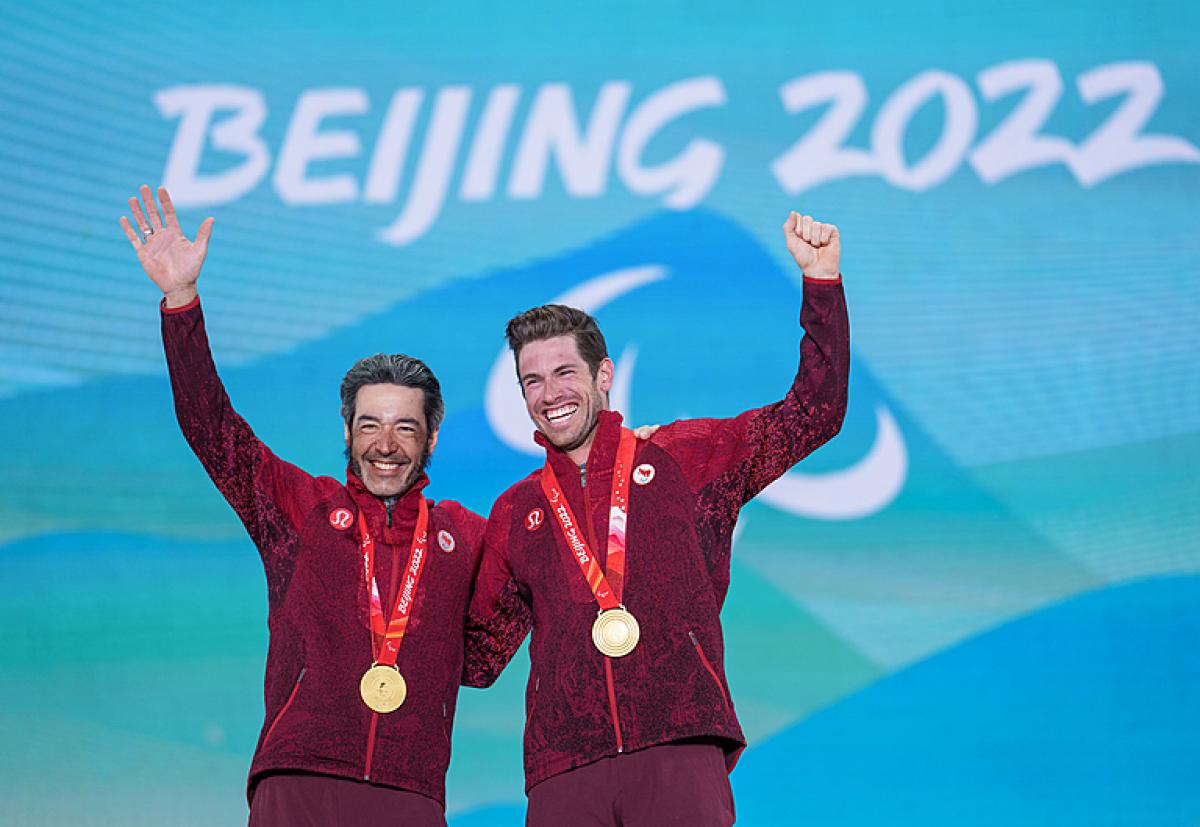 ⒸOIS Photos/Thomas Lovelock
By Lucy Dominy | For the IPC
Brian McKeever headlined a historic day for Canada at the Beijing 2022 Paralympic Winter Games on Monday (7 March), winning his 14th Para Cross Country gold, as snowboarders Tyler Turner and Lisa Dejong grabbed the country's first medals in Para Snowboard.
McKeever golden once again in Para Cross-Country
Heading into Beijing 2022 as the most decorated male Para Cross-Country skier, Brian McKeever had nothing to lose in his favourite event.
But nothing less than gold awaited the 42-year-old 13-time Paralympic gold medallist in the men's long distance vision impaired.
Skiing with guide Graham Kennedy, McKeever crossed the finish line in first to take his 14th gold and 18th medal overall at his sixth – and last – Paralympics.
McKeever offered an insight into his latest triumph:
"They're all hard. With the challenges we've seen over the past couple of years, with the (COVID-19) pandemic and the political situation, it's been tough for everyone. It is a miracle in a sense that we're even here.
"I'm still hungry. I still love training every day. When we are out there, we are still competing against each other on the training sessions.
"It's always exciting. It's never easy and today, having Russell around, it was a great pace he set, very good guiding.
"He's one of the fastest skiers in the world and to have him skiing in front of me, he is a great person to be following. And the wax team did a great job. These skis are definitely some of the best skis I've ever been on."
McKeever gave credit to his guide Graham Kennedy after winning his 14th gold. Ⓒ Carmen Mandato/Getty Images
The USA's Jake Adicoff showed he is ready to take on McKeever's mantle with silver alongside guide Sam Wood. Sweden's Zebastian Modin – also one of the sport's greatest skiers with five medals of his own – took bronze with guide Emil Joensson Haag. 
Ukraine's Oksana Shyshkova collected her second gold of Beijing 2022 in the women's vision impaired. The 30-year-old had already won the sprint biathlon on Saturday and has more opportunities remaining to add to her haul with guide Andriy Marchenko.
"I think I will realise my great achievement here after everything ends and I get home, but all our medals that our team win here we dedicate to Ukraine and to every citizen of Ukraine," Shyshkova said.
German teammates Linn Kazmaier, guided by Florian Baumann, and Leonie Marie Walter with guide Pirmin Strecker, were second and third respectively.
Natalie Wilkie made it a Canadian double in the women's standing, winning her second Paralympic Para Cross-Country title. Her compatriot Brittany Hudak stood alongside on the podium in third.
"It was tough coming from PyeongChang with so much success and knowing that the bar was already high and I had to work that much harder to reach it again.
"And so it's super special standing here in Zhangjiakou with the gold medal.
"I know I raced well today, not just because I won the gold medal but because I paced my race very well.
"And it just awesome skiing with my teammate Brittany Hudak who did amazing as well.
"We had rockets for skis today. It was just awesome."
The USA's Sydney Peterson, who is just a year younger than Wilkie at age 20, secured silver on her Paralympic debut.
Japan's Taiki Kawayoke rounded off a great day for the next generation with gold in the men's standing. It was the 21-year-old's first Paralympic medal having debuted at PyeongChang 2018.
"I am happy. Happy for this result, happy that I show those who have been supporting me in the past four, five years what I am capable of accomplishing," Kawayoke said. "Paralympic Games take place once every four years. To win a medal here, and to win with a 90-second difference, is for sure a confidence-booster."
Two Chinese skiers completed the podium, adding to their country's great performance so far. Cai Jiayun and Qiu Mingyang took the respective silver and bronze.

Turner, Dejong enter history books in Para Snowboard
History was made for Canada once again courtesy of Lisa Dejong in the women's snowboard-cross SB-LL2.
With her silver, splitting French gold medallist Cecile Hernandez and the USA's bronze medallist Brenna Huckaby, Dejong claimed Canada's first ever medal in Para Snowboard.
"I feel absolutely amazing. It was unexpected," Dejong said. "Just to make it in the big final, I felt like I already did what I came here to do. To come in second is amazing."
Lisa Dejong entered the history books at Beijing 2022. Ⓒ OIS Photos/Chloe Knott
Hernandez said: "I am really happy with this gold medal. It has been my dream since I started Paralympic snowboarding. 
"It is unbelievable. I still do not realise what happened. To do everything I did to be here and then to earn this gold medal, it was a dream, and now that dream has come true.
"I am really, really proud."
Reigning world champion Tyler Turner went one better for the Canadians in the men's SB-LL1, winning gold ahead of defending title-holder Mike Schultz of the USA who settled for silver.
"This is incredible. I don't even know if it's sunk in yet," Turner, who had both his legs amputated after a skydiving accident, said. "This is crazy. Four years ago I didn't even think I'd snowboard, and now standing on top of the podium, it's unbelievable."
Canada's Tyler Turner followed Lisa Dejong in making history for Canada. Ⓒ OIS Photos/Thomas Lovelock
China's Wu Zhongwei rounded off the podium.
Wu's bronze added to a Chinese podium sweep in the men's SB-UL. After French world champion Maxime Montaggioni was dramatically eliminated in the quarter-finals, the big final was completely filled with riders from the host country who battled it out for final positions.
Ji Lijia was the victor, followed by Wang Pengyao and Zhu Yonggang.
"To be honest, in yesterday's qualifying I wanted to be (ranked) in the first place, but it turned out to be fourth place," Ji said. "But I am satisfied with what I did in the semi-final. And surprisingly, I saw us — four Chinese athletes in the big final. We were really happy. Our goal is to bring glory to our home country."
Finland's Matti Suur-Hamari retained his SB-LL2 title and was followed by two riders winning their first Paralympic medals.  Garret Geros of the USA and Australia's Ben Tudhope took the respective silver and bronze.
"It could not be better. It's been a really tough couple of years," Hamari said. "As a team, we worked so hard getting to these Games.
"Actually winning this medal, it means a lot. I don't have the words, you can see it in my eyes."
Forster and Aarsjoe finally golden in Para Alpine Skiing
Having missed out on golds in the downhill and super-G earlier on in the competition, it was finally the turn of Germany's four-time world champion Anna Lena-Forster to take to the top step of the podium in the women's super-combined sitting.
Forster came back from fourth after the super-G portion to hook-up a great slalom run and take the win.
"Crazy. I can't imagine that it happened now. I'm so happy and I have to think about it for some time now to realise it."
This time it was Japan's Momoka Muraoka who took silver, having taken both titles on offer so far.
China's Liu Sitong enjoyed the third spot on the podium for the second time at Beijing 2022, having secured the same position in the downhill.
Norway's Jesper Pedersen added a second gold in as many days to his collection in the men's sitting. Dutch teammates Jeroen Kampschreur and Nils de Langen were the respective silver and bronze medallists.
France's Arthur Bauchet can also now call himself a double Paralympic champion after winning the men's standing, adding to his downhill victory. Santeri Kiiveri bagged Finland's first ever Para alpine skiing medal with silver. New Zealand's Adam Hall repeated his performance from PyeongChang 2018 with bronze.
In the women's standing Sweden's Ebba Aarsjoe was golden on her super-combined Paralympic debut. It was a close race between the Swede and China's Zhang Mengqui, with Aarsjoe clawing back a nearly three second deficit in the slalom after the super-G to claim the win.
"It was a hard run. It's salt all over the course and it was so straight. I just tried to keep it in the course the last gates," Aarsjoe said.
"I was just praying, watching her [Zhang] and hoping for a good sign."
Zhang still took away the silver ahead of Canada's Alana Ramsey with bronze.
Henrieta Farkasova won her 11th Paralympic title in the women's vision impaired with guide Michal Cerven.
 
It was Farkasova's slalom run that was the difference, overtaking Zhu Daqing and guide Yan Hanhan who settled for silver. Great Britain's Menna Fitzpatrick was third with guide Katie Guest.
Italy's Giacomo Bertagnolli, guided by Andrea Ravelli, led Austria's Johannes Aigner and guide Matthia Fleischmann and British brothers Neil and Andrew Simpson onto the podium in the men's vision impaired.
Estonia, Latvia claim Wheelchair Curling scalps, China come-back
Chinese wheelchair curlers ended the latest day of round-robin play with their third victory at the National Aquatics Centre on Monday, gaining momentum after a slow start.
Heading into day three, the hosts had lost their opening two games against Canada and Sweden but had shown signs of a comeback by easing past Estonia. 
On Monday they beat South Korea 9-4 and Switzerland 7-4.
China have found their rhythm on the ice. Ⓒ OIS Photos
Estonia also enjoyed a great day on the ice. Chalking their first Paralympic victory, over Latvia, they went on to beat PyeongChang 2018 silver medallists Norway.
Latvia did however overcome World Championships runners-up Sweden to lift their own spirits.
Canada's unbeaten run ended at the hands of Sweden who registered a 6-3 scoreline against the triple Paralympic champions.