Family support huge for Choong
The British badminton player made history at the World Championships, and in front of her family.
05 Nov 2015
Imagen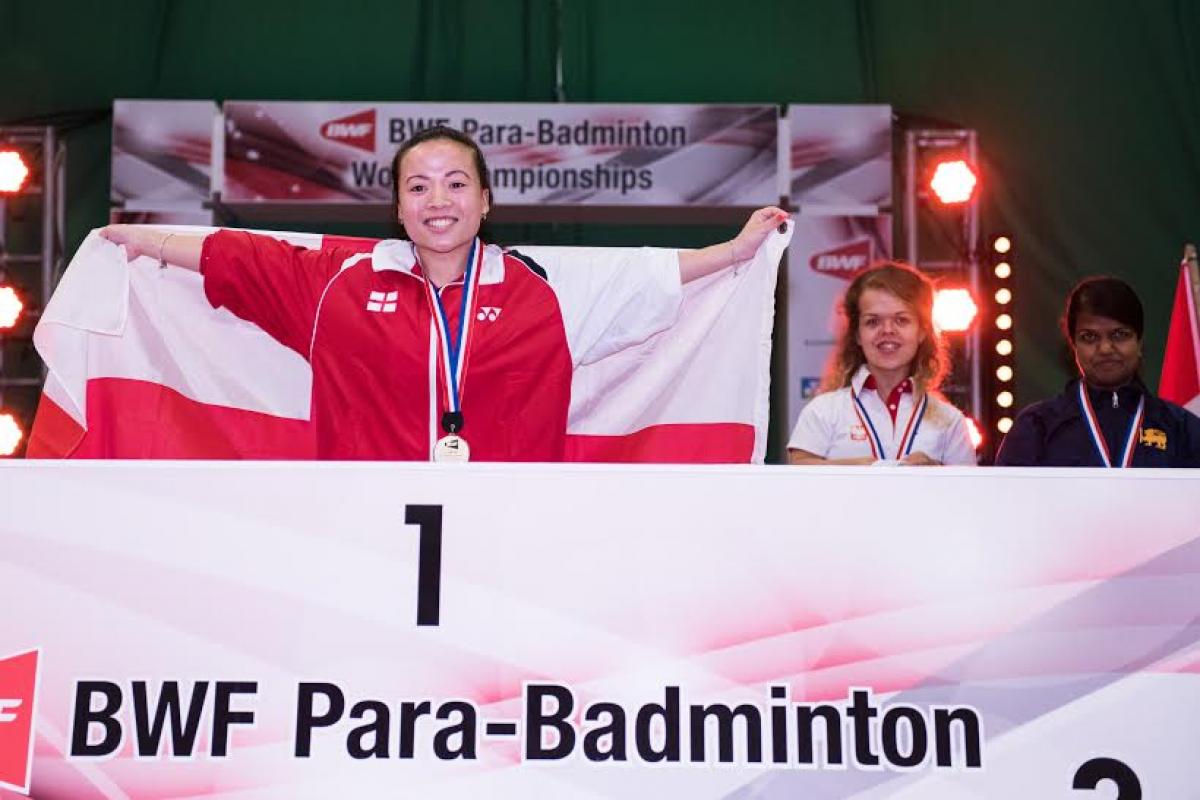 ⒸBadminton England
By Dave Phillips | For the IPC
When she was six years old, Great Britain's Rachel Choong, influenced by her badminton-playing father and taking the advice of her family, followed her older sister in joining a local badminton club. In her first session, her coach handed her a racquet, blew up a balloon and gave her basic instructions: "Just hit that [the balloon] up and down."
"Everybody loves 'keepy uppies,'" said Choong, referring to the football-juggling phrase. "I just got to do it with a racquet."
Through the simple exercise, Choong's love for the sport was born and has been nurtured by family support. Fifteen years later, many of Choong's family members watched her make para-badminton history on home soil, becoming the first British player to win three gold medals at the Badminton World Federation (BWF) Para-Badminton World Championships in September in Stoke Mandeville, Great Britain.
Entering as the reigning SS (short stature sports class) singles and mixed doubles champion from Dortmund 2013 in Germany, Choong added the doubles title to her collection in this year's edition. "[Dortmund] meant a lot, because it was my first World Championships, but only my mum was able to come with me," said Choong, who recently spent nine days touring from Beijing to Shanghai, China. "As nice as that was, having my whole family there [in Stoke Mandeville], doing the triple on home soil, and finding out that I'd made history was incredibly emotional for me, and I didn't realise it would be."
Until 2007, Choong was playing against and regularly beating able-bodied competitors. A Liverpool native, Choong represented her region in the under-15 age group. It was a time when her peers were growing significantly in comparison to her.
"The obvious things – they're taking two strides, I'm taking three or four," she said. "I'm quite proud to be able to have done that. I still compete against able-bodied players in my local league, and that's great for my game and keeps me fresh."
Four years of growth hormones had little impact, and following the integration between para-badminton and the BWF, reclassification of all players was required. Choong's classification form noted 'Condition – unknown,' resulting in baffled looks from the classifier, and further tests and consultations with a geneticist.
'There's not a lot I can do – if it's unknown, it's unknown," Choong said. "It's a waiting game."
By "later on," Choong is referring to Tokyo 2020, where the sport will make its Paralympic debut. It is five years away. Although she now owns multiple titles, Choong could peak at that time. But she remains level-headed and realistic both about her prospects and the possibility of her events appearing in Tokyo.
"It's a new sport, and the leaps and bounds it's come on in a few years has been incredible, and to reach the Paralympics is amazing, but I'm not sure I'll be there," she said. "The [International Paralympic Committee] have said that only a [limited number of medal events] will be [on the programme]."
Noting that the participation levels in her [class at the World Championships] are comprised 19 men and 10 women, two of whom subsequently dropped out, there is some work to be done. But Choong believes that the effects of the sport's inclusion can only be positive.
"A lot of people were saying that until we get Paralympic status, people won't be funding it and you won't get the numbers," Choong said. "We've definitely seen an improvement since the announcement and the 2015 World Championships was the biggest so far, and France and Germany now have fully-funded athletes. Even if I'm not there to play and compete, I'm still incredibly pleased for the sport. When I'm on the court, although I'm there for a competition and I want to win, I'm still there for fun, and come what may, it's just a game."