Forster going for PyeongChang 2018 gold
German alpine skier wants to improve on Sochi 2014 debut.
12 Jul 2017
Imagen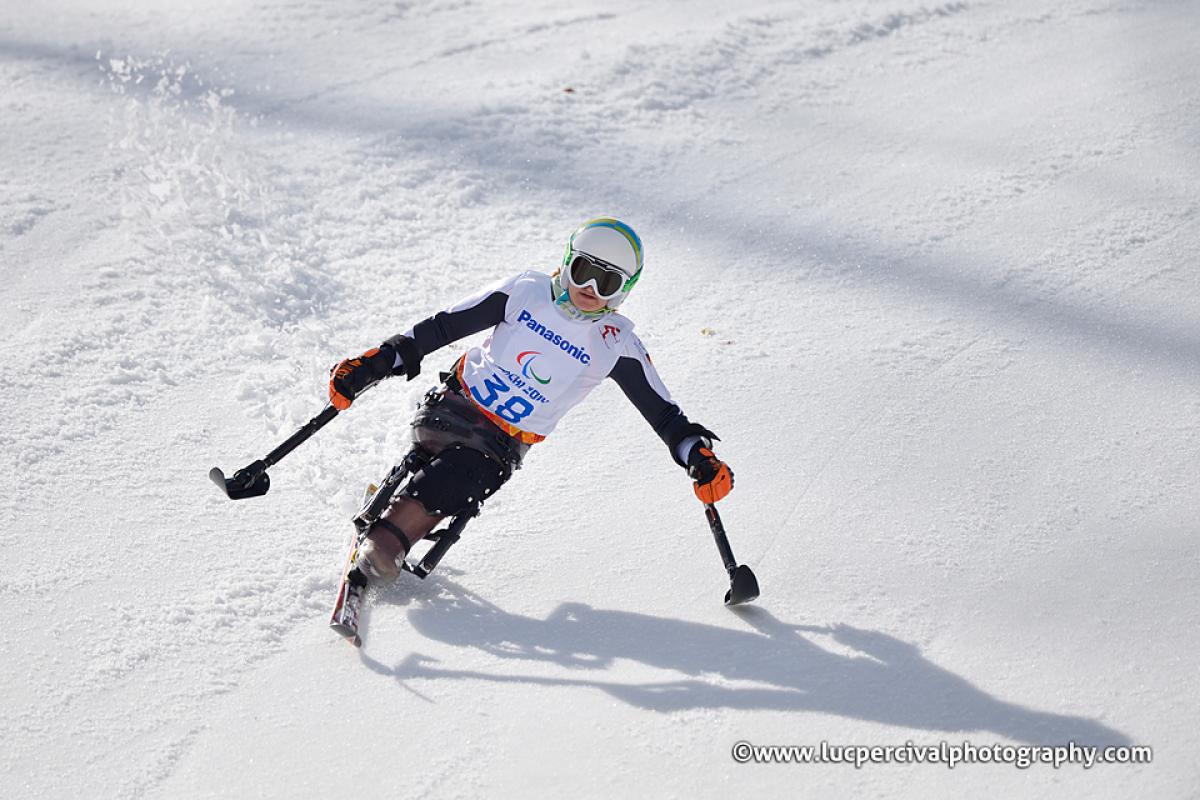 ⒸLuc Percival Photography
By Lisa Blythman-Wood | For the IPC
"In training, we push each other to go faster and faster – that's fun and we all benefit."
While many enjoy the European summer relaxing in the sunshine, German alpine skier Anna-Lena Forster is working hard towards her big goal: to win gold at the PyeongChang 2018 Winter Paralympic Games.
After winning two silvers and one bronze at Sochi 2014, the 22-year-old knows winning gold is possible but not easy.
"My competitors are strong and there is a lot to do with the games," she said. "It is tough but also good for my development. In training, we push each other to go faster and faster – that's fun and we all benefit. Of course, it puts me also under pressure sometimes but the aim of delivering a strong time, balanced with the fun the team has together is bigger."
Forster has every reason to feel positive when reflecting on her journey to PyeongChang from her Paralympic Games debut in Sochi four years ago.
"A huge high was definitely the Paralympics Games in Sochi 2014," she says.
"I was young, easy-going and had no pressure because they were my first Games. It was such an incredible atmosphere with a lot of amazing people! And on top of that, I was unexpectedly successful."
However, with big expectations for the World Championship in Panorama, Canada the following year the nerves and overthinking before races meant Forster left without a medal. The experience was something she was determined to learn from.
"I'm trying to be easier going," she says. "I also have to focus more on myself and compare my race performance with my training performance, and not with the performance of my competitors."
This new focus enabled Forster to claim her first victory at the World Cup in February, making her stronger and more motivated during summer training. The bonus of winning the slalom race at the Paralympic test event in March was, as Forster puts it, "the perfect closure for this season".
German women had great success at the World Championship in Italy, something that Forster says reflects the national team's determination to deliver when it matters.
"Our high level of training and the motivation from each of one of us was confirmed in past success," she says. "But I think in such a competition you also need some luck and good mental strength. The other side of this great success is the pressure we will have next year, because everyone in the team wants to be better."
Summer training has greater variation but remains tough, so she finds time to relax by swimming in Lake Constance at the northern foot of the Alps. She also loves to try other sports such as rock climbing and trampoline.
Forster started skiing when she was only six, "My parents passionately enjoy skiing so they wanted to share this passion with me and I chose skiing because I had, and still have, a lot of fun skiing down the slopes as fast as I can," she says. "The monoski technique is becoming more and more important. But without physical strength you can't control it. So you have to improve both." She confirmed that she talks to herself while speeding down the slopes, her own internal monologue pushing her to "Go on, go faster".
Whether Forster is perfecting her monoski technique, pushing herself to win or trying seemingly impossible sports, this ambitious athlete keeps proving that nothing is impossible.