Germany's Klug earns second World Cup medal and ticket to PyeongChang
Broken equipment and missed shots deliver dramatic day of sprints in Canmore
17 Dec 2017
Imagen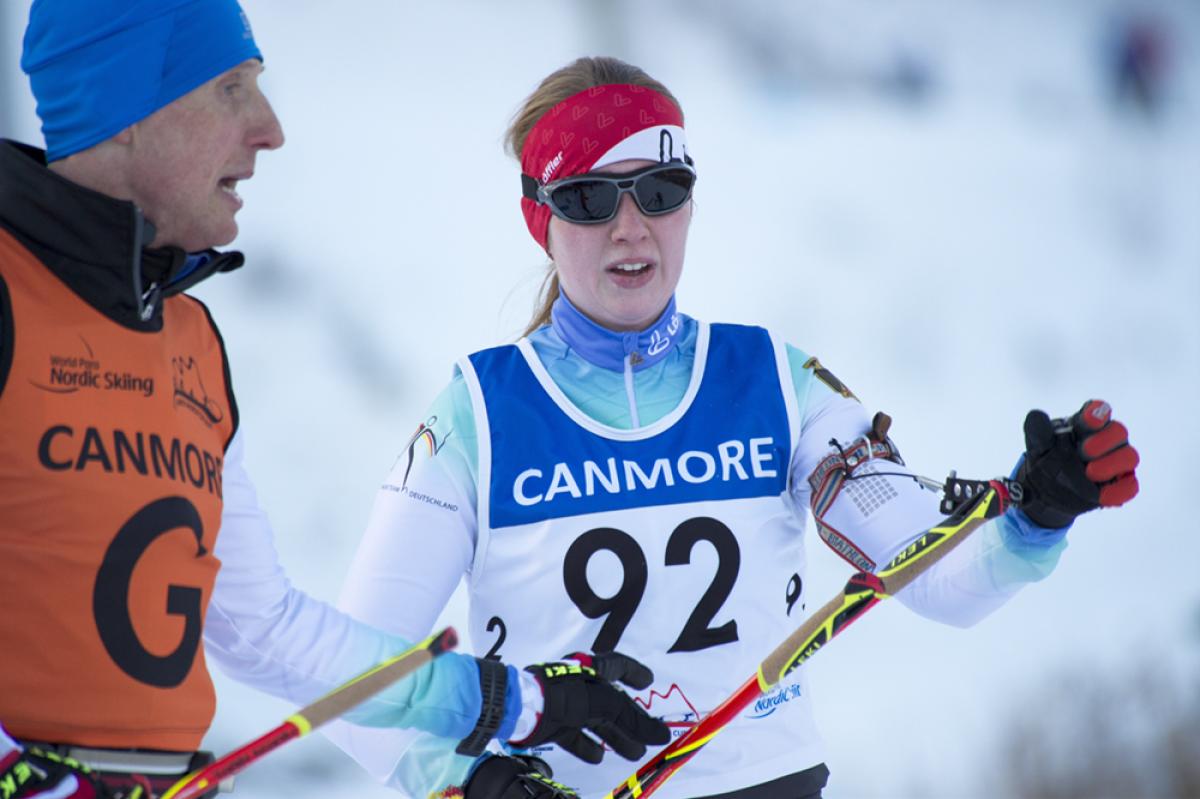 ⒸJustin Brisbane
By Lena Smirnova | For the IPC
Clara Klug has plenty of reason to celebrate after two days of biathlon events at the 2017 World Para Nordic Skiing World Cup in Canmore, Canada. She won her second medal, a bronze, in the visually impaired sprint on Saturday (16 December) to add to the silver from the individual race. She now has enough points to secure her a place at the PyeongChang Paralympic Winter Games.
"It's really cool," Klug said about qualifying for the Games. "Four years ago, I was watching the others on the live stream and hoping maybe someday I will be starting there. Now I am going and it's really exciting."
Germany's rising star is not just thinking about her Games place though, after revealing that she now seems owes her guide Martin Hartl 50 dollars for the shots she missed in the two biathlon races.
"I need to clean up the shooting," Klug said after the sprint. "I owe him 30 bucks for missed shots. That's way too expensive for me. I have to get back to my normal conditions and concentrate in the shooting range. I'm not too sure how to do this yet, but I'll figure it out."
Sprint was Klug's best discipline last season, but while she is fast on her skis, her shooting is often inconsistent. She missed three shots on the second lap of the sprint and had to do penalty loops, which put her almost two and a half minutes behind the winner Mikhalina Lysova, whos is competing as a neutral athlete. Both Lysova and silver medallist Vivian Hosch finished the sprint with a clean slate.
Determined to overcome these mistakes in the shooting range, Klug's guide Martin Hartl came up with a creative way to motivate her to shoot better. For every missed target Klug has to pay Hartl 10 dollars.
Klug's teammate Vivian Hosch also secured herself a ticket to PyeongChang after a silver medal in the sprint secured her the required points to comepte at the Games.
"Shooting was good, racing was good," Hosch said. "The long (individual) biathlon started well, but I missed two targets. Today I shot clean. Now it's clear, it's a qualie for PyeongChang."
In the sitting event, it was a dramatic final for US skier Oksana Masters whose sit ski broke in the first lap. Despite the equipment malfunction, she kept up the pace and ultimately won her second consecutive gold medal in biathlon in Canmore.
"I lost a screw, so it wasn't attached to my frame, which is a blessing in disguise cause then I learned to ski more gracefully around the corners instead of just jagged," Masters said. "That was why it was even more important to just stay in my race and focus on me and not what the result was."
Even without the broken sit ski, Masters said she would have been surprised by the result since she is not known as a biathlon specialist. In fact, she missed two shots during the race, unlike second and third place finishers Marta Zainullina and Irina Guliaeva, who are competing as neutrals and who each shot cleanly. But Masters managed to make up for the extra penalty loops with fast skiing.
"I'm speechless," she said. "I don't know what to say, it's so surprising. Biathlon is not my forte, so to have it here flip-flopped and do better in biathlon than cross-country is nice."
With four medals at the World Cup opener in Canmore already in her collection, and one more race to go, Masters is confidently proving why she is the one to watch this Paralympic season.
She put more emphasis on Nordic skiing this year and even chose to skip the competitions of her other elite sport, cycling, all in the hopes of getting the top result in PyeongChang 2018.
"I skipped out on the competitive cycling season to make sure my peak is perfect for PyeongChang. I'm really chasing that gold medal for team USA," Masters said. "Knowing I'm getting faster and faster as the races go on (in Canmore) is a good boost of confidence."
The biathlon competition of the 2017 World Para Nordic Skiing World Cup continues with the pursuit events on 17 December.