Grandmother's strength inspiring Amanda Dennis
US goalball player opens up about life away from sport ahead of 2018 Worlds
15 Feb 2018
Imagen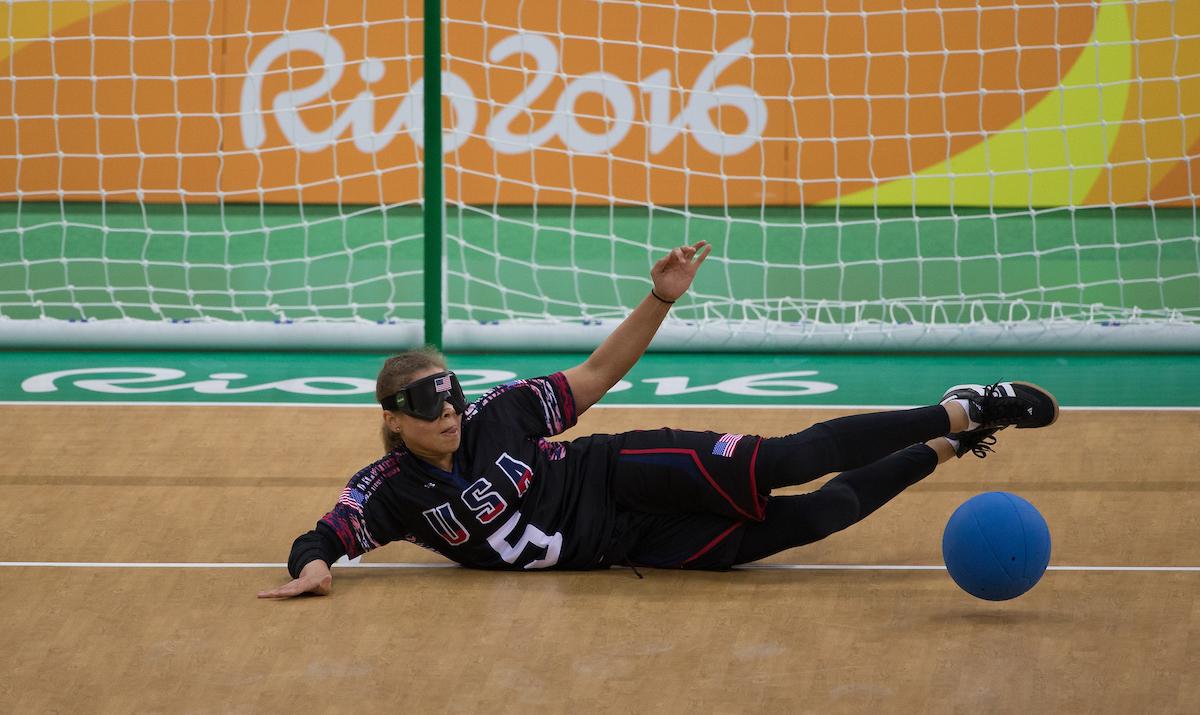 ⒸOlympic Information Services OIS.
By Lisa Blythman | For the IPC
Amanda Dennis has competed at numerous goalball competitions around the world representing the US women's team, has won multiple medals and has become one of the world's top players.
Apart from her talent for the sport, the 24-year-old is known within the team for being the one cracking jokes or singing to keep the mood a little less tense before the matches. She also admits being superstitious.
"Usually I don't let the team re-wear a jersey that we lost in. During Rio we lost our first game against Brazil in black, so we didn't wear that jersey again for the Paralympics," Dennis recalled.
"We lost our semi-final in our fade jersey, so we didn't wear that jersey for our bronze match, and we won every game in our blue jersey, so now that's the sacred bronze medal jersey."
Dennis will be taking a key role for Team USA at the 2018 World Championships in Malmo, Sweden, in June 2018, where she will most probably be wearing a blue jersey.
She was introduced to goalball at one of the many adaptive sport camps held across the USA. "They had Paralympic athletes who had competed in previous games such as Barcelona, Sydney, and Athens", she said.
"These athletes showcased their sport. I found that goalball was one of my favourite, because everyone was put on the same playing field and it honestly was a way that I could meet other peers who were also visually impaired. I found after a while that goalball was my niche, it gave me a place where I felt at home, and truly could show what a great athlete I could be".
Dennis is a passionate ambassador for goalball, which she says is important to develop teamwork, communication and spatial awareness. "People don't really realise how hard it is to put on a blindfold and orientate themselves on a court," she said.
Family inspiration
Dennis, who is one of the few left-handed goalball players, has not stopped improving ever since, pushing herself to be the best. A key figure in that journey was her grandmother, who inspired her in her everyday life.
"She went through hell and back with having cancer for over ten years," said Dennis. "They gave her six months to live when she first found out she had cancer, and she fought and lived far more than that. Her will to live, and fight and her desire to support me in absolutely everything I do inspires me.
"When she passed away it was one of the most devastating moments for me, but I could use her strength as an individual to fight carcinogenic cancer for 10 years, and use her as inspiration in my hardest moments.
"Her fight was my fight in Rio, and I was sad that I couldn't share my first Paralympic medal with her, but I know she's somewhere watching and seeing that I achieved my goal, and I'm hungry for more.
"Her strength lives within me every day to work harder and to be better, but not just better as an athlete, but being a better person and working on having a good character and being a good leader for my teammates, because I always had a leader in my life".
Fun facts
Besides sports, she also shared some unknown facts about her. "I am a Harry Potter fan and one of my favourite moments from London 2012 was getting the opportunity to go on the Harry Potter Studio Tour, and explore the wizarding world."
She also describes herself as a really picky eater, and most of the time at tournaments Dennis is not keen on the food given. Her favourite food is chicken alfredo or her grandma's homemade macaroni and cheese.
"If you ask any of my teammates they'll say that I love dessert," she said. "If I could live on just that and still perform well, I would."