Hamburg 2018: British women top defending champions
Second day of pool play concludes at wheelchair basketball Worlds
18 Aug 2018
Imagen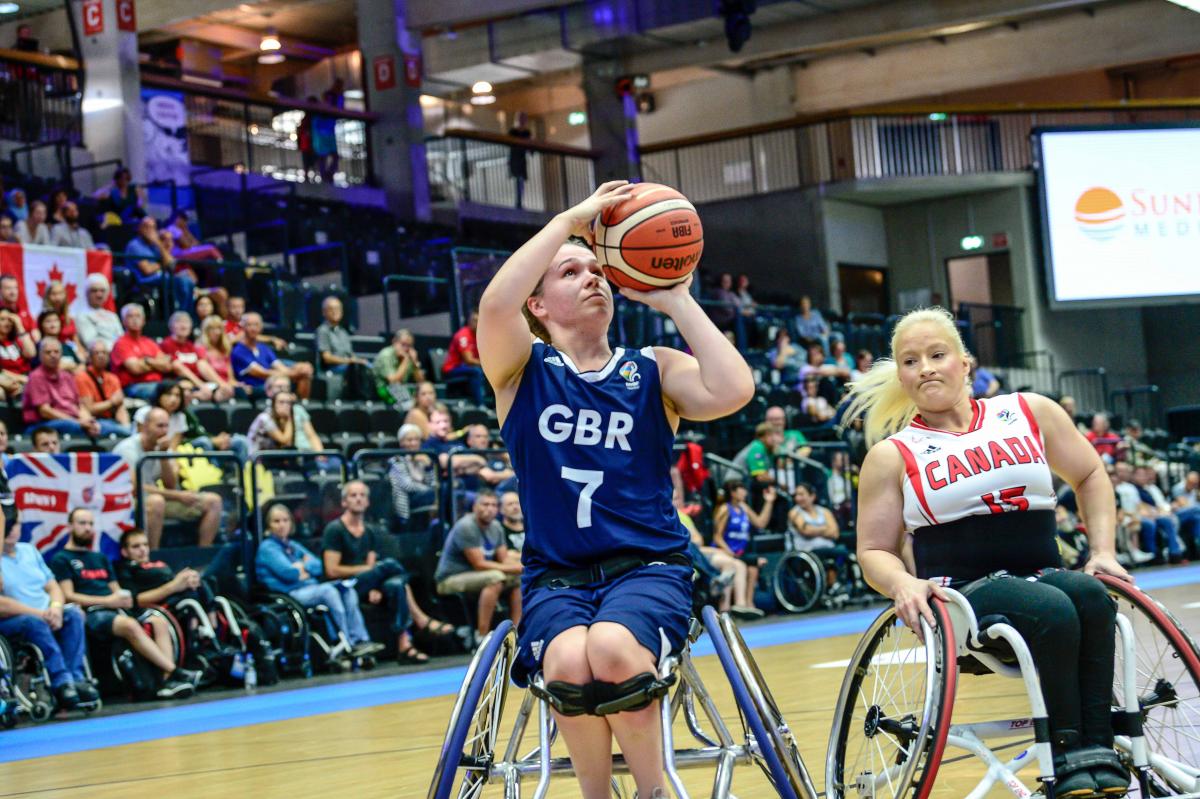 Ⓒuliphoto.de
By Hamburg 2018 LOC, IWBF, Wheelchair Basketball Canada, NWBA and IPC
"It's good to have a game like this to get an opportunity to feel the referees out a little bit, and get the jitters out of the way..."
Great Britain took down defending world champions Canada in the women's competition to highlight day two (17 August) of the 2018 Wheelchair Basketball World Championships in Hamburg, Germany.
Friday featured 10 games of pool play, with the British squad beating 2014 champions Canada 64-56 in both team's first games at Hamburg 2018. Great Britain went up 37-31 at halftime. Canada came within two-points with two minutes left but could never take the lead.
Three British players scored double-digit points, with Amy Conroy and Laurie Williams each having 14 apiece. Canada's Arinn Young had a game-high 23.
"I'm glad we got the first one out of the way," said Young. "Not the result we wanted but we have to look ahead at our next one."
Great Britain's men's team also captured a win in their opening game, as the Rio 2016 Paralympic bronze medallists topped South Korea 77-58.
Women's round-up: Strong teams take strong wins
Women's wheelchair basketball powerhouses USA and Germany both proved too strong for their opponents Algeria and Argentina, respectively. The USA thrashed Algeria, 85-13, while Germany also eased to a 64-16 win over Argentina.
Leading the charge for Team USA were Morgan Wood with 20 points and Rose Hollerman with 16.
"We came out to win, and we did," said Wood. "We played the offense and defense we wanted to … In a big win you just need to keep your composure."
China took their second win and another step toward a quarterfinal place of the women's competition, with a 58-27 victory against France.
China's head coach Xu Yuansheng said: "We had some problems at the beginning of the game, but the longer the game went, the better my team became. That was the key today, and we're aiming to do better at this World Championships than in any other past tournaments. Getting better is the main goal and it would be a dream to finish in the top four."
London 2012 Paralympic silver medallists Australia also got off to a winning start with a 61-44 victory over Brazil.
Men's round-up: Return of the greatest
Sporting legend Patrick Anderson returned to the World Championship stage for the first time since 2006 and made his presence felt for Canada against Morocco. Despite a slow start from Canada, Anderson made a double-double (26 points and 10 rebounds) to help guide his team to a comfortable win, 77-47.
"Compared to 2006 it's just incredible how deep this tournament goes," Anderson said. "It's good to have a game like this to get an opportunity to feel the referees out a little bit, and get the jitters out of the way for both the young guys and the old guys that haven't been in it for a little while like me."
Japan held their nerve over Italy in a 58-50 thriller, as only one point stood between both teams going into the final minutes.
"The first half of the game was very nervous and close," Japan's head coach Shimpei Oikawa said. "I tried to use all of my players as I believed in them and they knew what to do."
Defending world champions Australia held off a surprise from Argentina, who kept it to just a five-point game at halftime. However, foul trouble caused Argentina problem's in the second half and Australia made them pay to win 74-55.
Ozgur Gurbulak's 21 points helped secure reigning European champions Turkey a close 59-52 win over Brazil.
Competition continues on Saturday (18 August) and runs until 26 August.
A detailed schedule and results can be found on the International Wheelchair Basketball Federation's (IWBF) website. https://iwbf.org/event/2018-world-championships/