Hamburg 2018: Hosts open Worlds with wins
Comfortable first day for German men's and women's teams
17 Aug 2018
Imagen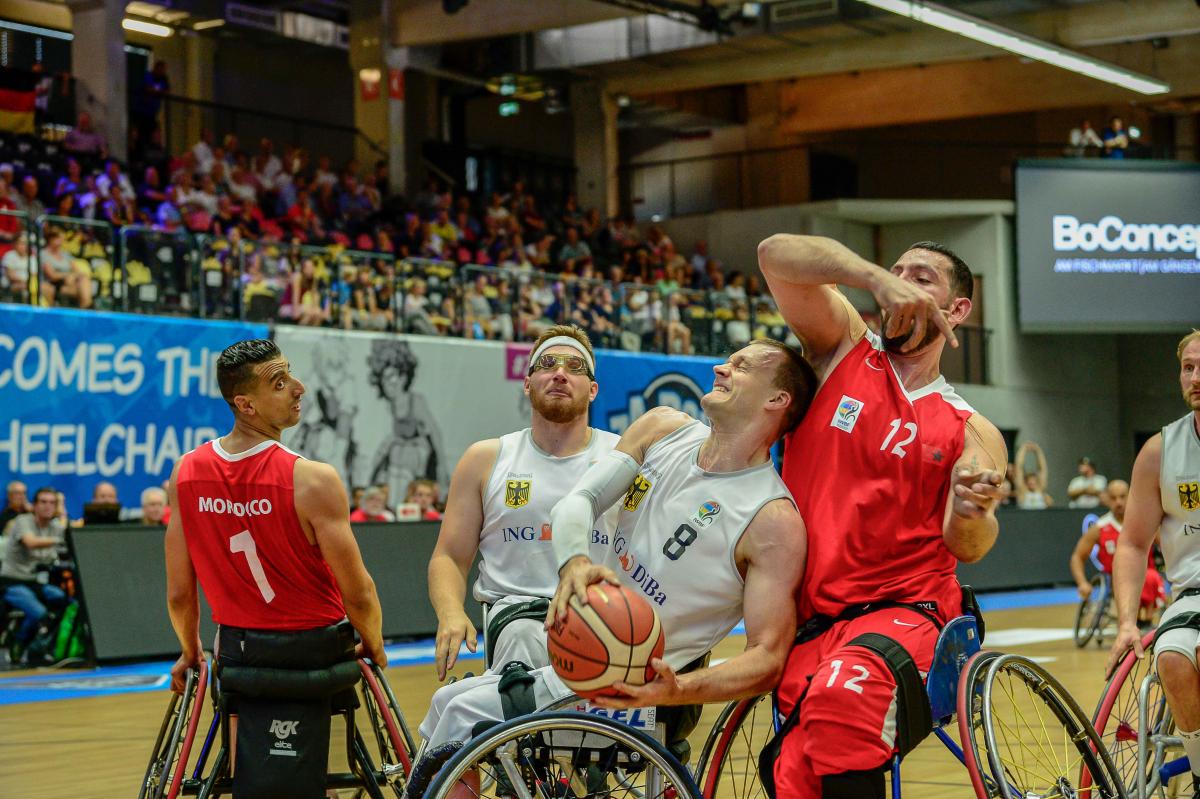 Ⓒuliphoto.de
By Hamburg 2018, IWBF and IPC
The home crowd in Hamburg celebrated the opening day of the 2018 Wheelchair Basketball World Championships with two strong victories from hosts Germany on Thursday (16 August).
The men's side put away African champions Morocco 84-40 in front of a packed crowd, while the German women dismantled Algeria 84-24.
Thomas Boehme led the German men with 22 points with the most minutes played on the court.
"I think we can be happy after such an opening game," Germany 1.0-starter Christopher Huber said. "We will definitely take the good mood that prevails here into the hall into the next game against Iran."
Morocco's Adelhak El Hadaoui said: "It was a very difficult game against a strong team whose level we could not maintain. We tried to give our best possible and have at least managed to score 40 points against the strong and young German team. We will try to improve in the next games."
High-pointers Marina Mohnen and Mareike Miller led the German women in scoring with 16 and 13 points, respectively. Algeria's team captain Djamila Khemgani gave her side 15 points.
Dutch and Chinese women also cruise
The crowd also got to see why the Netherlands are the tournament favourites in the women's competition.
The Dutch replicated a similar final score to the German women, defeating Spain 86-24, with 37 of those belonging to the Netherlands' Mariska Beijer.
"It was the first game, so the players were very nervous and had to settle into the tournament first," Dutch head coach Gertjan van der Linden said. "The second half was much better than the first one by a long way and in two days we will play against Australia and then we will see."
Spain's head coach, Abraham Carrion, said: "The first game was very tough for us as the Netherlands are a very good team and we are now trying to forget the result and focus on the things we can do better in two days we'll be a stronger team in the game against Canada and hopefully show more fighting spirit."
China and Argentina later took the courts, with the experienced Asian team finishing 60-38.
Competition continues on Friday (17 August) with 10 games and runs until 26 August.
A detailed schedule and results can be found on the International Wheelchair Basketball Federation's (IWBF) website.