Hamburg 2018: Japan upset men's Euro champions
Favourites dominate day three at the women's World Championships
19 Aug 2018
Imagen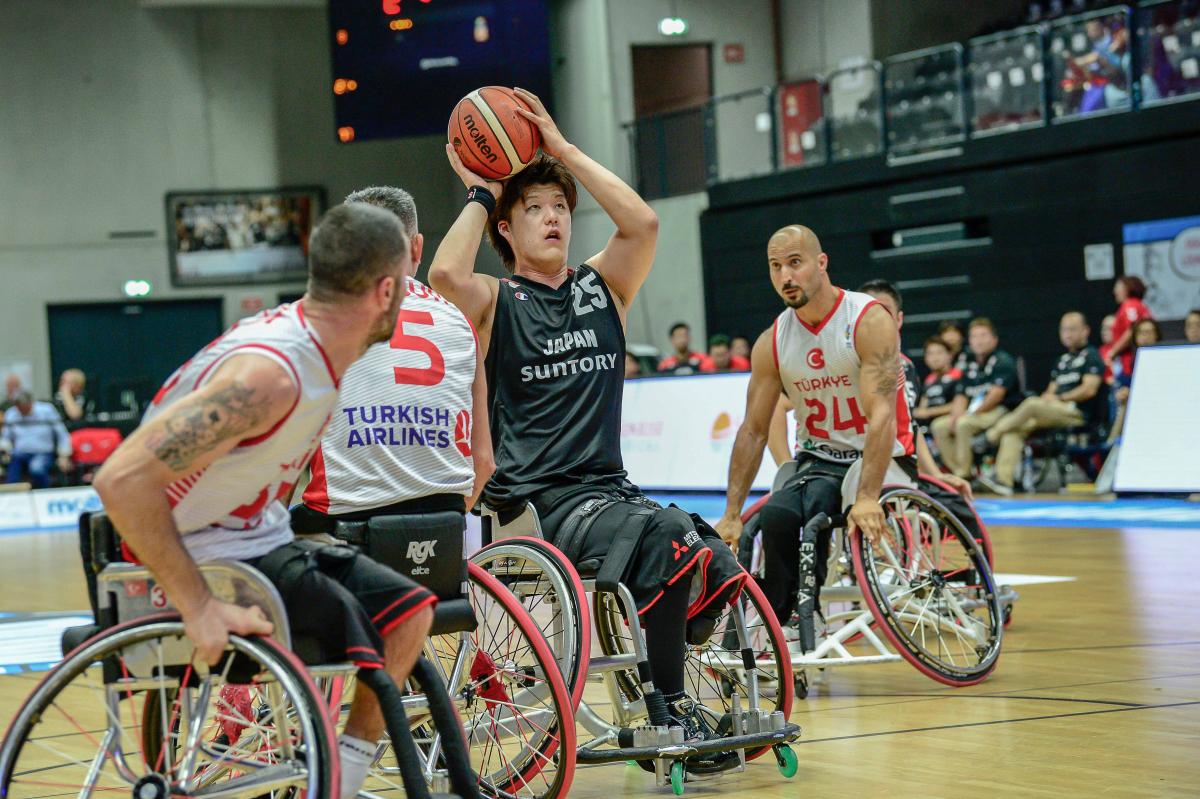 Ⓒuliphoto.de
By IWBF and IPC
Japan's men's team recorded the first major upset of the 2018 Wheelchair Basketball World Championships when they defeated reigning European champions Turkey on day three (18 August) in Hamburg, Germany.
Both teams struggled to get control of the game. Two Turkish players were disqualified, which proved to be the turning point for Japan's 67-62 victory.
Japan – who finished third in the Asia-Oceania Championships and ninth at the Rio 2016 Paralympics – were led by Kei Akita (18 points, seven rebounds) and Hiroaki Kozai's double-double (16 points, 10 rebounds).
"We know, Turkey is the strongest team in Europe," Japan head coach Shimpei Oikawa said.
"Because we had disadvantages in size, we won the game through speed and quickness. We are thinking from game to game, but we want to reach the semi-finals of this tournament."
Men's round-up: First look at favourites
Opponents saw what makes the USA the tournament favourites of the men's competition.
The reigning Paralympic champions dismantled Poland 82-51 in their first game of the Championships.
Starting with an intense defence that caused Poland problems, the USA capitalised in the first half scoring 14 points off forced turnovers and took a 27-point lead at halftime.
The second half was much of the same, with US head coach Ron Lykins able to show the depth in his bench.
"We are very pleased with today's result, we were up against a strong opponent," Lykins said.
"In the first half our defence was very strong, in the second half, it was not as good as it should be. We conceded some points because we made mistakes, but many points also fell because Poland just played well."
Iran held off a German comeback in their first game of the tournament, to take the win over the host, 67-63.
Brazil and Italy both looked to recover from close losses in day two, with Italy finishing ahead, 57-49.
Argentina also found solace on Saturday as they bounced back from defeat by handing the Dutch men their first loss of the 2018 Worlds, 70-61.
Defending world champions Australia topped Paralympic silver medallists Spain 66-56 to go 2-0 in pool play.
Women's round-up: Dutch dominance in 'group of death'
Despite a close first half, the Netherlands women outshot Australia in the second half to secure a comfortable victory, 65-32, aided by Netherlands' Bo Kramer's triple-double (11 points, and 16 rebounds, 13 assists). The Dutch now go 2-0 in their group.
Also 2-0 in the same pool are Great Britain, who cruised by Brazil 72-45.
"For us, this game was about building team spirit and momentum," British head coach Miles Thompson said.
"Our switching game was excellent today. We're in the group of death, so there will be more challenging games."
Canada came back from a 15-point deficit to beat Spain 63-34, China rolled away from Algeria 80-20, and hosts Germany defeated continental opponents France 58-33.
The 2018 World Championships continue 19 August and run until 26 August. Complete results can be found on the International Wheelchair Basketball Federations' website.