IPC pays tribute to one of its founding fathers Andre Auberger
Andre Auberger, the first Treasurer when the IPC was founded in 1989, has helped to build it into a sound financial foundation
08 Aug 2022
Imagen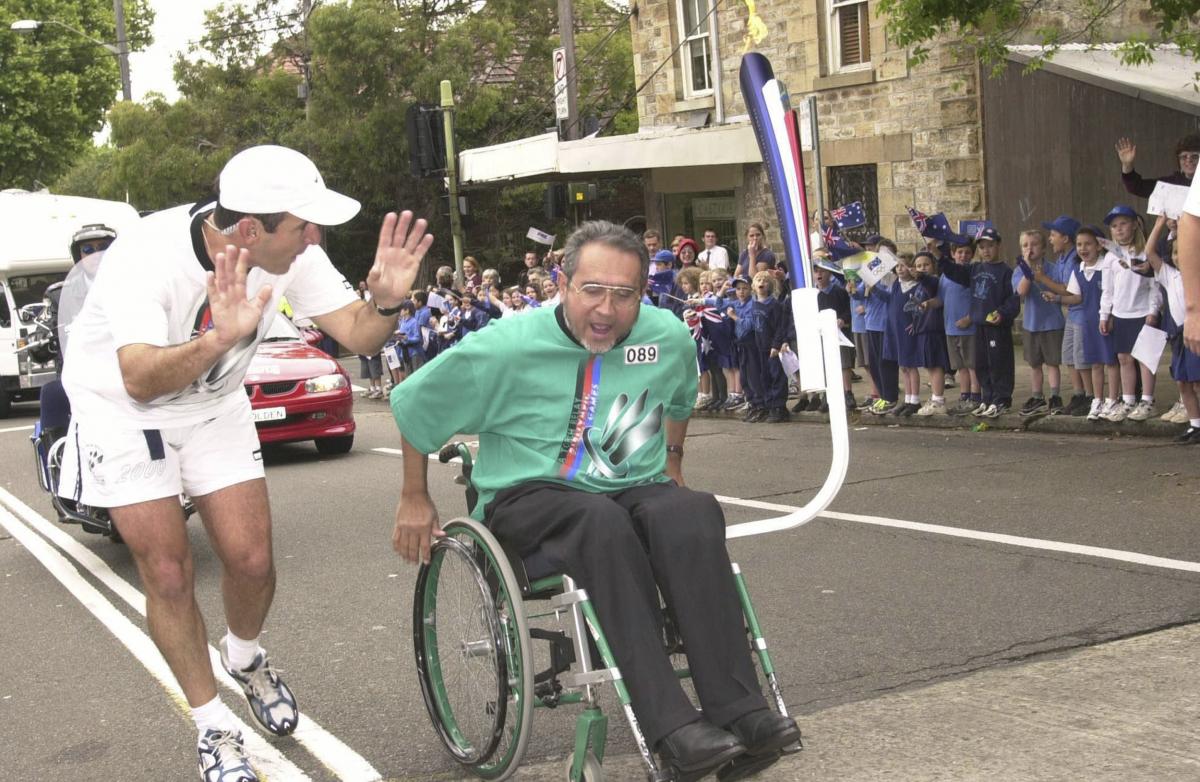 ⒸPatrick Riviere/Getty Images
By IPC
The International Paralympic Committee (IPC), led by its President Andrew Parsons, has paid tribute to André Auberger, one of the IPC's founding fathers who sadly passed away on 4 August aged 84 years.
Born in 1938, Auberger was a tremendous advocate and pioneer for the Paralympic Movement and was the IPC's first Treasurer when it was founded in 1989 in Dusseldorf, Germany, under the Presidency of Dr Bob Steadward.
His invaluable work helped build the IPC from the ground up, from an organisation with no money to one with sound financial foundations. In 2001 his outstanding efforts were recognised with the Paralympic Order, the highest accolade anyone can achieve in the Paralympic Movement. 
As an athlete in France, he practised wheelchair basketball, shooting and table tennis, but it is as a sports administrator where his legacy was created, helping grow the Paralympic Movement to new levels.
He served as the President of the French Handisport Federation from 1981 to 2007, before becoming its Honorary President. He also helped crate the French Paralympic and Sports Committee and had key roles with several other organisations to develop Paralympic sport in France.
Condolence message from IPC President
Andrew Parsons, IPC President, said: "André was a visionary leader who contributed a great deal to the Paralympic Movement both internationally and nationally in France in his quest to advance the lives of persons with disabilities through sport. He played a fundamental and invaluable role in establishing the IPC and can be regarded as one of the founding fathers of our organisation. His approach to finance was meticulous, and thanks to his great contacts, both domestically and internationally, the IPC was able not just to survive but thrive in those early years. His passion, drive and dedication will never be forgotten.
"Not content with ensuring the IPC's financial security, he was the founder of Solidarity and Paralympic Development within the IPC, helping to support the development of Paralympic sport in countries around the world.
"In France, his impact was immeasurable. He served as President of the French Handisport Federation for 27 years and helped to create the French Paralympic and Sports Committee. His outstanding contributions were recognised on several occasions, especially in 2006 when he was made Commander of the Legion of Honor.
"It saddens me that Andre will not be here for the Paris 2024 Paralympic Games to see the fruits of his labour, but I know he will be there in spirit enjoying every single second. The thoughts of everyone at the IPC and the entire Paralympic Movement are with Andre's family, friends and colleagues at this difficult time."
Condolence message from IPC's first President
Dr Bob Steadward, the IPC's first President, said: "The creation of the International Paralympic Committee was like an artist's blank canvas: open, inviting, full of promise and at the same time a formidable challenge. From the genesis and to this sad day, my staunch ally, and personal friend, Andre, was very much a Rembrandt among our gallery of devoted volunteers. He was the trusted and impeccable IPC Treasurer who developed a special relationship with former IOC President Samaranch which was instrumental in our prevailing association with the Olympic Movement and their early support of the IPC.
"I could not have had a more effective executive member to manage the IPC Treasury, as in those early days all nations, but particularly developing nations, confronted an insurmountable struggle for funding. I marvel even now how Andre was able to keep our fledgling organisation afloat financially.
"Words of praise for Andre's contribution to the Paralympic Movement, and his flawless character, are infinite and glowing. With the utmost integrity and commitment, he conducted his tireless dedication and fierce loyalty to our cause and purpose.  Andre was a gentleman of grace and dignity, warmth and compassion, who could tacitly balance those qualities with a tough intensity, humility and indomitable focus. He was an integral, indispensable and beloved part of our organisation's success.
"As we bid farewell to Andre with our deepest sorrow, I know he would not want us to put away the brushes and the easel, for the masterpiece is not finished. Our athletes today, and in the future, will continue to perfect the canvas upon which they have made their ineradicable impression on the world mural of elite sports.
"Andre will be greatly missed, but it is with my heartfelt sincerity that I assure Marie-Claude and all those whom he loved that he made a meaningful difference to our world, and he played an everlasting role in the Paralympic Movement, from its origins to all that has since been achieved, and we will be forever grateful. As the universe continues to open its window of opportunities for Paralympic athletes everywhere, as each inroad and progression is accomplished, we will remember Andre and his legacy that is ours for all time."