Big Interview: Founding IPC President Dr. Robert Steadward
Paralympic.org caught up with the first president of the Paralympic Movement.
24 May 2017
Imagen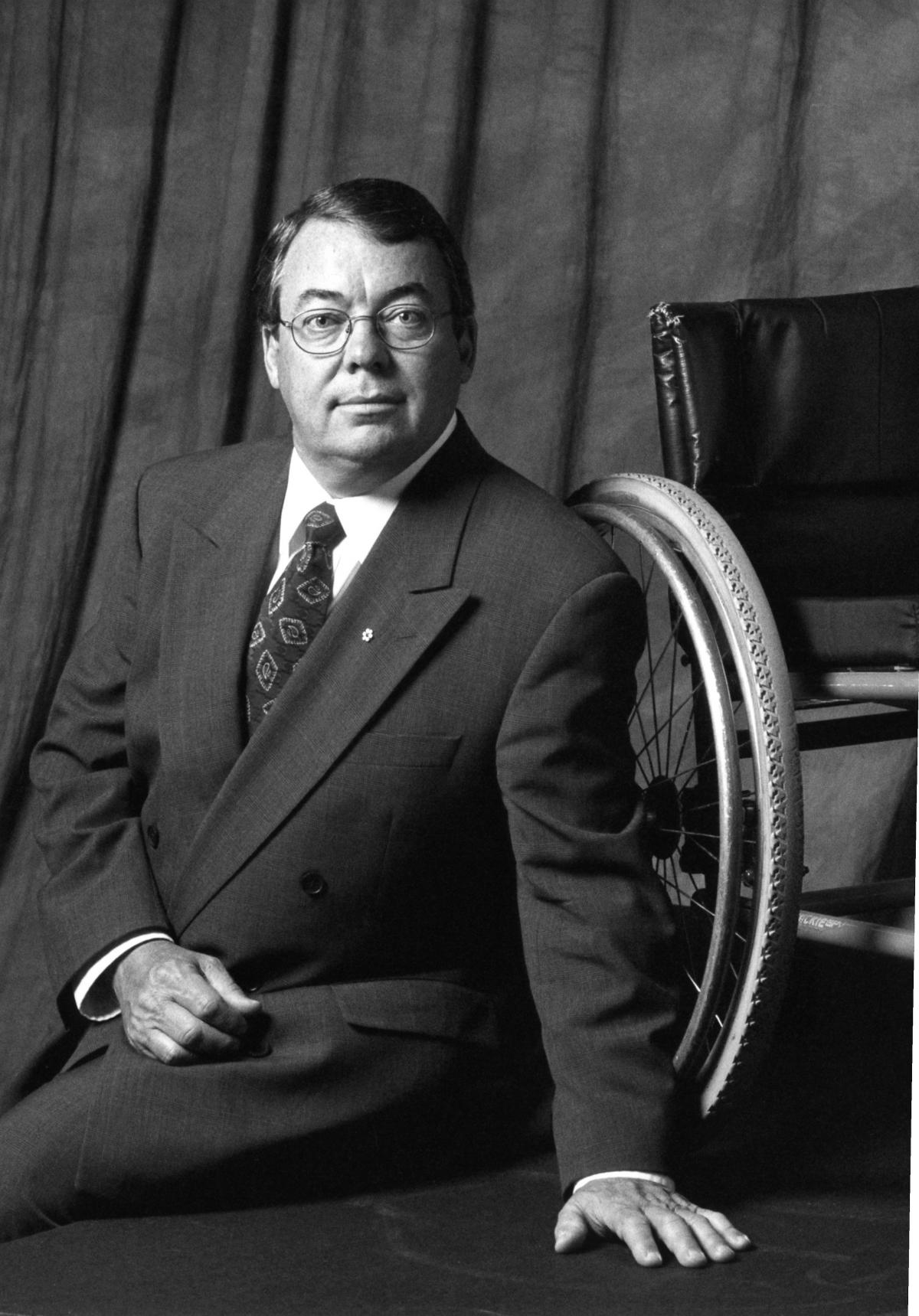 By IPC
"I continue to wonder when will we reach our maximum potential? When we will get to the point when no records are broken?"
Before Sir Philip Craven, there was Dr. Robert Steadward, the International Paralympic Committee's (IPC) first and founding President from 1989-2001.
As the IPC prepares to elect its new – and third – President at September's General Assembly, Paralympic.org caught up with Dr. Robert D. Steadward, OC, AOE, LLD, who currently resides in Edmonton, Canada.
Paralympic.org: What have you been up to lately?
Robert Steadward (RS): I've been heavily involved with volunteer work, but mainly at the local and national level. I'm working on a fairly in-depth project for my city, where I was appointed to a task force that looks at giving advice to the city councillors on how to put together bids for major sporting events for the future. I'm still trying to help a centre named after me here in Edmonton at the University of Alberta, The Steadward Centre. It's an internationally recognised research and training centre for people with disabilities.
How did you first get involved with the Paralympic Movement?
RS: It will be 50 years this September since I first got involved. As many things that you get involved with, some of it just happens by chance because there was no-one involved in my family with a disability, but I met three people in Edmonton who were using wheelchairs. They asked me if I'd like to help them in their sports of wheelchair basketball, athletics and swimming. I said sure, I'm at university myself and have time. I started coaching them in 1967. That same year and fall the Canadian Wheelchair Sports Association was created and Edmonton was granted to host the first wheelchair sport games in 1968. I was part of the Organising Committee. Then I became involved nationally by being the Chef de Mission and head coach of many of our national teams that travelled to the Paralympic Games and Stoke Mandeville Games in the 60s, 70s and 80s.
How did the birth of the IPC come about?
RS: I think we [disability sport organisations] were not working in the same direction because athletes who were visually impaired, spinal cord athletes and amputee athletes all had different needs, interests and ambitions. They all had different ambitions. And I felt that we should not be structured by disability. So we had some opportunity to interact with the IOC [International Olympic Committee] who said they would only collaborate with one organisation. … The ICC [International Co-ordinating Committee] was not a democratic structure and there was no sport representation and no national representation from the countries. So I wrote a proposal in 1984 and circulated it around the world to whoever would read it. As a result other countries became interested and we had a large international meeting in Arnhem [Netherlands]. … We elected a task force to look at creating a constitution for a new organisation and met during Seoul 1988 which did not produce successful results but we came back together next year in Dusseldorf [Germany].
Here we appointed a third party to manage the meeting, and that is where the birth of the IPC took place and I was honoured to be elected as the Founding President.
What was your role as President of the IPC at the time?
RS: It was likely one of the greatest challenges I had as a leader of a newly created world body. Alongside a fantastic group of volunteers on the Board of Directors we had to do our best to satisfy the international federations, various countries, the various sport groups, all of which had their own constituencies with ideas on how to get involved going forward. We were also moving from a disability structure to a sports structure which a primary purpose of integration. We also had to develop a relationship with the IOC president and IOC members. Perhaps most challenging was that during those 12 years when I was President the role if filled was as a volunteer. That being said, I would not have changed it for the world and I was honoured and privileged to represent the movement at the most critical time in our history.
What was key for you to do your duties?
RS: I had to learn to be diplomatic, patient, respectful and to listen. I also had to learn about the different cultures around the world. I had to make sure to persevere in order to achieve the goals and vision of the organisation. Finally, I also wanted to make sure I led the organisation in an open, transparent and honest environment. I am really proud to say that the people I worked with during those 12 years laid a really strong foundation for the amazing organization the IPC is today. I also remembered that no one ever achieves anything on their own and it is amazing what can be achieved when no one cares who gets the credit.
How did Bonn, Germany, become the IPC's headquarters over Colorado Springs, USA; Madrid, Spain; Oslo, Norway; and Paris to name a few?
RS: It was a decision that was in our best interest at the time and looking back, it was the best decision.
Bonn, Germany, is centrally located within Europe and we still are a high percentage European organisation. The capitol was moving from Bonn to Berlin, so there were a lot of buildings available to us. And Bonn had a mayor who understood sport having twin sons who were Olympic beach volleyball players and understood the importance for international organisations to have headquarters. She was incredibly supportive in providing us with the building and renovations and everything like that.
What do you hope to see in the next IPC President?
RS: We're in a situation where we've seen a tremendous amount of growth not only in the size and number of nations and athletes participating in various sports, but also in the quality of the performances. How are we going to continue to provide an environment for sport to grow and expand? Sustainability is always a concern of mine. The next president is going to have to have the ability to grow sport from a financial point of view.
I expect the next president has to have exceptional management skills, but more importantly exceptional leadership and communication skills. I want that person to be open and honest, they have to gain the respect of all of the nations, sports, athletes, International Federationss and IOC, and to have that reputation where they can be a leader respected throughout the organisation and beyond.
What was your favourite Paralympic Games moment?
RS: As President you don't get a lot of time during the Games to get out and see the sporting events because you're tied up with meetings. After I finished my three terms as President, and particularly in the last 10 years, I have really had an opportunity to see the athletes perform which has been wonderful. As President, you can not pick favourites but as Past President I able to cheer for my home country's athletes. One moment that stands out was when Chantal Petitclerc at the Beijing 2008 Games which were her last and where she won every race she entered. What a great end to her athletic career.
I also continue to wonder when will we reach our maximum potential? When we will get to the point when very few records are broken? Equipment is gaining sophisticated prominence, the training of our athletes is getting better and sport science is getting better. I cannot wait to see where this movement in another 20 years. I am very proud of what I was able to achieve along with the loyal support from my volunteer board, IPC staff and the entire Paralympic Movement.
Editor's note: Big Interview is a feature series published once a month on Paralympic.org, bringing exclusive interviews with some of the top figures in the Paralympic Movement.