Big Interview: APC CEO Lynne Anderson
Get to know the new head of the Australian Paralympic Committee as she enters her second year of Paralympic duties, off the back of her first Paralympics Games in Rio.
08 Mar 2017
Imagen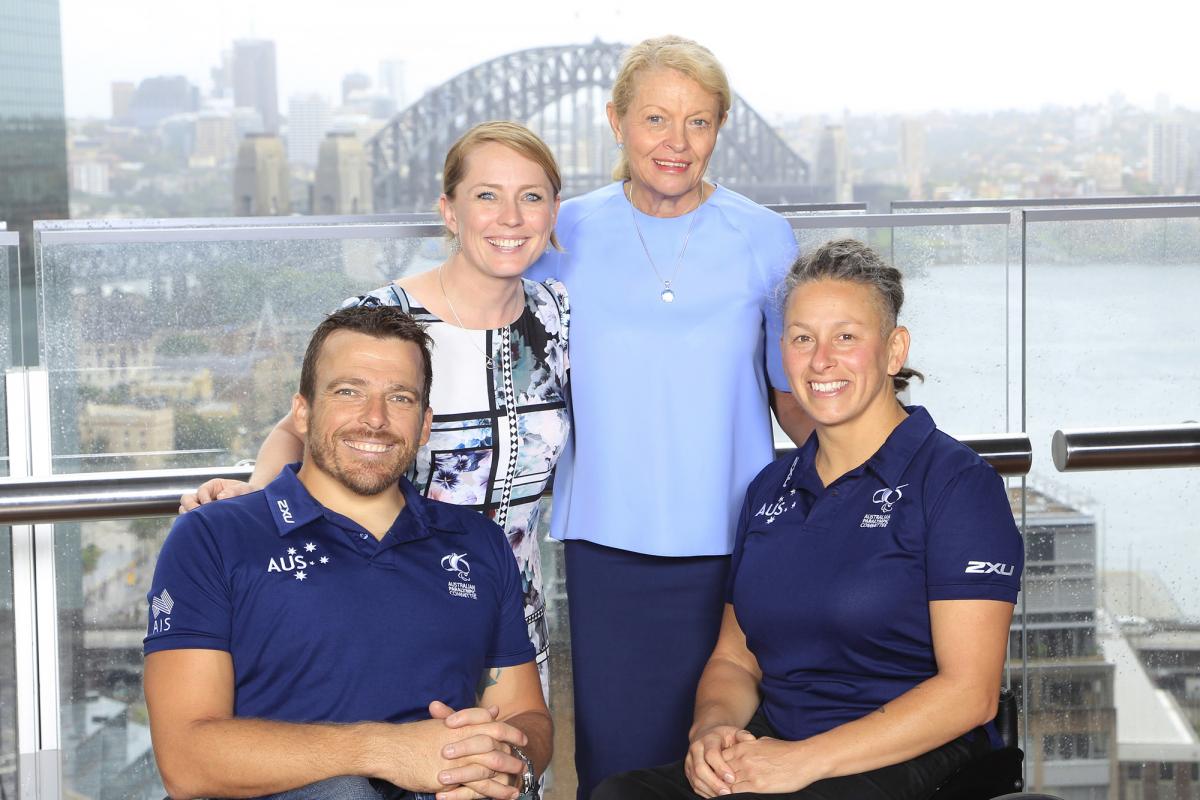 ⒸAustralian Paralympic Committee
By IPC
Lynne Anderson was named the Australian Paralympic Committee's new Chief Executive Officer in August 2015 and is coming off her first Paralympic Games experience from Rio 2016.
Paralympic.org caught up with Anderson and asked her about her rise to her new role, challenges she faces being a female CEO, plans for the new Paralympic cycle and more.
Paralympic.org: Please tell us about your background and how came to your role as CEO of the APC.
Lynne Anderson (LA): I was a late starter in my professional career. My husband had a job that took us overseas. I didn't go back to university until I was 35. I graduated with a Bachelor of Commerce, Major in Marketing in 1992. It's pertinent to note that even then there were no sports marketing or sponsorship topics in the course. I think it's good to reflect that this discipline we are in, which is the business of sport, is still relatively young and constantly evolving.
From there in 1993, I was appointed Marketing Manager of the Canterbury Bankstown Bulldogs Rugby League Club. I spent four years in this role. This included the tumultuous Super League era in Australia, an exceptional learning curve for me on all fronts as the game was the subject of a divisive and ugly battle for broadcast rights. It taught me much about the nature of sport and its role in the community and with fans.
What was your father's role with the Bulldogs?
LA: My father Peter Moore was the CEO at the time, and yet I never really had thought about working there. The Bulldogs lost their major sponsor, and when you obtain your degree, you tend to think you know it all. So I asked him 'Why don't you have a new sponsor?' And he said 'Well if you're so smart why don't you get us one?'
And I did. Before I knew it, I was working there, which was actually quite surreal for me.
What sponsor did you get?
LA: The Bulldogs' major sponsor had been a US-based company, HFC Finance, who made the decision to withdraw from all off-shore sponsorships. I did all my research in the local business media and found that a new car manufacturer, Hyundai, was looking to break into the Australian market. I assumed Hyundai was a Korean company and I thought great, in the Bulldogs we had a big multi-cultural population and Korea was the second largest group in what we call NESB [Non English Speaking Background]. So I prepared a presentation appealing to Korean owners. At the end they said 'We love it Lynne. We will definitely sponsor you but by the way we are not a Korean company. We're actually owned by a Singaporean consortium, with a famous Aussie, Alan Bond part of it.' In the end the hard work paid off, just for different reasons. They liked what we were doing. They loved our family image because they produced a family car. Also they loved the idea of associating with sport, inherent in our Australian DNA.
You worked at a well-known sports business consultancy in Repucom. What led you there?
LA: In 1997, I left the Bulldogs job as my husband had an opportunity in Melbourne. I had become fascinated with the world of sponsorship and fan engagement in particular. I looked to set up my own sports research consultancy, and was fortunate to be chosen to join a global network Swedish company called S-COMM. They were doing really cool research not just in measuring the value of the exposure of sponsorship but understanding what impact it had. I joined that network as the Australian and New Zealand licensee.
In 2008 Repucom came in to the market as a competitor, and it made sense to look at joint opportunities. The market for sponsorship evaluation needed a strong single currency of measurement to give confidence to what had become a high value industry. Repucom bought my business and I stayed on another six years looking after Australia and New Zealand. It was a wonderful ride as this small Australian company grew to become a global leader in sports, sponsorship and events research with offices in 22 countries. Our client base was a who's who of sport - FIFA, EPL, PGA, NFL, NBA, MLB, NHL as well as many blue-chip brands. Just as with Super League, it was an awesome learning curve seeing the worlds' best sports businesses up close.
At the end of that I was totally worn out like many people do in business, in particular, I believe a lot of women do, especially if you're a mum with a family and I just had to stop. I was at breaking point.
What year was that?
LA: That was 2014. I took eight months off. I wasn't sure if I wanted to get back into the corporate world. But I was passionate about what I would call the governance, diversity and inclusion area in sports. I love the potential of sport to do, and facilitate, so much good in the community. So I was going to set up a consulting business and then the Australian Paralympic Committee came knocking. I could not say no, and I now I have my dream job.
How do you apply your sports marketing background into your role today?
LA: I like research. I'm the type of person that just loves reading, happily lost in a library. I like understanding why things are how they are. I love sport. I love how sport engages the community and fans. So the more we understand why they think that way, the better we, the APC, can become.
For now in the Paralympics we haven't done a whole lot of consumer based research in Australia but we're starting to. For me because it is a relatively young sport, combined with the fact that the profile and reach is growing incredibly, the time is really good to capitalise and build something special and to do that you need to understand what the market for Paralympic sport is, who the fans are, what they want etc. We want to grow exposure and engagement in our sport. This will allow the athletes to continue to excel, which in itself grows the sport further.
Do you think you have an advantage with the job coming from the outside?
LA: I do. I also know what my weakness is, and my weakness is not knowing Para sport and the broader Movement. I've been incredibly lucky that I have a fantastic team behind me that has really good experience with the Games.
I can come in and give a new perspective, a new vision of what could be. I've seen what the future is for sport marketing because I always try to keep on top of trends.
After Rio 2016 and a little more than a year into the job, what are the biggest things you have learned?
LA: The hardest thing for me was I wanted to get involved and I needed to learn so much more but I knew I needed to keep out of the way. The APC's staff preparing our Rio 2016 Games team were on a mission and they had to be left alone because they were so busy. But on the other hand it was great sitting on the sidelines and I used to say to them we are on a dual highway, where one is going to Rio and another is headed to PyeongChang2018 and Tokyo 2020. So I was on the latter to start the planning strategies and development around the business as a whole.
The most important thing I have learned is that the Paralympic Movement is something very, very special, something that needs to be shared on a broader scale. I have absolutely no doubt that in Australia our Paralympic team will become Australia's favourite team. Not only do we have the desired sporting excellence and performance there on a global stage, but our athletes exude a respect, humility and dignity that makes us all proud.
Are there any specific challenges you face being a female CEO?
LA: Not at all, but I'm also cognizant of the fact that there are challenges for other women. I think I've been really blessed because in the first stages of my career I was at a club that was my club, then I set my own business up, so you're going to be alright because you're your own boss. And then in Repucom, it was an energetic, fast growing business and we performed well so I was given latitude. However when I did take time off – and I'm very aware I'm not a young female – I was given advice that I wasn't going to get a job because I was a female past a certain age, which was really disappointing at the time. But I remember thinking I wasn't looking for another job so that's not too bad. But when the APC came looking, it was never an issue. I had done work with the Australian Sports Commission in my days at Repucom, so they knew what I could do and they were so supportive. The APC were brilliant. From the directors through to the President they've been fantastic. It's an incredibly talented board with lots of experience which they are more than happy to share with me.
I'm conscious of the fact that I'm heavily involved with women in sport broadly at home and there is still work to be done in this space, and I have no doubt there are biases still at play. I've been very, very lucky, and I'm never going to take that for granted. And I'm keen to be part of change so that future generations of females continue come through. Importantly I'm there to tell them all my mistakes to help them along. They can make their own!
Why do you think it is a challenge for women to get to a role like yours, especially in sports?
LA: Sports in Australia is still what we call 'blokey' a bloke is a man]. While women are making good strides, both off the field in administration and on the field with women's sports getting great TV time now, they are still not near representative levels. It is improving as what I call the next generation, my daughter and her friends are like 'Get out of the way, I can do anything I want to.' So things are changing but I think the last 40-50 years of sport in Australia was very male dominated, and that will take time to change. My previous club the Bulldogs now have a female chief executive and she is very, very good. So with more women at the top, other women will see that they can do it and men will start to say yes there is a diversity of thinking, capability and other attributes here and it's very good for us to have that.
What do you think women bring to a role like yours?
LA: Different insights and emotional differences. But having said that not all women are the same. My style of leadership is very maternal and family oriented.
The diversity in thinking is certainly one of them but there is a tendency with many women, especially I think when we are in a dynamic that has not had a lot of female presence, that we just get on and do it.
What are the APC's goals for PyeongChang 2018 and Tokyo 2020?
LA: To finish in the top fifteen for PyeongChang and top five for Tokyo again. These are our basic performance targets, which are set by the Australian Sports Commission. The next target for me is I want to build the commercial value of the business so that we can start to do things that we want to, whether that's sponsorship, fundraising or grants. Increasing our athlete-centric focus is another key objective and opportunity for us. We don't have an athlete's council and will definitely look into that. It's incumbent on us to value our athletes and sports. They are our reason for being.
We also have an opportunity to challenge the thinking of the whole community, not just people with a disability, and that is good for us all. We want to be seen as best practice in Australian sport.
Editor's note: Big Interview is a feature series published once a month on Paralympic.org, bringing exclusive interviews with some of the top figures in the Paralympic Movement.