Big Interview: The UN's Wilfried Lemke
The United Nations Special Adviser to the Secretary General of Sport for Development and Peace shares his insight on Para sport development around the world and thoughts on the upcoming Games in Rio.
22 Jun 2016
Imagen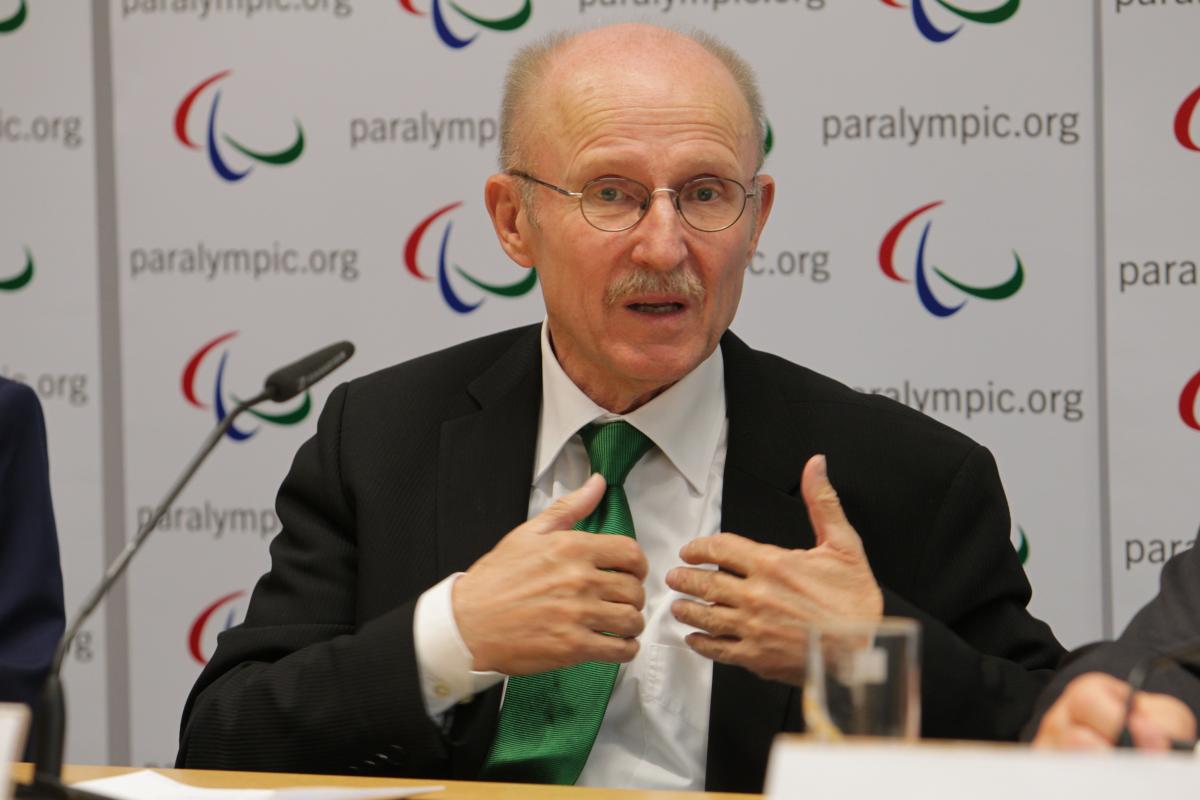 ⒸIPC
By IPC
The United Nations (UN) Special Adviser to the Secretary General of Sport for Development and Peace Wilfried Lemke has been involved in the Paralympic Movement since taking on his role in 2008.
From attending the London 2012 and Sochi 2014 Paralympic Games, to visiting Iran and Russia's National Paralympic Day festivals, Lemke has witnessed the broader impact Para sports have in society.
He shares his insight with Paralympic.org on the challenges people with an impairment face around the world, the impact Rio 2016 will have and even his favourite Para sport:
IPC: What issues do people with an impairment face in their societies? How does this differ across countries and cultures, from first-world nations to third-world nations?
Wilfried Lemke: Persons with disabilities continue to face stigmatisation and discrimination linked to their disabilities. They are often excluded from basic social activities, such as education, community life, leisure, as well as sport. Thus, many of them remain socially isolated and left out within the home environment.
Discrimination and stigmatisation against those living with disabilities is extremely varied across the world. While some countries implement policies and legislation to protect the rights and needs of those living with disabilities, other countries, influenced by their cultural and traditional beliefs, lack any institutional and legal framework. As an example, from the 193 State Members of the United Nations, only 164 signed the Convention on the Rights of Persons with Disabilities, a treaty intended to protect and promote the rights and dignity of persons with disabilities.
What are the biggest challenges in getting people engaged in Para sport?
In many countries, there is an apparent lack of resources allocated to Para sport. Persons with disabilities have few, if any, opportunities to access and take part in sporting activities. On top of that, Para sporting events and their achievements receive minimal media coverage, in comparison to their able-bodied counterparts. … It is paramount to promote the development of Para sport in society by investing in adaptable and accessible sporting infrastructure.
What benefits do you think Para sports can bring to those who participate in it and those who watch it either as a spectator or TV viewer?
Anyone who has attended or watched a Para sporting event has surely been amazed by the tremendous ability and courage displayed by athletes. For the audience, participants with disabilities are true sportspersons, which often challenges the stereotypes associated with them in many countries. At the same time, participants are empowered and recognised as full and equal members of society.
Can you share some of your favourite experiences where you witnessed Para sports' impact a society?
My Office, the United Nations Office on Sport for Development and Peace, organises the Youth Leadership Camp, a programme that provides highly motivated youth with access to theoretical and practical training on how sport can be better used to effect positive change in their communities.
In 2014, a young Paralympic athlete, Maclean Dzidzienyo from Ghana, participated in the Berlin Youth Leadership Programme Camp. He has since reached the B-standard qualifying time for the Paralympics. Thanks to the support of his community, Maclean got a new racing chair and is working toward qualification for the Paralympics in Rio. He serves as a role model for children and athletes alike, demonstrating the importance of persistence in pursuing their dreams regardless of their physical ability.
You attended Iran's Paralympic Day last October. How have you seen Para sports promote peace and development in Iran?
In many countries, children with disabilities are still banned from taking part in sport in schools. Sport is an outstanding tool to include marginalised and disadvantaged groups, promote gender equality and fully integrate persons with disabilities into societies.
The National Paralympic Day in Iran is a wonderful initiative. In 2014, 8,000 children with disabilities were celebrating this event. With so many people living with disabilities, in the world and in Iran, the National Paralympic Day last October marked an important step forward in raising public awareness about a truly inclusive society.
What are some of your favourite Para sports to play and watch?
As I am myself a half marathon runner, I really enjoy watching the long-distance running at the Paralympics. Wheelchair basketball is also one of my favourite to watch. I also really enjoy watching wheelchair racing competitions on the track.
What Paralympic sport will you be most excited to watch for in Rio 2016?
Additionally to the Para sports I've mentioned previously I will be excited to watch talented footballers in football 5-a-side. As I was the General Manager of Werder Bremen for 18 years, I am looking forward to watching the visually impaired version of the world's most popular sport.
Brazil has faced quite a lot of political and economic turmoil in recent years. Do you think the Paralympic Games can help restore pride in the Brazilian people?
Despite all the political and economic turmoil Brazil is facing, the country can be very proud to host the first ever Paralympic games in Latin America. Sport is an important tool that unifies and brings people together. I am sure that during the Games, Brazilians will put aside their differences and join hands to make the Paralympic and Olympic Games the most spectacular ones yet.
Editor's note: Big Interview is a feature series published once a month on Paralympic.org, bringing exclusive interviews with some of the top figures in the Paralympic Movement.