IPC President Parsons signs declaration on inclusion of sport at Vatican
The declaration was signed at the conclusion of a two-day international summit at the Vatican
30 Sep 2022
Imagen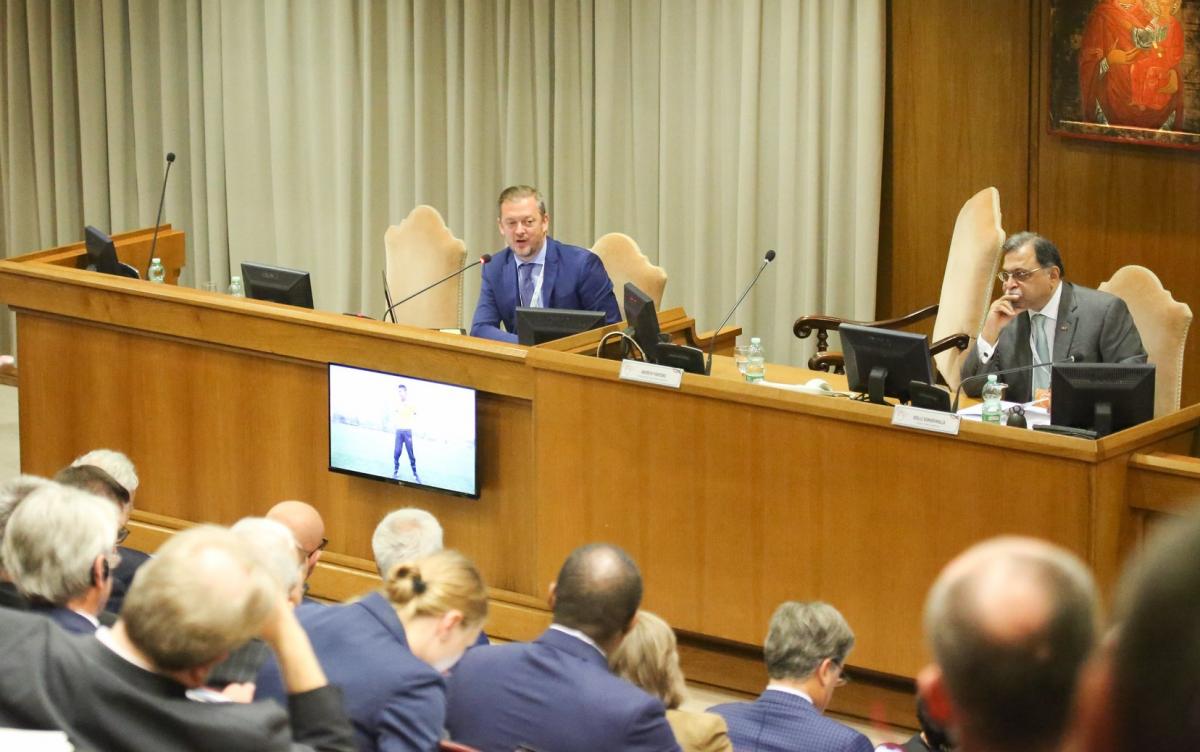 ⒸDicastery for Laity, Family and Life
By IPC
International Paralympic Committee (IPC) President Andrew Parsons signed a declaration at the Vatican on 30 September with representatives of sports organisations and athletes, pledging to improve the society through sports. 
In the presence of Pope Francis, Parsons and participants of a two-day international summit signed the new declaration, which states that sports should be cohesive, accessible and tailored to each person's needs.  
The new declaration
The declaration presented at the "Sport for All: Cohesive, Accessible and Tailored to each person" summit was also backed by International Olympic Committee (IOC) President Thomas Bach. 
People who signed the declaration are committed to promote sports that met the needs of people living in vulnerable conditions, including those with disabilities, and break down barriers through sports, among other pledges. 
"This is an important declaration. To sign it with the Vatican and the IOC, it shows the strong positioning of the church and the sports movement when it comes to inclusion and making sport available to the most in need and vulnerable," Parsons said. 
Addressing the delegates Pope Francis said: "Sport can be a symbol of unity for a society, an experience of integration, an example of cohesion and a message of concord and peace...If the world of sport conveys unity and cohesion, it can become a formidable ally in building peace. 
"We should be committed to giving everyone the opportunity to play sports, to cultivate – one could say to be 'trained' in – the values of sport and transform them into virtues." 
Sports tailored to each person's needs
On the first day of the summit, Parsons gave a speech about inclusion in sports by sharing specific examples of projects that were created to meet individual's needs, including those of people with impairments. 
He introduced the National Paralympic Committee Development Project (NPCDP), a programme sponsored by Toyota, aiming to increase the knowledge, skills, capacity and opportunities for National Paralympic Committees around the world to develop Para athletes and Para sport. 
"Sport is life's great educator, helping develop a range of life skills that are beneficial to all," the IPC President said.  
"Teamwork, leadership, communication, learning to lose with dignity, self-confidence, discipline, playing by the rules are all life skills taught by planting sport. The earlier people can learn these skills, the better it will be for society," he added. 
Addressing participants of the summit, Parsons also highlighted the challenges and barriers that people with impairments face. 
"In terms of persons with disabilities, barriers to participation can be generally classified into three areas: individual, social and environment," he said.
"In my view, the current barriers to participation should act as guides as to what needs to be done to tailor and adapt programmes to get more people active." 
The summit was promoted by Dicastery for Laity, Family and Life, among other groups, and was held in response to Pope Francis' call on the social responsibility of sports and the importance of sports practices as means of human, educational and spiritual growth. 
About 200 people from the world of sports, including athletes, coaches and members of international sports federations, were invited to attend the summit, the organisers said. Other speakers at the summit included British Paralympian Stefanie Reid, who told the story of the difference Para sport made in her life, and Filippo Grandi, UN High Commissioner for Refugees.