Jose Luis Campo leaves strong legacy
Paralympic family remembers a pioneer of the Movement in the Americas
24 Oct 2017
Imagen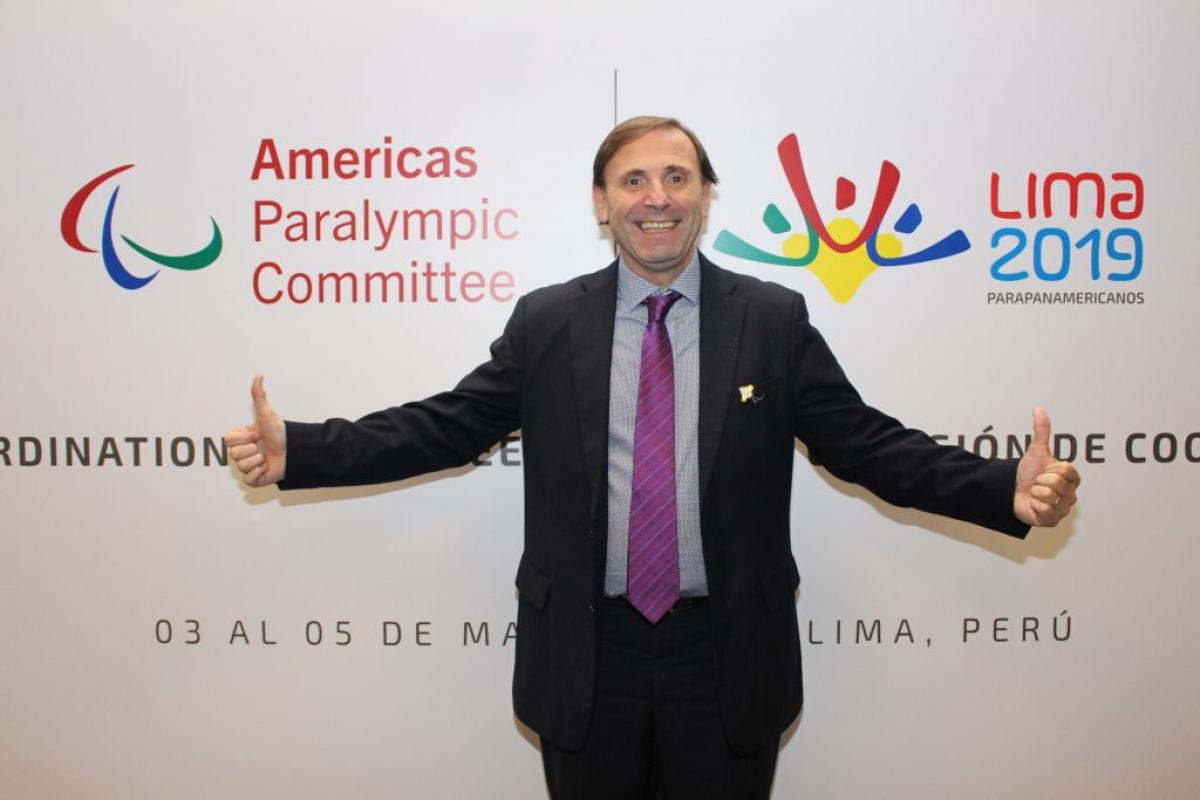 ⒸAPC
By IPC
"Jose Luis Campo was an inspiration to anyone who knew him. His passion for the Paralympic Movement had no limits."
The Paralympic family reacted with shock and deep sorrow at the passing away on 16 October 2017 of Americas Paralympic Committee (APC) President Jose Luis Campo, a driving force behind the development of the Paralympic Movement in the Americas during the last 20 years.
He died in his home city Mar del Plata, Argentina, after suffering a suspected heart attack while participating in a fundraising walk/run event to raise funds for organisations fighting children's cancer.
Campo, who was a physical education teacher for people with impairment, leaves behind his wife Sonia and his three children Bernardo, Manuel and Josefina.
Here the Paralympic Movement remembers him as a cheerful person, a man passionate about the Movement, an advocate for the rights of people with impairment and a good friend.
Ahiquel Hernandez, NPC Venezuela President
"Jose Luis was an extraordinary human being who devoted his life to making a better and happier and more inclusive world for people with impairment. He made us all better people and we will remember him from the heart."
Andrew Parsons, International Paralympic Committee (IPC) President
"The Paralympic Movement has lost one of its most valuable members. Jose Luis Campo was an inspiration to anyone who knew him. His passion for the Paralympic Movement had no limits. I called him "maestro" [teacher] as he taught me so much over the years. His commitment with the Movement was beyond any comprehension. His legacy to the Paralympic sport will live strong forever. It was a privilege and an honour to work alongside him."
Bayron Lopez, NPC Ecuador President
"Eight years ago, we created the Paralympic sporting structure in Ecuador. And this process would not have been possible without the support of many people, being José Luis one of them. He always fought next to us! You could see his passion and dedication for what he was doing, always trying to help those in need. It was an honour to meet and work with him."
Carlos Neuhaus, Lima 2019 President
"We are convinced his legacy will live on forever. All the people he inspired throughout his life will surely carry on it."
Daniela Luchina, former swimmer and wheelchair rugby player
"After retiring, I wanted to continue being involved in Para sports to give back to the Paralympic Movement everything it had given to me. Jose Luis gave me that opportunity, always listened to me, and gave me advice and all his support. His passion for the Paralympic Movement was clear. He worked tirelessly to achieve social inclusion for people with impairment. Above all, he was a great person."
Dionicio Zeledon, NPC Nicaragua Secretary General
"Jose Luis always supported and helped NPC Nicaragua a lot, especially to become an IPC and APC Member. He taught us all that we always have to fight for our dreams and our rights. He will always be remembered by us all for his tireless effort and will always be an inspiration."
Eduardo Montenegro, APC Vice-president
"Jose Luis was a great father, a great husband, a great friend of many people including myself and a great worker. He was a dedicated and responsible man, capable of managing and orienting others."
Esther Faskha, NPC Panama President
"A great leader, friend and brother of Paralympic sports has left us. We will forever cherish the great moments we shared and all the achievements."
Frank Cameron, NPC Suriname President
"He was a driving force for the development of Para sports in the Americas and an inspiration for us all. We are mourning the loss of a true friend of NPC Suriname."
Ileana Rodriguez, Paralympian and APC Athlete Representative
"I met Jose Luis at the 2011 Parapan American Games in Guadalajara, Mexico. He was a very brave man, willing to face anyone he had to face to defend the athletes. When I joined the APC as Athlete Representative, he welcomed me and made me feel part of the team immediately. Earlier this year, he talked to me about his many projects and his unconditional support to the athletes. We are not always lucky enough to find people like José Luis, but I was and I will always remember him."
Jorge Alberto Ochoa, NPC El Salvador President
"He was a friend, a man who inspired us and made us love the Paralympic Movement through his effortless work to bring social inclusion to the Americas. Jose Luis is an example to follow. He has left a big mark."
Juan Membreno, NPC Honduras President
"He worked for many years to create new opportunities for the athletes in the Americas. We will try stay strong to fulfill his vision of making a stronger region."
Luca Pancalli, IPC Member at Large and NPC Italy President
"Andrew Parsons used to call him "maestro", and this was true for all of us. His commitment and all the efforts he made for the sake of the Paralympic mission are unforgettable and we will always remember him as one of the most valuable people in our Movement."
Lucha Villar, NPC Peru President
"He was an optimistic person, always cheering you up. He will be missed but I will try give my best to continue with the development of Para sports following his teachings and help."
Marta de Acajabon, NPC Guatemala President
"We were talking earlier this year and he surprised me with information about my country even I did not know about. I will never forget his good advice. That is how Jose Luis was. Unique."
Pedro Mejia, Paralympic champion and APC Member at Large
"The Paralympic family has lost one of its biggest leaders. I want to thank him for his legacy, for being a good person, acting with humility and his devotion to Paralympic sports. We have lost a great leader, a great man and an even better friend."
Sir Philip Craven, former IPC President
"Jose Luis had the Paralympic spirit coursing through every vein and artery in his body. He was the greatest example of how members of the Paralympic family reach out to others to inspire and excite them through Para sport, which leads to far fuller meaningful and exciting life. As a Governing Board member, he was a great listener but when he spoke everyone listened and then acted. He was a very good friend but also a great ambassador for the Argentinian people."
Sudhir Ramessar, NPC Trinidad & Tobago President
"He was the guiding light for the Americas."