Laurentia Tan works around hearing impairment
The London 2012 silver medallist has developed skills that make her one of the top freestyle Para equestrian riders ahead of Rio.
01 Jul 2016
Imagen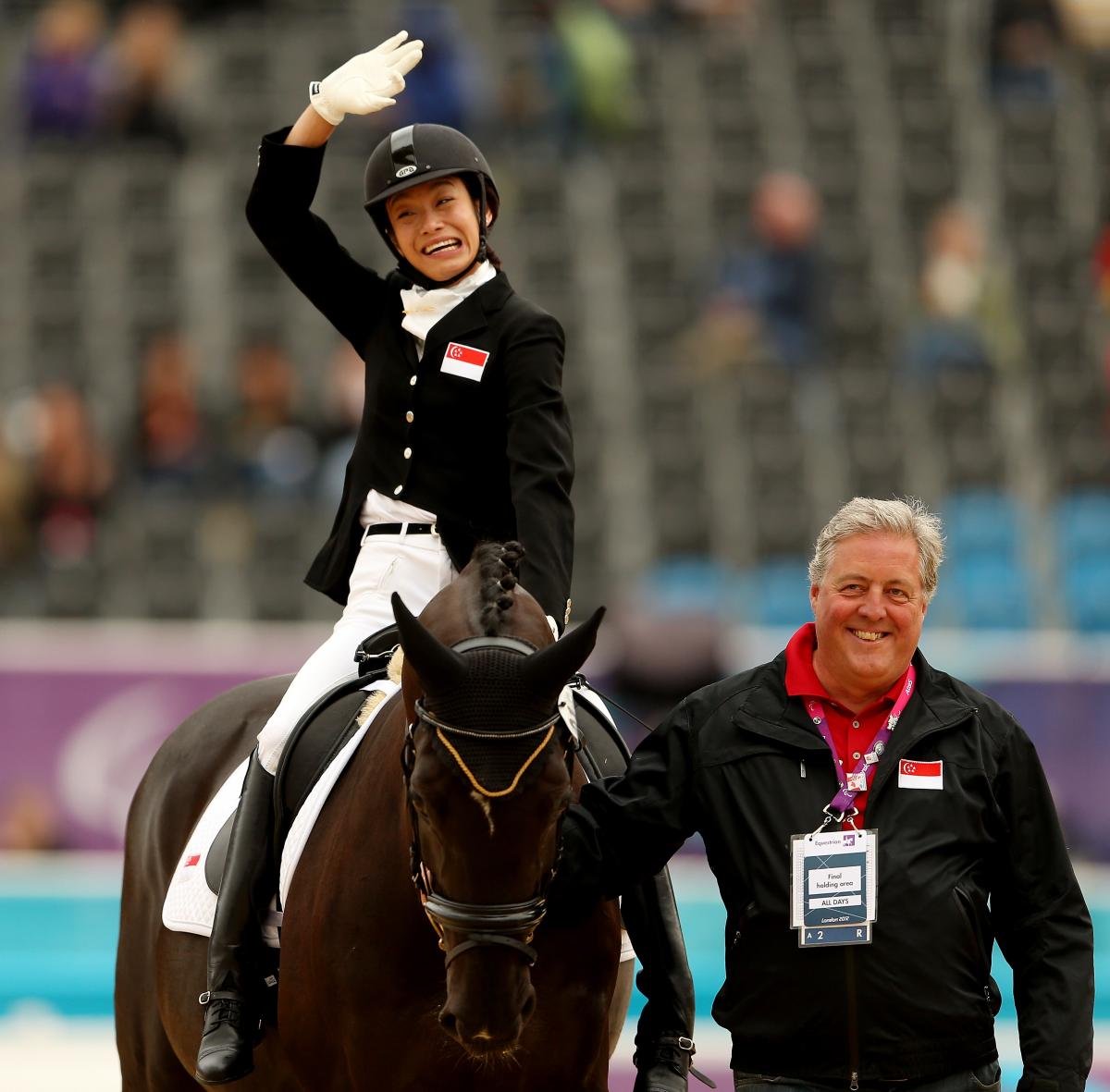 ⒸGetty Images
By Robert Howell | For the IPC
"It is always an honour and privilege to represent Singapore around the world and to put the country on the equestrian sporting map."
Singapore's Laurentia Tan is profoundly deaf. But she does not use that as an excuse from bettering her silver medal from London 2012 in the freestyle test, which is the only test of the three equestrian dressage events performed to music.
"Being a deaf rider, the freestyle is the most difficult as marks are given on compulsory movements, choreography and music interpretation," Tan said.
"I can't hear the music and contrary to many people's belief, I don't count the steps. That would be pointless, as it would go into the late hundreds, if not, thousands [of steps my horse would take] for a four-and-a-half-minute routine."
Instead Tan relies on what she describes as her sense of feeling on the horse. It is a skill she developed as a result of her deafness in the same way that her sharp eyesight compensates for her lack of hearing.
"I do wish though that I could have a live orchestra playing something visual so I can 'see' the music," Tan said. "Other riders can hear their music and pace themselves. I can't hear the music at all, let alone when it has started or is finishing. I can't hear where I am in the timing of the music, never mind if I have more time or less time to do a certain movement. But I think it is a blessing in a way as I can just concentrate on the riding, the horse and the movements.
"I can achieve the same things a so-called 'able bodied' person would. I just have to do it differently, with creativity and imagination."
Tan left London 2012 with two medals: silver in the individual freestyle test grade 1a and bronze in the Individual championship test.
She became Singapore's first ever Paralympic medallist when she picked up two bronze medals in Beijing 2008.
In the eight years since then, Tan has become one of her country's most accomplished and recognised sports personalities, and she followed up the London 2012 Games with bronze at the Alltech FEI World Equestrian Games in 2014.
Tan's family moved from Singapore to Great Britain when she was three years old because of her father's work, but she still identifies her roots in Singapore.
"It is always an honour and privilege to represent Singapore around the world and to put the country on the equestrian sporting map," Tan said. "The support of Singaporeans inspires and helps me focus on my strong belief that we cannot reach and achieve our potential without pushing and testing ourselves."
As the Rio 2016 Paralympic Games approach Tan will, should she qualify, be considered a strong favourite to take a medal. She faces tough competition from Great Britain's Sophie Christiansen, the reigning Paralympic champion, and Italy's Sara Morganti, the current freestyle world champion.
Tan would compete on her 18-year-old gelding Ruben James 2.
While "creativity and imagination" have been to working around her hearing impairment, another secret is the bond she has with her horse.
"We met in October 2011 and I still remember that day," Tan said.
"I went with my coach in Germany to look and try different horses, and I was riding one after another, and another, and another. He was the seventh horse I rode that day and I fell in love with him within five minutes of riding him. Although I was probably his first Para rider, he seemed really comfortable with me and willing to work with me. Ruben James understands me, trusts me and we just click well together."
__
Sport fans from around the world can now buy their Paralympic tickets for Rio 2016 from authorised ticket resellers (ATRs)
The IPC's Global ATR is Jet Set Sports, and Rio 2016 tickets and packages can be purchased on the CoSport website.
Residents of Brazil can buy 2016 Paralympics tickets directly from the Rio 2016 website.
Visa International is the exclusive payment card and the official payment system for the Paralympic Games.