Lively debate at EPC Conference in Dublin
The European Paralympic Committee President relayed that there are many challenges ahead for the Movement despite the 'magnificent' success at London 2012.
06 Oct 2013
Imagen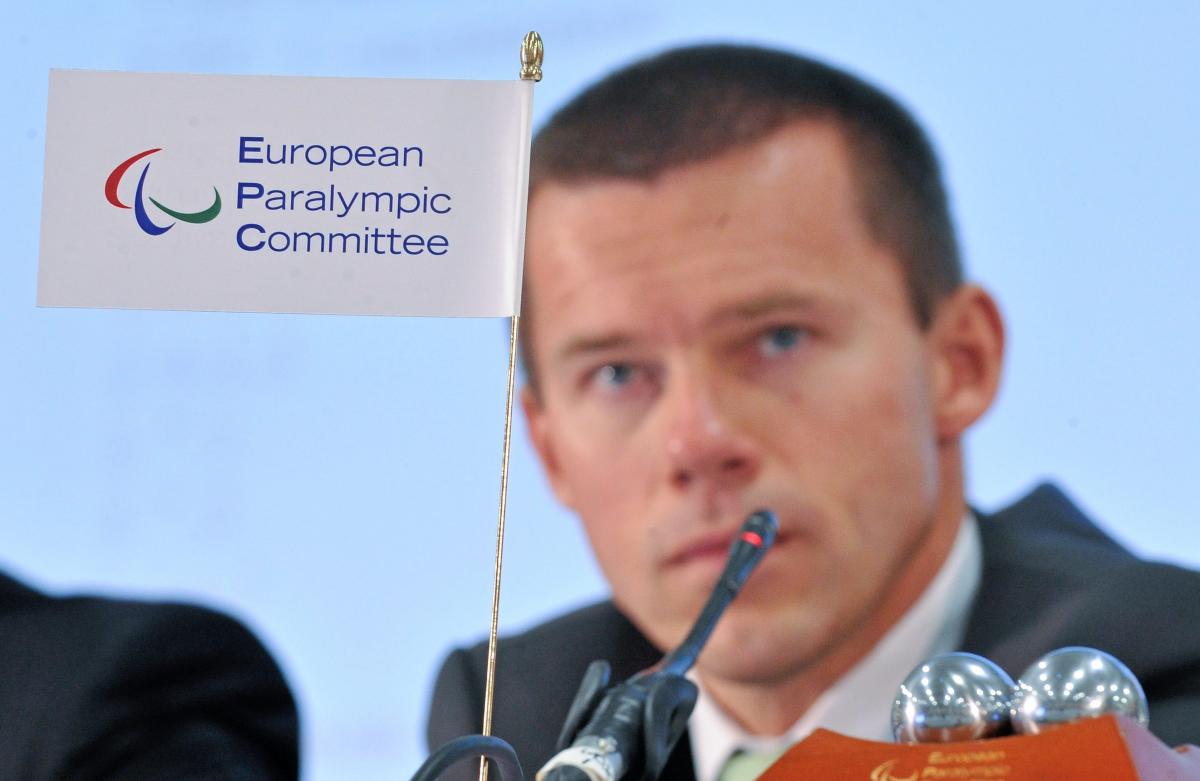 ⒸParalympics Ireland
By Paralympics Ireland
"We need to be a provider of sporting opportunity and a sport political stakeholder."
Ireland proved itself a leading player in a sporting sense during last summer's Paralympic Games in London. With the successful opening to the 10th European Paralympic Committee (EPC) General Assembly and Conference at the Crowne Plaza Hotel-Northwood in Dublin on Friday (4 September), Paralympics Ireland has shown a similar ability to operate at the highest echelons of the administrational sphere within the Paralympic Movement.
There was plenty of lively discussion at Friday's Conference, as the different stakeholders around Europe made presentations revolving around five key areas.
Sports policy, sports development, co-operation, gender equality and youth development were the main issues debated by more than 100 delegates from the 49 member nations, with RTÉ's Darren Frehill keeping proceedings running smoothly.
A host of dignitaries were in attendance, including EPC President John Petersson, International Paralympic Committee President Sir Philip Craven, European Olympic Committee President Pat Hickey, Paralympics Ireland President James Gradwell, and CEO of the Irish Sports Council, John Treacy.
EPC president John Petersson – himself a winner of 15 Paralympic medals for Denmark in the swimming pool – declared that while the Paralympic Movement was about athletes and the Games, it also had a major role to play in the areas of social awareness and equal opportunities.
Despite the success of the "magnificent" Paralympic Games in London last year that had increased awareness markedly, there were still many challenges facing the movement given its limited resources.
These, said Petersson, revolved around sourcing more and better-educated staff, enhancing infrastructure and attracting improved financial and structural support. With that in mind, the focus would be on mainstreaming– the integration and inclusion of athletes with an impairment into mainstream sport, and making facilities accessible to people with impairments was the key to that.
"We need to be a provider of sporting opportunity and a sport political stakeholder," said the EPC President as he concluded with his goal for the future.
Much has changed globally and in Ireland since Paralympics Ireland hosted the EPC General Assembly and Conference for the first time 12 years ago. Paralympics Ireland chief executive, Liam Harbison said that while it was important to celebrate the successes, the time had come to look to the future and build on the momentum.
"For anyone involved it was an amazing journey… a stunning production for Paralympic sport. It's something we'll never forget" said Harbison.
Ireland have travelled from winning four medals at the Athens 2004 Paralympics and finishing 60th on the medal table, to a position of 19th, courtesy of 15 medals (including eight golds) in London last year. While there is a clear legacy of this success, as evidenced by a talent search event in UCD that was attended by 400 new athletes, Paralympics Ireland faces many challenges in the coming years according to its CEO.
These involve securing sustainable resources, addressing the blockages on the athlete pathway in some sports, addressing the restructured event list for Rio 2016 that has led to events that earned gold medals for Michael McKillop and Jason Smyth being dropped, securing acceptable levels of broadcast coverage and addressing the country's lack of international influence.
Later on, there were numerous presentations surrounding policy and planning for the future. Tim Maher captured the attentions of the international audience with his presentation on wheelchair hurling, a sport he invented in 1998 and which is growing in popularity on an annual basis.
European Co-operation
A key element of the day's proceedings was the signing of a memorandum of understanding by the EPC and EOC presidents. This represents a ground-breaking formal commitment from the two organisations that they will work together for the development of sport in Europe, particularly at youth level.
Before this landmark moment, Pat Hickey reasserted EOC's commitment to Paralympics, youth participation and education, gender equality and social inclusion via sport. Advancements in terms of gender equality are very well illustrated in Ireland by the fact that eight the nation's 15 medals in London came from women, in comparison to none from four eight years previously. CEO of Sport For Business, Rob Hartnett argued that female sport deserved parity of esteem with their male counterparts and that this was happening belatedly, mirroring the parity of esteem being awarded to Paralympic athletes compared to their able-bodied counterparts.
This was beginning to attract increasing commercial interest and big brands would do so on an increasing basis in the coming years, he predicted. Much of this is as a result of specific work by EPC and the Women In Sport Committee led by Petra Huber. She revealed that there is still much work to be done in terms of increasing female representation at executive level and amongst the athletes, while how female athletes are portrayed must also be addressed.
The Brighton Delcaration
With that in mind, there was a very important progression as Petra Huber, EPC President John Petersson and EPC board member Denis Jaeken signed the Brighton Declaration, which has as its overriding aim, the goal of developing a sporting culture that enables and values the full involvement of women in every aspect of sport.
The Conference concluded with a discussion on Youth Games development, with EPC Treasurer, Craig Carscadden maintained that a balance had to be found in terms of catering for elite athletes and providing a more holistic approach.
"There's got to be an element of competition, with pathways, but also an element of education and cultural experience" Mr Carscadden said.