Machens opens up about dancesport career
The European singles champion explains how and why wheelchair dancesport became the focus of his life.
31 Jul 2015
Imagen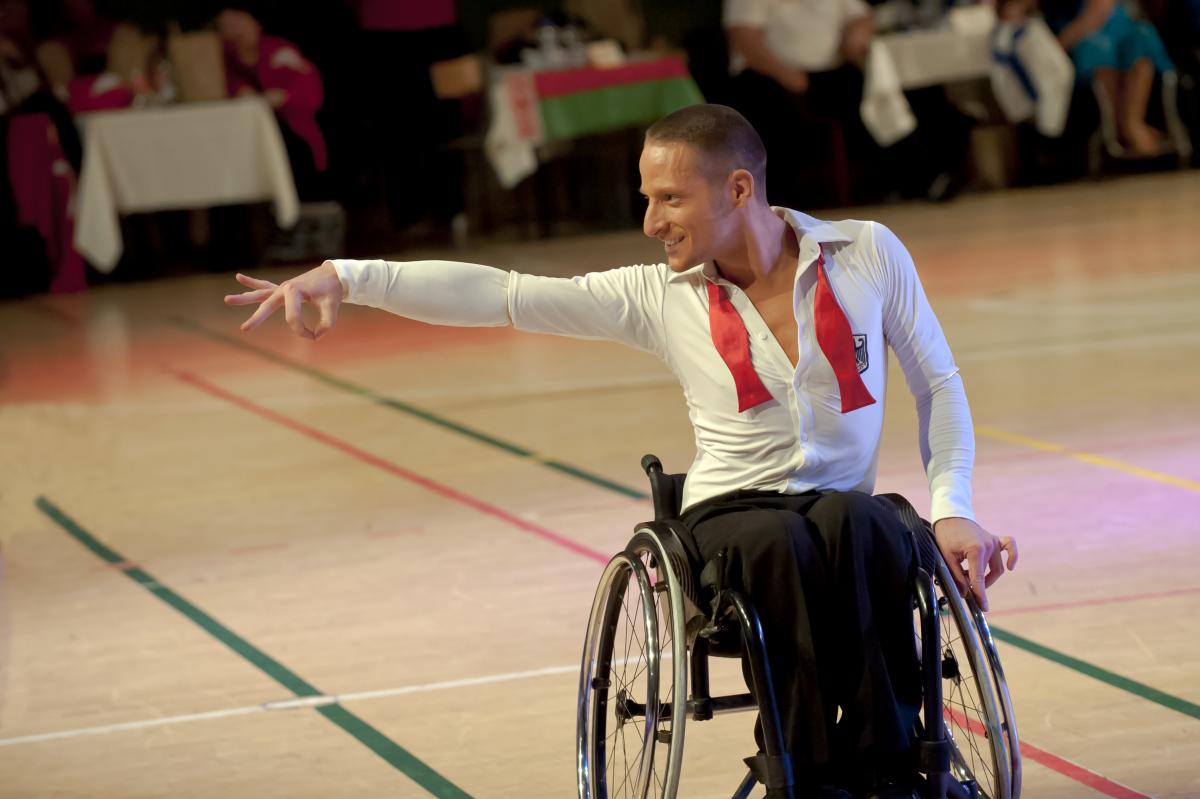 ⒸJacek Reda
By Joanne Reid
Germany's European men's single class two champion Erik Machens has revealed how he owes his wheelchair dance sport career to the simple belief of two school friends.
Machens, 31, spoke of the chance encounter at a disco which led him to become one of the world's greatest dancers.
"It starts with two young ladys, Ida Grändas and Agnieszka Siciarek," he explained. "They carried me on the dance floor during my late school years".
The rest, as they say, is history. But it took a few years before Machens got serious.
In 2009 he and former dance partner Andrea Borrmann took part in a dance workshop for fun and were discovered by now coach Michael Webel.
Machens explained why he decided to start training professionally: "Dance sport is a direct way to express myself, my inner feelings on the floor. It's more then just sports, it is a sign for everybody's possibilities and potential. Once you have a good day, everything went well, you have the power to conjure a smile on somebody's face.
"That's fantastic – that's dance sport!"
Machens has enjoyed a meteoric rise to the top of the sport. Just one year after taking it up, he was ranked No.3 in the world in the duo Latin and standard with Borrmann.
When Borrmann retired prior to the start of the 2014 season, Machens went on to compete in the newly introduced singles events, winning gold at the 2014 IPC Wheelchair Dance Sport European Championships in Lomianki, Poland. There he edged out fellow competitor, Russia's Maksim Sedakov, by just three points.
While much is made of the rivalry between Machens and Sedakov, Machens has a different view.
"No, I don't think in such categories," he said. "No rivalry, we are two dancers. There are only dancers and sportsmen on the floor. I came to the conclusion, that in sports all participants are part of a huge kind of family."
In fact, when asked if he wanted to send a message to Sedakov ahead of the 2015 season, Machens said: "Let's keep on rocking, Maksim!"
In addition to being a great sportsperson and proponent of the sport, Machens is also a humble champion. When asked to respond to his European singles victory, Machens explained that he had done "Pretty fine, thanks". But when asked to describe his something favourite moment of the 2014 season, Machens opened up.
"The moment when the final results of the European Championships were published, my coach Michael Webel came to me with tears in his eyes," Machens reflected.
"The whole situation was just very touching and showed me all the work, all the trainings, were worthwhile."
Looking ahead to this season, Machens is most excited about the IPC Wheelchair Dance Sport World Championships to be held in Rome, Italy from 6-8 November.
The event will be the first time singles events have been on the World Championships programme.
Asked about the possibility of winning gold Machens, ever humble, responded, 'It would be a great dream'.
Machens is expected to next line-up at the IPC Wheelchair Dance Sport World Cup in Saint Petersburg, Russia, 3-7 September.
Rome 2015 is expected to attract more than 160 athletes from nearly 30 countries and will be hosted at the Bocciodromo.