Malmo 2018: First quarter finalists decided
Brazil's men's and women's teams both advance
07 Jun 2018
Imagen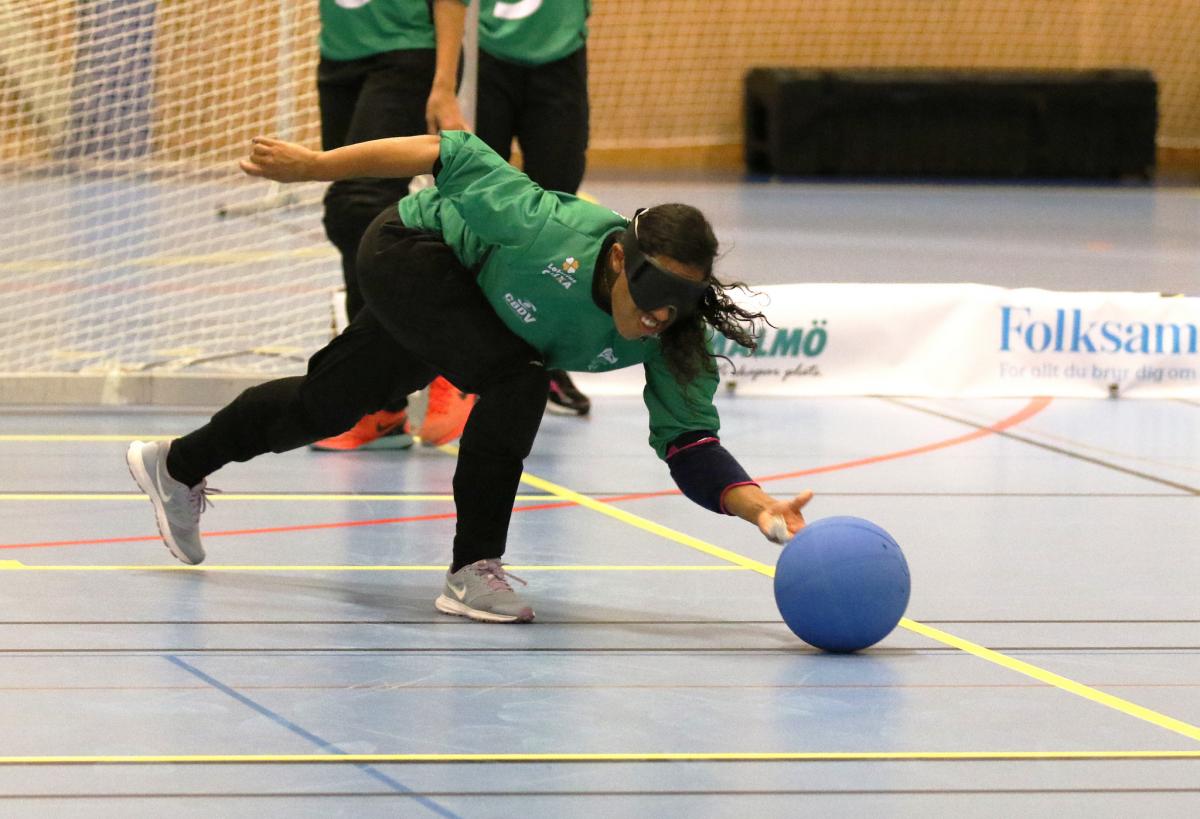 ⒸTadeu Casqueira/CBDV
By IBSA
The first quarter final spots were decided at the 2018 IBSA Goalball World Championships in Malmo, Sweden, on Wednesday (6 June) with group games still to play.
Women – Group D
One of the first teams to qualify were the Brazilian women in group D.
Ana Carolina Custodio unleashed her signature throw against defending champions the USA to give her team a 3-1 win.
Custodio chose to throw the ball backwards through her legs throughout the match, a technique rarely seen, to score all three of Brazil's goals.
"The first time that I stepped on a goalball court, this was my first throw (between the legs). I tried the front throwing but this is for me the strongest, fastest ball and where I can reach all the targets on the court," Custodio said. "So for me it is more efficient than the front way."
The USA will also advance to the next stage despite losing against Canada in a surprise result, the second of two wins for the Canadians on Wednesday, who also go through to the quarter finals.
Canada claimed victory over defending champions the USA 5-2, with goals from Emma Reinke and Meghan Mahon.
"We all feel great, it's really exciting," Reinke said. "Usually we go back and forth but this is a different team this year and we are really excited.
"First and foremost we're focusing on defence. We're going to go in and do our very best. It could go either way, we're not expecting something in particular, we're just going to go in, focus on our defence, score some goals and hope and pray!"
As well as beating USA, Canada also beat China after dominating the first 12 minutes to take a 4-0 lead over their Asian rivals into the second half. Wang Chunhua then tried to keep China's heads above the water with three goals but Canada hit back with another five to seal a 9-3 win.
Women - Group C
Also in the women's competition Turkey made it out of group C after winning 5-0 and 6-0 against Japan and Australia, respectively. Sevda Altunoluk was once again centre stage, scoring 10 goals across the two games.
Just one goal separated Japan and Israel in their group C game on Wednesday. Japan just had the edge after captain Yuki Temma found the back of Israel's net to close the scoring at 3-2.
With their one win and one loss on Wednesday, Japan also go through to the quarter finals.
Russia saw off hosts Sweden 10-0 with seven goals coming from Irina Arestova. They then beat Australia 11-1 to secure their quarter final place. Australia also squeaked through as the fourth place finishers, meaning group C is the first to be finalised at Malmo 2018.
Men - Group A
In the men's competition Belgium comfortably qualified for the quarter-finals with their fifth win in a row, this time against Turkey. Klison Mapreni starred for the Belgians with five goals in their 10-4 victory in group A.
Meanwhile there were apt celebrations for Sweden on their national flag day.
After a 15-6 loss against Paralympic champions Lithuania in the morning, the team were uncertain if they would have the chance to qualify. But in the afternoon they triumphed over Algeria in front of a packed venue to keep themselves in the running.
Their second game lasted an exhausting 66 minutes, much longer than the current tournament average of around 48 minutes.
Captain Fatmir Seremeti put Sweden on the board and he was followed in the first half by a double from Magnus Rendahl. Seremeti and Rendahl added a further five goals in the second. Mohamed Mokrane took Algeria's only goal in an 8-1 final score line.
Speaking afterwards, Seremeti said: "We really needed to win that one, so it's a huge relief. And the way we did it was even better because it shows we have that potential, we just have to keep believing in ourselves and doing what we are good at.
"It was many official time outs and many things happening all the time so it was really tough keeping our focus up and concentration. But I would like to say about our centre Nils Posse, he was a real pro today."
Seremeti was also optimistic about his team's chances of qualifying with one group game to play against China on Thursday (7 June): "Definitely, three points here and three tomorrow and we are through, so why not, we have everything in our own hands."
Lithuania had the edge in their game against Sweden repeatedly breaching their defence. Mantas Panovas and Justus Pazarauskas were nearly unstoppable with six goals each and a final score of 15-6.
Lithuania cemented their place in the quarter-finals with a 16-9 win over China later in the day.
Men – Group B
In the men's group B defending title holders Brazil eased past Egypt 10-0 to continue their unbeaten run. They advance to the quarter finals with a game in hand. Brazil rested their key players for the match, allowing Andre Dantas a full game to bag six goals.
Germany were the second team from group B to secure a quarter final spot on Wednesday.
A comfortable first half for the Germans against Japan saw them 3-0 up at the first whistle.
Michael Feistle and Oliver Horauf both reached hat-tricks before Reno Tiede added another to bring the score to 7-4.
Iran gained the three points they needed to advance to the quarter finals despite a second-half charge from Czech Republic in their face-off.
Leading 8-3 at the break, Iran laid back too far in the second-half and allowed four goals from Jan Bosek to crash into the net. Lukas Valer then fired a shot past Iran to bring his team within one goal of equalising, but they just ran out of time. The final score was 9-8.
The group stages of the 2018 IBSA Goalball World Championships will end on 7 June and be followed by the quarter finals on the same day.
The medal matches then begin on 8 June, with both the men's and women's medallists qualifying for the Tokyo 2020 Paralympic Games.
A livestream and results are available at www.wcg18.se.