Malmo 2018: Five out of five for Belgium
Wins for Australia and Brazil women on day three of Worlds
06 Jun 2018
Imagen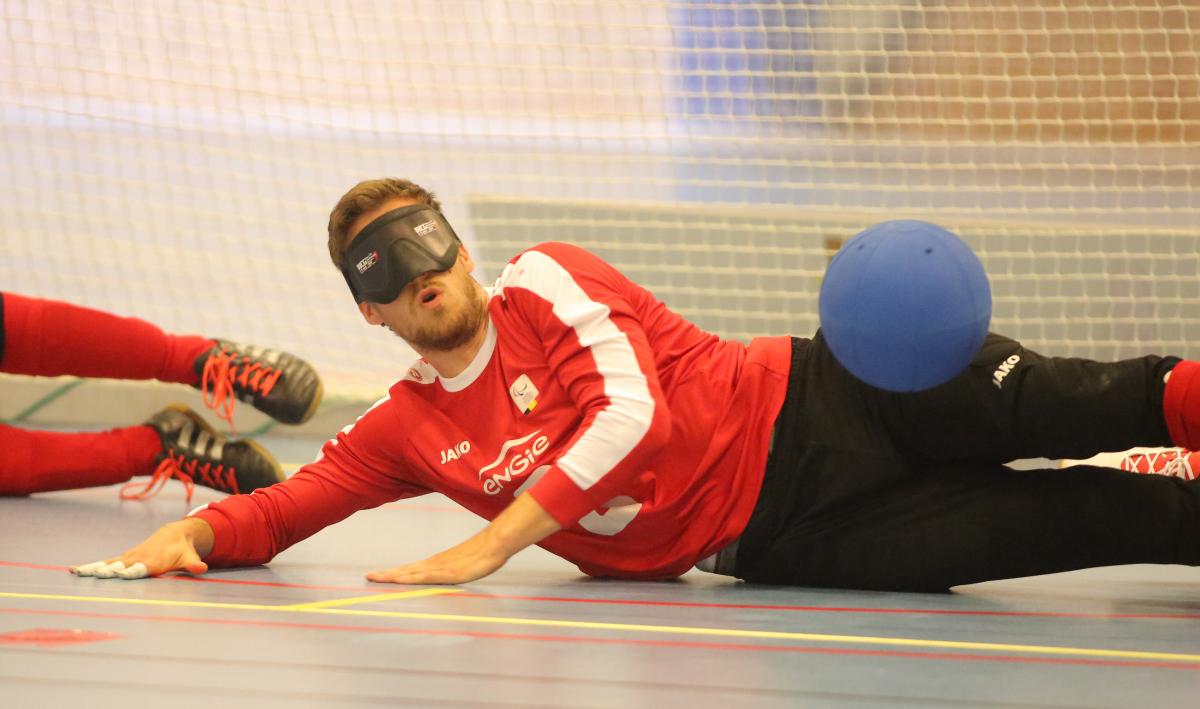 ⒸKarl Nilsson
By IBSA
Belgium, China, Germany and Iran put their opponents on notice at the 2018 International Blind Sports Federation (IBSA) Goalball World Championships in Malmo, Sweden, winning both their games on the third day of competition (5 June).
Men – Group A
In group A, the Belgian men beat Sweden 9-2 in a painful first loss for the hosts.
Later in the day they took on Australia with Bruno Vanhove finding the net seven times. Australia had flourishes of brilliance but it was not enough to halt the Belgian charge and the game finished 11-4.
Vanhove said: "We've prepared for this tournament with a preparation tournament in Malmo in May so we could experience the courts and the venue.
"Until now, we have had a really great tournament, we've won everything so we're feeling great. We're in a good mood so we hope we can continue on that path."
Bruno's brother Tom added: "The first aim was to get into the quarter finals, that shouldn't be a problem with our points with five wins. So now we look a bit more up and try to catch the semi-finals and hope to be in top three."
Belgium are the group A leaders with five successive wins so far. China are six points behind in second.
Also in group A, Argentina put in a valiant effort against 2010 silver medallists China, but it was not to be for the debutants. China's attack proved too much for them to handle with Chen Liangliang sealing a hat-trick to bring the score to 10-2.
Speaking after the game, Chinese player Mingyao Hu said: "The game was hard. We both [teams] worked hard, but finally we won and we appreciate their effort. It was not very hard to fight them but not very easy either."
In their second game, China triumphed over Algeria 7-3. This time it was Yang Mingyuan who starred in his country's attack with four goals.
Turkey overcame Argentina 7-1 in their match. Lithuania pummelled the Australian defence in a quick scoring game that saw them win 18-8.
Mohamed Mokrane shone for Algeria once again as they defeated Turkey 7-5.
Men – Group B
A high-scoring game in men's group B saw Iran dominate 14-6 against Canada. Hasan Jafari was the victor's top scorer with seven goals.
Iran went on to beat Japan 11-8 in their second game of the day.
Germany have now won four of the five group B games to put them second. They claimed an 11-1 win over Egypt after Felix Rogge found the net five times.
In their match against Czech Republic, they dominated once again. This time Michael Feistle was their top scorer with four successful strikes towards an 11-3 win.
The USA also got their first victory of Malmo 2018 on the board against Czech Republic, winning 8-3. The 2014 bronze medallists' score included two hat-tricks for Grej Pesjaka and Daryl Walker.
There was not much to separate defending champions Brazil and Japan in the first 12 minutes of their game on Tuesday. However, with the score 2-2 the game opened up in the second half as Brazil unleashed their striking skills to take a three goal lead.
Japan tried to fight back but the duo of Leomon Moreno and Alex Sousa were in excellent form. The Brazilians won 9-5.
"This time we could exercise our power against Brazil, who are number 1 in the world, so we can now compare ourselves to them," Yoshu Nobusawa of Japan said. "We still have preliminary games so must put everything towards the win and we are aiming for a higher place."
Brazil went on to beat Canada 10-0 to remain unbeaten at the top of the group.
Women – Group C
Brodie Smith was Australia's top scorer in their 5-1 win over Sweden.
Continuing her solid performance from previous days, Sevda Altunoluk contributed five goals to Turkey's 11-1 win over hosts Sweden.
Third place Turkey just lead Australia in the group on goal difference, hovering above the qualification line to advance to Thursday's quarter finals with two games still to play.
Russia* remain the group leaders, followed by Japan, as the two teams enjoyed a day off.
Women – Group D
Brazil stayed second in their group on goal difference after just edging Canada 2-1 in their only game of the day.
The Brazilians struggled to find their way past the Canadian defence, and did not manage to do so until the second half. Two neat shots from Gleyse Henrique and Ana Carolina Custodio saw Brazil win 2-1.
China are in a stronger position in the group thanks to a good performance against Greece, their first win. Wang Chunghua had an excellent game, scoring eight of China's 11 goals, while Greece only managed one in reply.
The USA enjoyed a day off on Tuesday but still lead the group on goal difference.
A livestream and results are available at www.wcg18.se.
*Editor's note: The International Paralympic Committee suspended the Russian Paralympic Committee on 7 August 2016 for its inability to fulfil its IPC membership responsibilities and obligations, in particular its obligation to comply with the IPC Anti-Doping Code and the World Anti-Doping Code (to which it is also a signatory). As a result of the suspension, Russian athletes cannot enter IPC sanctioned events or competitions, including the Paralympic Games.
For further information please click here.