Marie Bochet's quest for perfection
French superstar crowns unbeaten season with overall World Cup title
22 Mar 2019
Imagen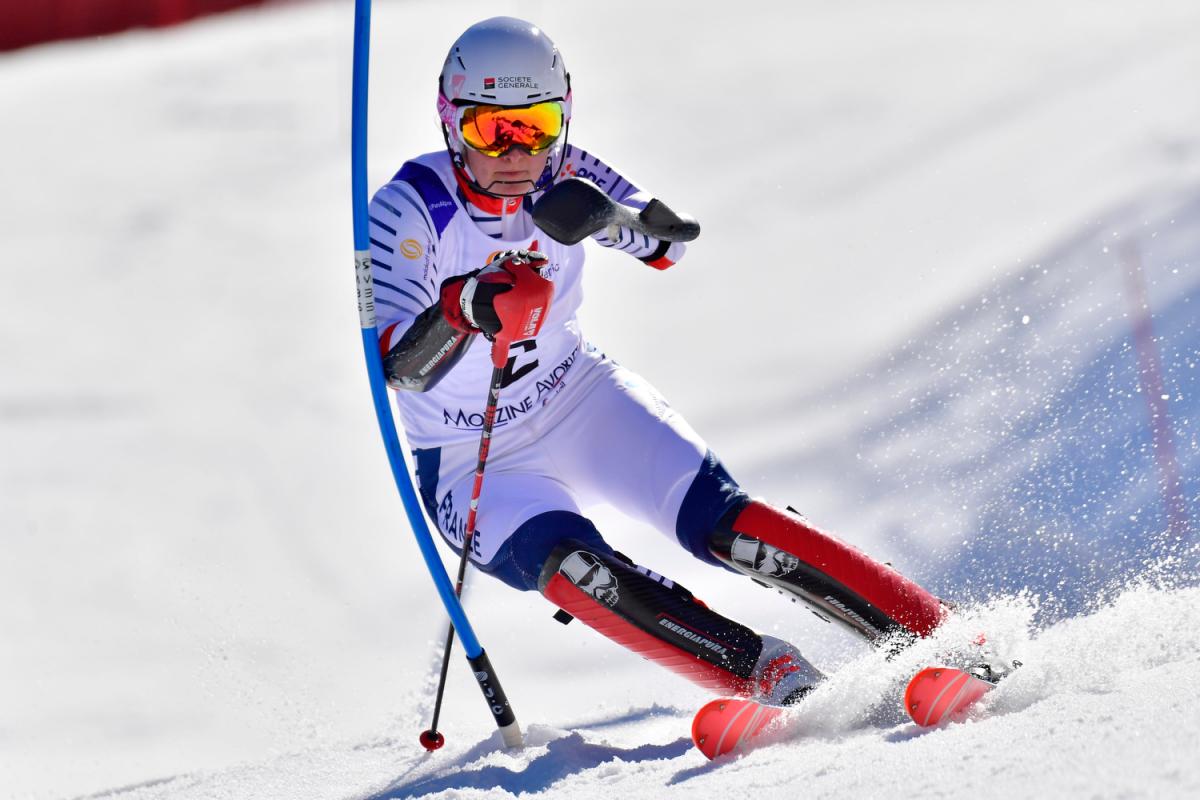 ⒸLuc Percival
By Lena Smirnova | For World Para Alpine Skiing
With a perfect season behind her - a clean golden sweep at the 2019 World Para Alpine Skiing Championships, overall crystal globe at the World Cup and an undefeated race streak - there is only one more thing Marie Bochet wants - to improve.
The French perfectionist was her usual humble self in Morzine, France on the last day of this season's World Cup competition despite her outstanding record.
"The globe is very special for me because it shows your consistency as an athlete, but I already also have a few things to work on next," said Bochet after carrying her undefeated streak through to the last race at the World Cup finals. "It's nice because when I think of that, I think that I will have more to achieve next season."
Bochet has been a role model across the race classes this season with female and male skiers aspiring to replicate her golden journey. The French skier, however, is happy that the pressure of extending her winning streak is over.
"Every race there is pressure because for every race you have to get gold. You don't have one race you can rest for," Bochet said. "I know that the girls are just behind me and not too far, and every time I need to be at the top so I'm very happy to finish this season."
There was one globe that Bochet did miss this season, the overall title in slalom, which went to one of her closest friends on the circuit, Canada's Frederique Turgeon.
Germany's Anna-Maria Rieder finished second in the final slalom race in Morzine, with Turgeon's teammate Alana Ramsay coming in third.
Sit ski rodeo
The overall World Cup victories were already assured to Norway's Jesper Pedersen and Japan's Momoka Muraoka after the earlier races, but the ever-competitive sit skiers proved unwilling to take it easy in the season's final race.
After trailing Jeroen Kampschreur in all five races at the 2019 Worlds, Pedersen got his revenge on the final day of competition where he not only took the overall crystal globe, but also beat the Dutch five-time world champion in his signature slalom by 0.51 seconds.
"It's been my big goal all season so it's just great to be back, especially when I had six months in bed because of the heart infection," said Pedersen, who was prohibited from skiing until a few weeks before the start of the World Cup season.
"When I started off in January, I didn't have that many expectations but of course I always want to be the best and today I showed that I am the best."
Kampschreur finished second to Pedersen, with the winner of the first slalom race in Morzine Igor Sikorski of Poland taking the last spot on the podium.
Japan's Muraoka also ended the season on a high. Despite coming second to her main rival Anna-Lena Forster in all the slalom races, her consistency across all disciplines this season earned her the overall World Cup title.
"I did my best so I can get that place," Momoka said. "It's a very good season for me and it was my first overall crystal globe."
Germany's Forster topped the overall slalom ranking with her undefeated track record in the discipline, while USA's Laurie Stephens finished the last race in Morzine in third.
Major date
Menna Fitzpatrick and guide Jennifer Kehoe were swept up in a triple celebration on the last day of competition in Morzine. Their victory in the slalom and the quest for the overall crystal globe coincided perfectly with the third-year anniversary of the day when they became the first British skiers to win an overall World Cup title.
"I think we both changed and grown stronger together," Fitzpatrick said of the pair's progress over the last three seasons. "It's still great to be able to do what we love, to do it with passion and still have fun at the same time."
"We know a bit more of what we're doing," Kehoe added with a laugh.
Chocolate-dipped medals
Winning a bronze in the last race was a pleasant surprise for Robin Cuche who had only one podium finish before Morzine.
The Swiss standing skier jumped from fifth to third thanks to a solid second run, to land on the podium behind French champion Arthur Bauchet and Finland's Santeri Kiiveri.
"I didn't expect that at the beginning of the season," said the speed specialist. "Like I said to my coaches yesterday, I ate a little bit too much chocolate this season. Too many fourth places for me."
Overall World Cup winner Miroslav Haraus was victorious yet again in the men's vision impaired. The Slovakian skier and his guide Maros Hudik took wins in both slalom races in Morzine with France's Thomas Civade and guide Kerwan Larmet following in second.
Fellow French pair Hyacinthe Deleplace and guide Maxime Jourdan were third in their first World Cup season.
"It was an incredible season," Deleplace said. "If you told me [about the medals] at the start of the season, I would tell you, 'No, it's not possible,' but we are here and we have four medals in the World Cup."