Modin finds his 'best feeling' of season in Finsterau
Swede won two out of three cross-country races and took the overall standings lead from Brian McKeever
09 Feb 2020
Imagen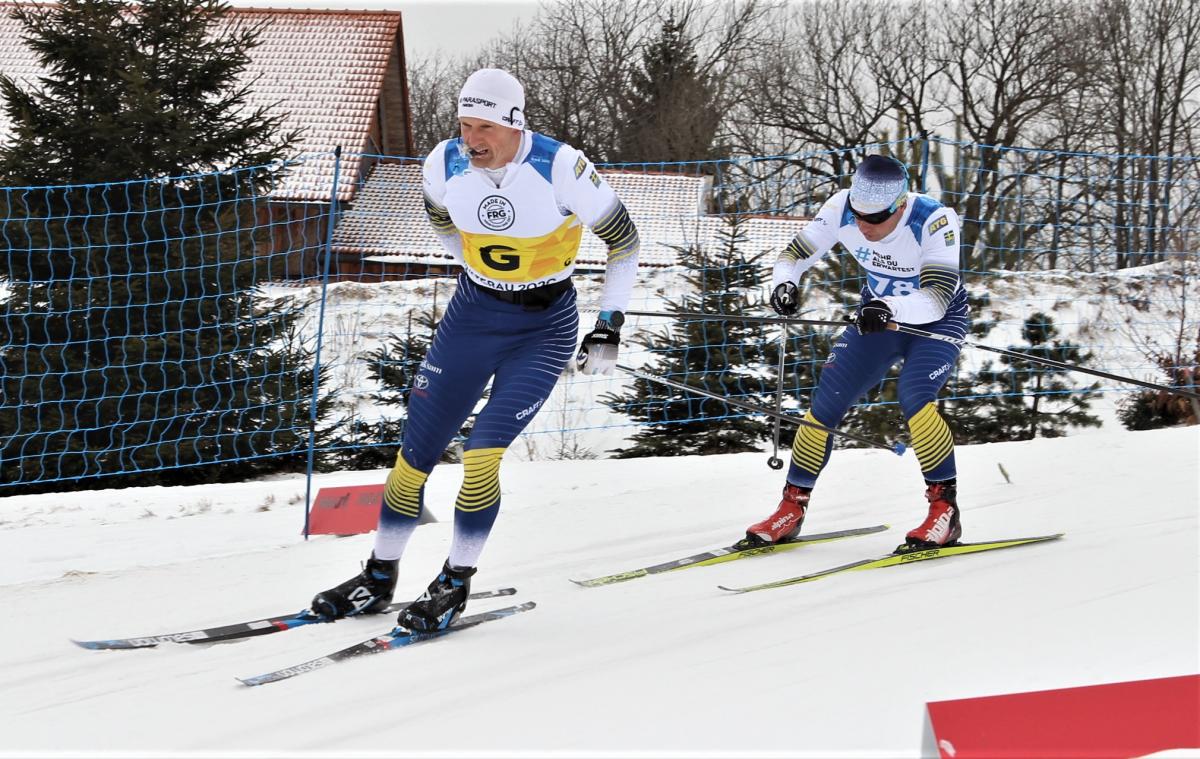 ⒸJens Schörnich
By Filip Ožbolt | For World Para Nordic Skiing
The curtains have come down on the Para Nordic Skiing World Cup in Finsterau and after six days of absorbing competition, there is better clarity on the overall standings.
The second part of the competition was reserved for cross-country and it lived up to its expectations. One of the prime reasons being Swede Zebastian Modin, who took two wins and one fourth place finish in the visual impaired competition.
Modin created quite an upset as he was up against the most decorated Paralympian in cross-country history, Canadian Brian McKeever. With his fearless attitude, Modin won in a sprint and 7.5km races, although it didn't seem like he will triumph in the second one due to problems on the track.
"I had a really good pair of skis and my body felt pretty well during the competition," said Modin, adding, "It was tricky out there because people crashed before us and then we crashed into them. I broke a pole, but others also had trouble out there. This was without a doubt the best feeling I had during the whole season."
Modin, who went into the Finsterau competition with 64 points behind McKeever, explained why he didn't lose faith in winning the 7.5km race, even though he crashed.
"They told me that I had 11 seconds of advantage at that moment and we were also in that part of the track where I was fast. I thought it was possible to win as I gained some more seconds there. I didn't lose so much speed and it seems like we did pretty well," explained Modin.
Competing against the star
Before the last World Cup in Östersund, Sweden, Modin had a 11-point advantage over arch rival McKeever. Although the latter is the defending champion, Modin has a huge amount of respect for the Canadian veteran.
"It's very tough to battle it out with McKeever because he is the biggest star of Para Nordic Skiing and he has been so for many years," admitted Modin. "It would be a dream come true to keep up with him during the course of the whole season."
However, Russian Stanislav Chokhlaev spoiled the party for Modin and McKeever in the last race of the competition. He is currently third in the overall standings with 201 points less than the Swede.
Chokhlaev's  situation is much better in the biathlon competition where he also won the last race of the program in front of his main rival Yury Holub. The athlete from Belarus has 100 points more than Chokhlaev in the VI overall standings.
Russia's Golubkov and Norwegian Nilsen impress
Russian Ivan Golubkov dominated the cross-country sitting competition with three wins, which secured him a World Cup title. Norwegian Vilde Nilsen is in the same position after she took 300 points in the standing competition and is now out of reach for second-placed Ekaterina Rumyantseva.
In women's VI  competition, we also had a three-time winner in Russian Anna Panferova, but she is still trailing behind her compatriot Vera Khlyzova in the overall standings.
The US duo Kendall Gretsch and Oksana Masters split three wins between them in the sitting competition. Even though Gretsch got two of them and is leading the overall standings, she won't compete in Östersund because she will try to qualify for the Tokyo Paralympics in triathlon.
Russian Vladislav Lekomtsev won two out of three races in the men's standing competition and is now 185 points ahead of another Russian Vitalii Malyshev.
Golubkov, Lekomtsev, Gretsch and Khlyzova are also leading in the biathlon standings where only Holub and Ukrainian Oleksandra Kononova are mixing up the rankings in men VI and women standing competition.
Full results from the cross-country races in Finsterau are available on the World Para Nordic Skiing's website.