Montaggioni's doubts diminished after Big White 2017
After a season of chasing the best, the French snowboarder finally beat the best at the 2017 World Championships in Big White.
08 Feb 2017
Imagen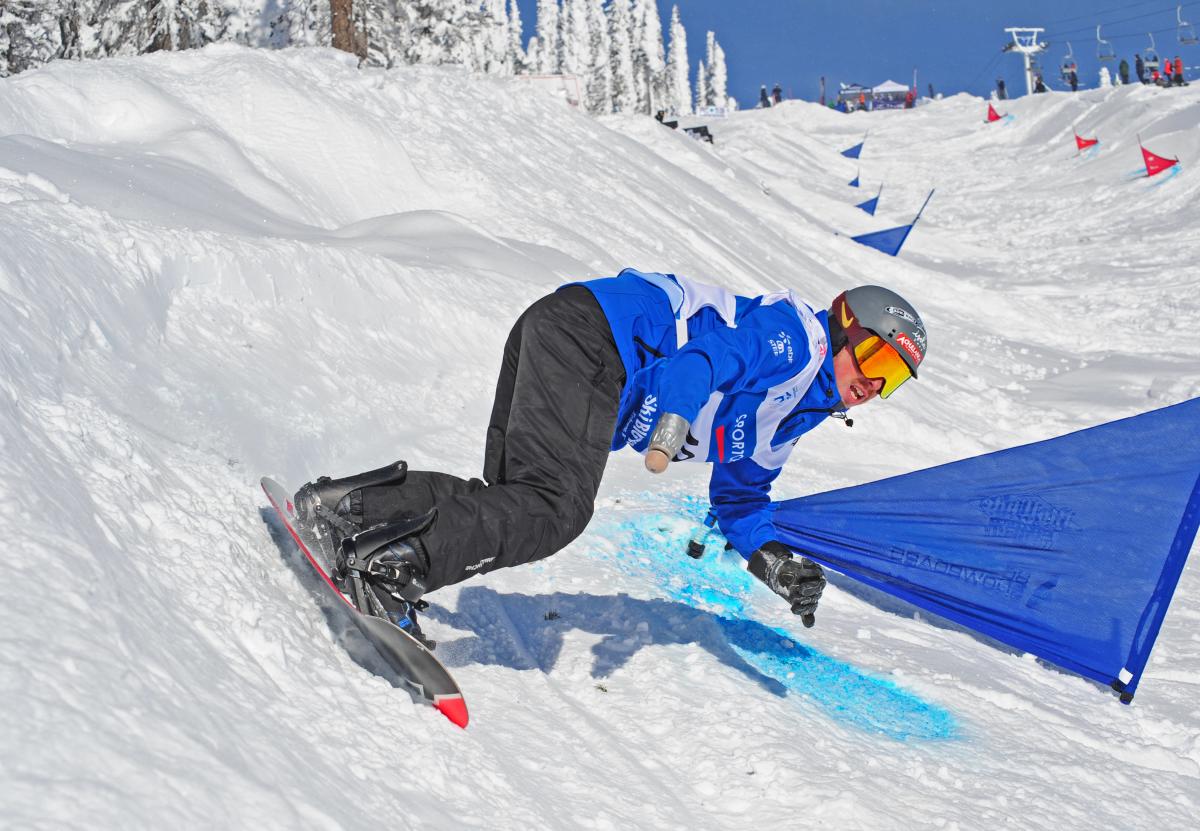 ⒸGavin Crawford
By IPC
"... I believed I could do it."
Whenever Maxime Montaggioni thought he was fast, he saw Mike Minor go faster.
That was not the case on Tuesday (7 February), when the 27-year-old finally beat his US rival to win the men's banked slalom SB-UL gold medal at the 2017 World Para Snowboard Championships in Big White, Canada. After chasing Minor all last year and into this year, Montaggioni finally bettered Minor by .29 seconds on Tuesday.
It was not only his first world title but also his first major victory.
"Deep inside me, I was expecting a podium," Montaggioni said.
But he had doubts on beating Minor due to past results.
At the banked slalom Europa and World Cups held in Landgraaf, the Netherlands – where the 2016-17 season opened – Montaggioni finished third three times. Although a confidence boost, he was still far behind Minor, who won all three events.
Landgraaf was his last competition before Big White. He was still keeping track of Minor, who won all three of his events at the NorAm and World Cups in January in California, USA.
"I followed Minor in Lake Tahoe and I saw he won everything," Montaggioni said. "So I thought wow he is [fast]."
The moment he felt he could hang with Minor was in the snowboard-cross race on Saturday (4 February), when he went head-to-head with the US athlete for the gold medal. Despite taking the silver, Montaggioni thought "I got a feel for him now."
"It was very close until he just touched me," said Montaggioni about the snowboard-cross final. "But I said whoa, I can do this because during the boarder-cross I was first for a moment."
But those doubts returned after Monday's training, when he did a few runs on the banked slalom course.
"[Monday] I was in a bad mood. I said OK this is very complicated and I did not expect to have good times [on Tuesday]," he said. "It was very complicated. … a lot of bumps in the curves so it was very difficult. We had to be strong with our legs."
Montaggioni's first ever World Para Snowboard competition was in 2014 in Laandgraaf, where he finished fourth twice. It was only last March at a World Cup in Les Angeles, France, where he reached the podium and only this season when he saw consistent podium results.
However competition like Minor and Austria's defending banked slalom world champion Patrick Mayrhofer – who pulled out of Big White due to injury – made the top two tough to crack into.
But he finally did when it mattered most.
"I'm very happy to confirm the work I have done has shown in my results, so it's amazing," Montagionni said.
"We were so close in our times, so I believed I could do it. At the beginning I was just expecting a podium. In the end I got first place. It's amazing."
Complete results from the 2017 World Para Snowboard Championships can be found at BigWhite2017.com.