Para Sailing World Championships: Wild winds lead to mixed results
Severe weather conditions picked up and led to changes in the leaderboard on day four.
01 Dec 2015
Imagen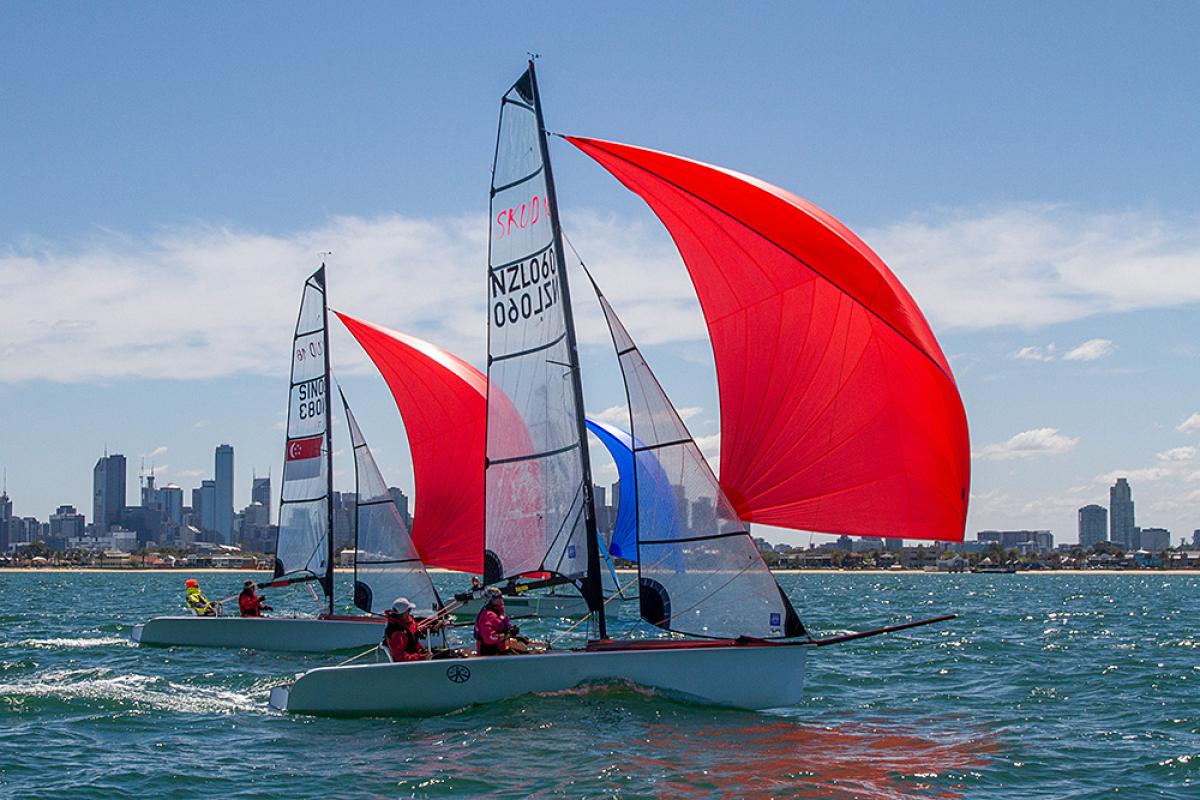 ⒸISAF
By International Sailing Federation
The British SKUD18 team of Alexandra Rickham and Niki Birrell set the early pace on day four of the 2015 Para Sailing World Championships in Melbourne, Australia, winning race seven on Tuesday (1 December).
The Italians of Marco Gualandris and Marta Zanetti came in second, and Australia's Daniel Fitzgibbon and Liesl Tesch came in third. However, in race eight, the Australians reversed the result on the British with the Italians third.
Total points in the SKUD18 event have Fitzgibbon and Tesch leading with nine points, Rickham and Birrell with 20, and Gualandris and Zanetti with 26. Three races remain, with medal events to take place on Thursday (3 December).
The USA's Dee Smith had a field day in the 2.4mR fleet, emerging with first and third placings. Although Frenchman Damien Seguin failed to make the top six in race seven, he won race eight to remain in contention, with countryman Kevin Cantin second. The fleet was spread over the whole of the last leg in the last race, an indication of the difficulty many competitors had in reading the breeze.
In the 2.4mR, Seguin leads with 16 points, Germany's Heiko Kroeger in second with 21 and Australia's Matt Bugg with 33.
The sonar race committee set their course for race eight in a breeze close to 15 knots, but that dropped to about half that strength at the start signal. Canada's Paul Tingley, Logan Campbell and Scott Lutes took race seven, followed by Norway's Aleksander Wang-Hans, Marie Solberg and Per Kristiansen in second. Israel's Dror Cohen, Arnon Efrati and Shimon Ben Yakov came in third.
Sonar favourites in Eric Jourdren, Eric Flageul and Nicolas Vimont-Vicary were disqualified from race seven. Penalised by the on-course jury for pumping on the downwind leg, the French crew responded with a one turn penalty instead of two and suffered the consequences. They started strongly on race eight and cruised to the decisive win.
Israel came in second and Norway in third.
The Australian home favourites had a miserable day. Having committed to the left hand side of the course, they watched in frustration as all the favourable wind shifts occurred on the right. They could not recover and had their worst result for the regatta with an 11th place. Things went slightly better in race eight, where they finished fifth.
"It was a really difficult day out there [on Tuesday]," said Australian coach Grant Alderson. "The good thing is that we still hold a comfortable lead with three races remaining and are on track."
Final standings for the sonars still have the Australians leading with 14 points, ahead of Great Britain's John Robertson, Hannah Strodel and Steve Thomas with 28. France is third with 31 after Tuesday's disqualification.
Competition continues Wednesday (2 December) with races nine and 10. Complete results and information on the Para Sailing World Championships can be found on the event website.