Para sport explained: How snowboarders ride
The USA's Amy Purdy and Megan Harmon explain how they navigate through the snow with lower-limb impairments.
25 Feb 2017
Imagen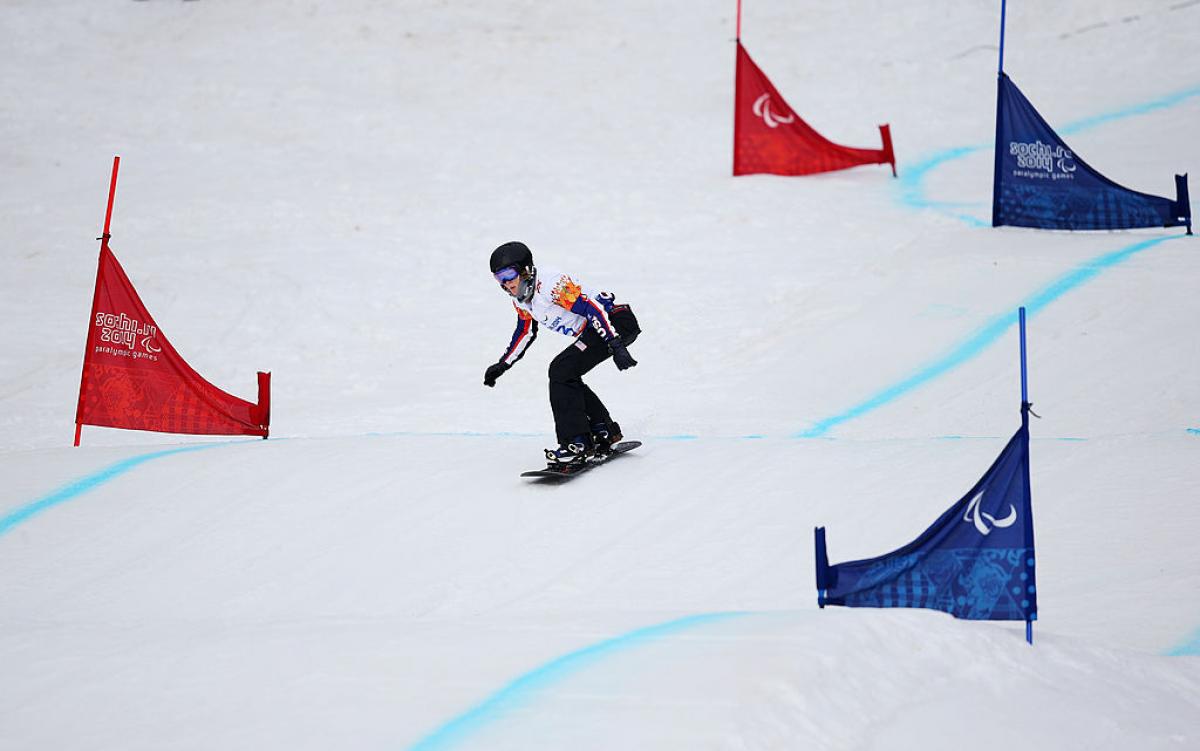 ⒸGetty Images
By IPC
"With no ankle flexion I felt like a stick man, not really in control of what I was doing."
To turn, stop and control your speed on a snowboard, riders have to master their toe and heel edges. That involves flexing your ankles and knees, among other movements needed in snowboarding. But how do Para athletes with lower-limb impairments do just that?
The USA's Amy Purdy, who competes in the SB-LL1 category, had her legs amputated below the knee due to meningitis. An active snowboarder growing up, Purdy said creating those edges was one of the hardest parts.
"When I initially tried snowboarding on my walking legs I couldn't get on my edges. It was really difficult to initiate. You need ankle flexion. Your ankle flexing allows you to initiate a turn. And then your hips follow through," she said. "That's what allows you to carve a deep turn. But with no ankle flexion I felt like a stick man, not really in control of what I was doing."
Finding equipment that fits you
Using a lot of duct tape, Purdy said she created a foot that would do what she needed it to do to rider better. Eventually she found a multi-axel foot that would allow her to create the edges she wanted.
"I couldn't get over my toe edge enough to engage my hips. For one the foot I came up with at the time which was just random parts together. Now I ride in a different foot that has a different concept."
She noted that while it works for her, it does not for everybody as all athletes have various impairments.
Engaging the rest of your body
Purdy is one of the few double-amputee snowboarders and riding with two prosthetics is just as challenging.
"When you miss your ankle joints, your knee joints don't work… they all work together," Purdy explained.
She does not necessarily snowboard with her feet. Instead she uses her knees and hips to work with her equipment to make the turns, carves and stops that she wants.
US snowboarder Megan Harmon had her left leg amputated above the knee due to a motorcycle accident and also competes in the women's SB-LL1. For amputees, aligning their prosthetic with their body and board is key.
From there, snowboarders have to know how to shift their weight to get the proper edges.
"A huge part of it is going to be the alignment of the prosthetic and the other part comes with the alignment of your body, and where you're placing your weight to help initiate that prosthetic to do what it does," Harmon said. "You have to get that alignment dialled or you're going to have a lot of problems.
Harmon rides goofy, leading with her right leg and has wedges in her left binding and boot.
"That puts my ankle flexion forward. And I have some wedges over here which puts on a slightly bent knee position even when I'm just standing because if I'm standing straight, it will be hard to get that knee already flexed. So you have to have it already wanting to do it. Then that way it's more of shifting your weight. So for heel edge, I just shift my weight back a little bit. So it initiates that back knee to bend."
Not perfect
Finding the right equipment and engaging ones' body to snowboard is an ongoing process.
Purdy, 37, took little time to get back on her board since her amputations at 19 years old. She said she is still trying to develop equipment that helps Para snowboarders ride their best.
"I'm out on this mission to figure what the best set up is. You have to do the entire spectrum," said Purdy, who co-founded Adaptive Action Sports to help people with impairments. "It's easy to set your legs up to carve giant slalom turns. But then that's almost an opposite set up for what you need for jumps and rollers, and setting up jumps in border-cross.
"Finding that in-between foot setup is part of my journey. I guess it's my passion because I'm so challenged by it."
Editor's note: Para sport explained is a feature series on Paralympic.org that will publish once a month, helping the public understand different aspects of the Paralympic Movement.