PNZ 'Spirit of Gold Collection' open to public
The Collection will tour New Zealand for 30 weeks and features portraits of the country's top para-athletes.
30 Nov 2015
Imagen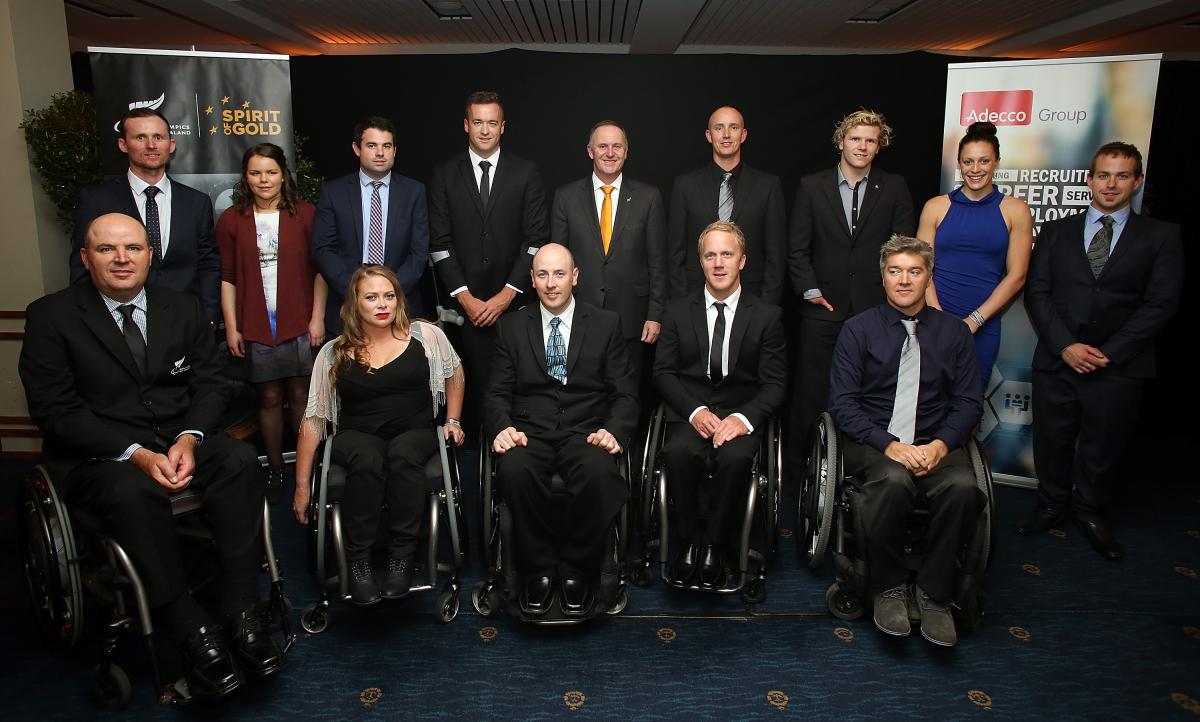 ⒸGetty Images for Adecco
By Paralympics New Zealand
Paralympics New Zealand (PNZ) has announced that the New Zealand Chambers of Commerce will stage more than 10 local events around the country ahead of Rio 2016, to showcase their Spirit of Gold Collection.
The events will ensure that many in New Zealand will have an opportunity to see the Portraits, meet Paralympians and learn more about para-sport. The series will be complemented by events being staged by PNZ major partners and booked appearances at local community events and venues. It is expected that the Collection may visit in excess of 30 different locations in the course of the Tour.
The first public viewing of the full Collection will take place at Te Wero Island Container Library, Viaduct Harbour, Auckland. The Collection will be available to view from 9am to 6pm from 30 November to 6 December.
Full tour schedule will be available shortly at the Paralympics New Zealand website.
This innovative project is a combination of art and sport. Kiwi artist Amber Gabrielle Stephens created a set of 12 portraits featuring some of New Zealand's most high profile summer and winter Paralympians and para-athletes, to showcase the depth of talent across para-sport in New Zealand. The Collection includes London 2012 Paralympic Games medallists Sophie Pascoe, Michael Johnson, Cameron Leslie and Mary Fisher; Sochi 2014 medallist Corey Peters; and world champion cyclists Emma Foy and Laura Thompson.
"Inspiration first struck when I first met Paralympian, Sophie Pascoe," Stephens said. "I was immediately taken by Sophie's unapologetic drive to meet her sporting potential… Following this meeting I knew I had to use my artistic approach to capture the story and raise the profile of these amazing athletes. I visited Paralympics New Zealand in early 2015 and worked closely with them, and eventually the Spirit of Gold Collection was born."
The Collection is set to tour New Zealand for up to 35 weeks, increasing awareness and raising funds to support the New Zealand Paralympic Games team on the road to the Rio 2016 Paralympic Games, the PyeongChang 2018 Paralympic Winter Games and to support the growth of para-sport in New Zealand. It will be auctioned during a planned 'send off' event in June or July 2016, to mark the moment the team leaves for training camps ahead of Rio 2016.
When PNZ unveiled their collection, they also announced a new partnership with the New Zealand Chambers of Commerce, who will support the Tour.
Fiona Allan, Chief Executive, Paralympics New Zealand, said: "The London 2012 Paralympic Games saw para-sport explode into the public consciousness on a global level and millions of people tuned in to watch, fascinated by the professionalism and skill. In New Zealand we have a lot to be proud of – our team finished number one in the world for medals per capita – however - not many kiwis are actually fully aware of that. We think that touring the Spirit of Gold Collection is a wonderful way for the public to meet our Paralympians and para-athletes, get to know their names and faces, learn about their successes and hopefully, become interested in donating to support our initiative."
Michael Barnett, Chief Executive, New Zealand Chambers of Commerce, said: "The Spirit of Gold Collection is a wonderful project and we could not be more excited about supporting this through our local Chamber network. We identified a great opportunity to support the Paralympians and tell their story of individual commitment and attitude – attributes that sit comfortably with business."
Full list of para-athletes and Paralympians included in the Spirit of Gold Collection:
1. Sophie Pascoe - Golden girl of the pool and winner of 10 Paralympic medals, including six gold
2. Corey Peters - Sochi 2014 silver medallist in alpine skiing
3. Mary Fisher - Break-through swimmer from London 2012, winner of four Paralympic medals, including gold.
4. Tim Dempsey and Gemma Fletcher - Rio 2016 sailing hopefuls; winners of a silver medal at the last Sailing World Cup
5. Tim Williams- Recent winner of two handcycling silver medals at the 2015 UCI Para-Cycling Road World Championships
6. Kate Horan - Beijing 2008 silver medallist in athletics
7. Scott Martlew - Developing star in canoe
8. Adam Hall - Veteran of three Paralympic Winter Games; alpine skiing gold medallist
9. Laura Thompson - London 2012 gold, silver and bronze medallist; Emma Foy – world champion cycling tandem prodigy
10. Carl Murphy - 2015 IPC Snowboard World Cup gold medallist; Sochi 2014 debutant
11. Cameron Leslie - Gold medallist and swimming world record holder from both Beijing 2008 and London 2012
12. Michael Johnson - New Zealand's most senior current Paralympian and flag bearer at the London 2012 Paralympic Games. Veteran of three Paralympic Games - Athens 2004, Beijing 2008 and London 2012. Winner of three Paralympic medals