Puch looks to retain European titles in 2015 and qualify for Rio 2016
Austrian para-equestrian rider plays down his rivalry with Great Britain's Lee Pearson.
01 Apr 2015
Imagen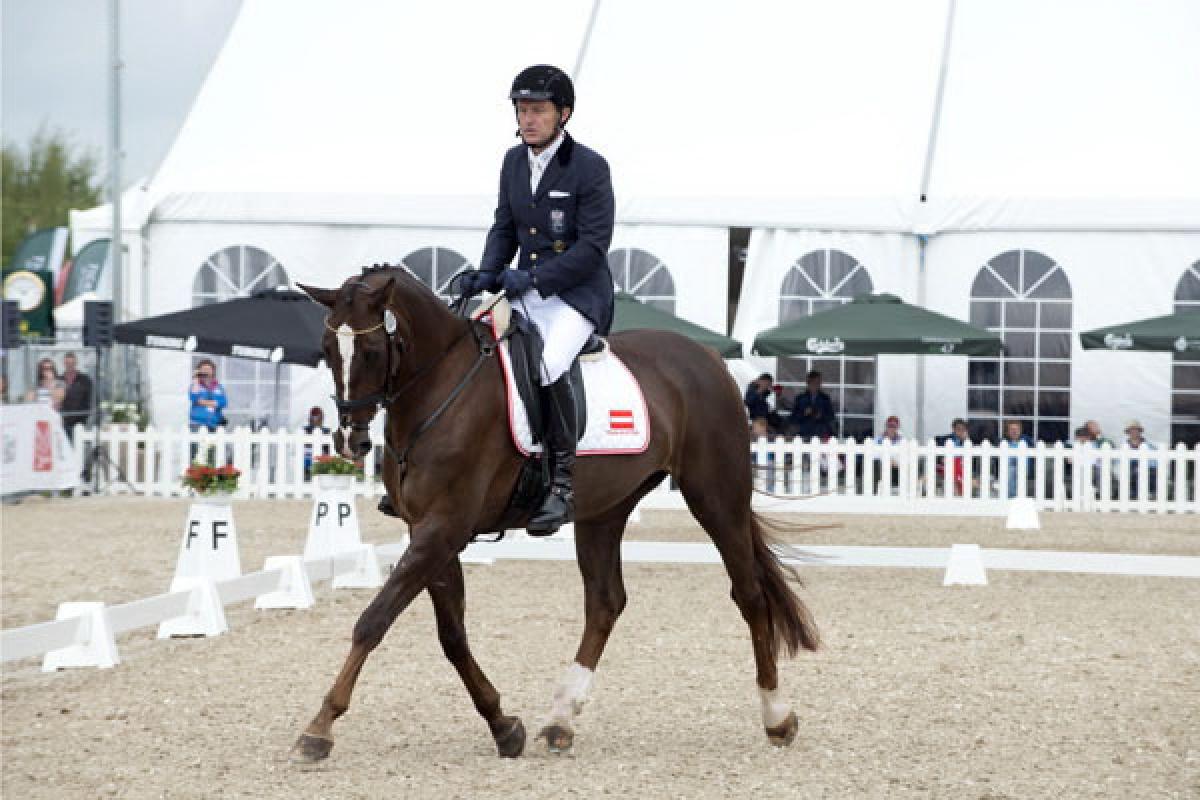 ⒸFEI/Kate Houghton
By Robert Howell - For the IPC
"I think we are qualified as a team but I need to qualify as an individual to go to Rio."
Two summers ago the sound of thousands of people chanting 'Pepo, Pepo, Pepo, Pepo' could be heard throughout the London Borough of Greenwich, home of the para-equestrian dressage competition of the London 2012 Paralympic Games.
The Austrian rider, Pepo Puch, had just won gold in the Grade Ib freestyle competition on his horse Fine Feeling. It was Austria's first gold medal of London 2012, and it propelled Puch into the highest rankings of the sport.
Since that heady day, Puch has gone on to become double European Champion in both the individual and freestyle tests, titles he will be aiming to successfully defend at September's FEI European Para-Equestrian Dressage Championships in Deauville, France.Then, at last summer's Alltech FEI World Equestrian Games 2014 he took two silver medals. In that competition his freestyle music was inspired by the samba and carnivals of Rio – the city that now looms large in the minds of any Paralympian.
Puch's grade – the Ib – is one of the most fascinating in the sport. For years it was dominated by the so called 'Godfather' of para-equestrian dressage, Great Britain's multi Paralympic, World and European gold medallist Lee Pearson. That domination, which started in Sydney in 2000, ended in London, when Puch beat Pearson in the freestyle and Australia's Joann Formosa did the same in the individual test.
Pearson was then resurgent at the Games last year, taking both individual and the team gold. But Puch remains a serious competitor, scoring a world record 82.583 per cent in an earlier competition and ending 2014 just one place and 29 points behind Pearson in the world rankings.
That rivalry though is something the humble Puch is reluctant to be drawn on.
"Everyone talks about Lee and me," he said, "but, for me competing is more about how I can use my body and influence my horse. My focus is more on my horse and how I can ride well, not the other competitors.
"Lee and I are totally different types with different ways of performing and riding."
So while the fans who turn out to watch the Grade Ib competition at the FEI European Para-Equestrian Dressage Championships 2015 may be hoping for great competition between the pair, for Puch there are other priorities. He added: "I hope my national federation picks me to compete as now it's important to get qualified for Rio. I have to compete well. I think we are qualified as a team but I need to qualify as an individual to go to Rio."
The nature of Puch's disability – he was injured in a serious riding accident in 2008 – means he faces a frustrating winter season every year as the cold weather in his native Austria and home country Switzerland affects the movement of his body.
"I'msad we don't have more shows over the winter," he said, "because it's a really long time with no shows. I try to train but in the cold temperatures in Switzerlandit's nearly impossible. It's too cold and my arms and legs don't feel temperature. In the summer my body can overcook, but in the winter it can freeze.
"I am like a snake - I can't bendsome joints in the winter."
For the man who's mantra is "if it's possible it's doable", the coming year's competitions will doubtless warm things up for Puch and he remains one to watch in the run up to next year's Paralympic Games.