PyeongChang 2018: Final showdown for fiercest rivals
Canada and USA face eachother in Paralympic gold medal game for first time
18 Mar 2018
Imagen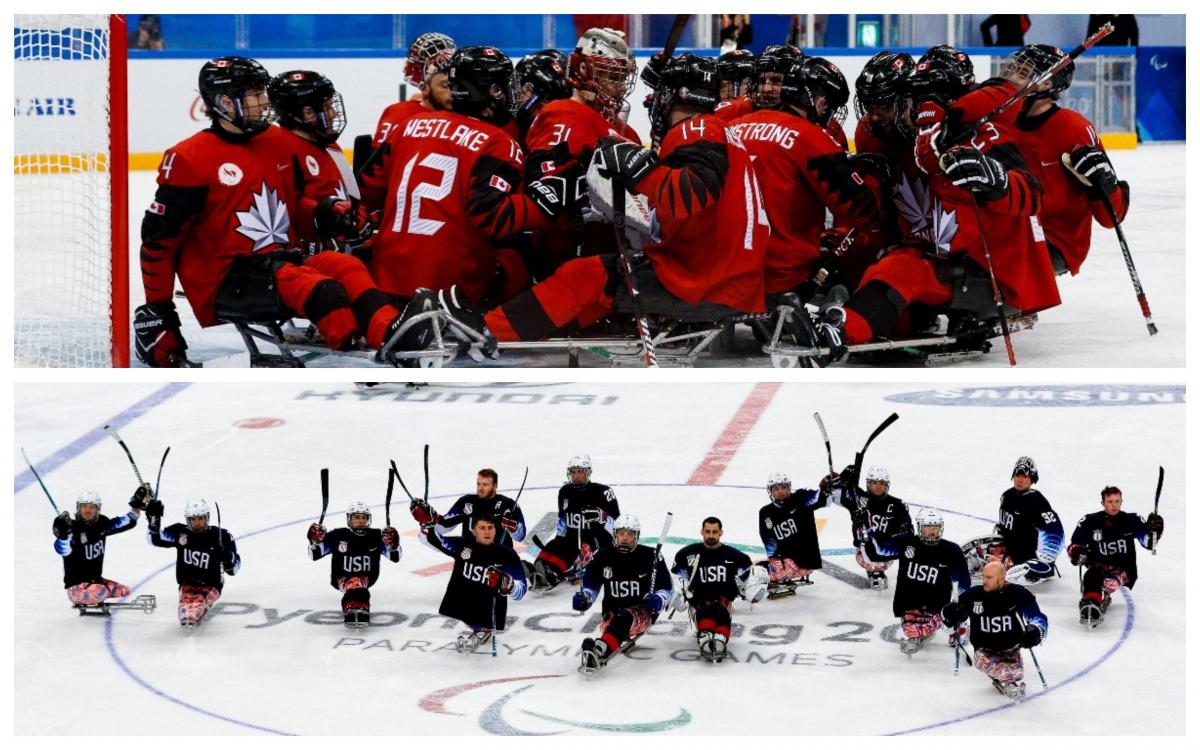 ⒸGetty Images
By Stuart Lieberman | For the IPC
"This is the one that counts. It's been a long journey - the last four years since Sochi building up to this moment. We have one game to go, and it all comes down to Sunday. Nothing else matters at this point. We've just got to bring it."
Defending Paralympic champions USA and reigning world champions Canada have consistently been the top two Para ice hockey teams in the world for the last decade.
Now, for the first time, the North American rivals will face each other in a Paralympic gold medal game.
Fans at the Gangneung Hockey Centre are in for a blockbuster showdown at 12:00 p.m. (KST) on Sunday (18 March) that many are already calling the most-hyped game in the sport's history. The USA will be going for its record-extending third consecutive and fourth overall title, while Canada will play for its second title and first since 2006.
"This rivalry showcases what our sport is all about, and as a player I've looked forward to this game since we left Sochi four years ago," said forward Tyler McGregor, who leads Canada with eight goals. "The rivalry has grown through this sport's existence and continues to grow and grow. It's definitely heated. They're in our way of a gold medal, and we want to make sure we do whatever we can do to overcome that."
The two teams have a rich recent history in the sport, most recently splitting a two-game home-and-home border series last month, with the US winning the first game 2-1 and Canada taking the second contest 3-0.
This will be the 91st meeting in history between the two teams. Canada owns a winning record of 46-8-9-26-1 (Win- Overtime Win - Overtime Loss - Tie) between the two.
The last time they faced each other at the Gangneung Hockey Centre, Canada beat the US 4-1 in the gold medal game of the 2017 World Para Ice Hockey Championships, which also served as the PyeongChang 2018 Test Event.
The US players have not yet erased that game from their minds.
"We're super excited to have this gold-medal game be against Canada so we can get a little redemption against them," said amped-up US forward Brody Roybal, who leads all players at PyeongChang 2018 with 10 goals.
Throughout the tournament, the USA has been playing for Jeff Sauer, who coached the team to two world titles and a Paralympic title from 2012-2017 before passing away last year from pancreatic cancer.
"This is the game we're here for, and we want to play for Jeff Sauer, so it's going to be an emotional game for sure," US defenceman Nikko Landeros said. "I'm not going to name any names, as I think they know who they are, but you might see some heads flying. I'm ready to bang, and that's the team we came here to play. We enjoy playing every team, but there's a border series here and we have a hatred for each other in a way."
On the flip side, Canada is trying to remain calm, cool and composed.
"I'm really making an effort to just be a robot," five-time Paralympian Billy Bridges said. "Our last practices need to be treated like they're the gold-medal game because that's what I've been treating my practices like at home the last four years. That really takes the pressure off you, just realizing you need to do exactly what you do at home every single day. You don't have to do anything extra or special to get fired up."
Another player weighing in on the rivalry has been US forward Declan Farmer, who is second to Roybal with nine goals at PyeongChang 2018 and tied with him for the USA's all-time career Paralympic goals leader. Voted the IPC's Best Male Athlete at the Sochi 2014 Games when he was just 16 years old, Farmer said he hopes fans on both sides of the border shed the same light on the Paralympic gold-medal game that they did on the Olympic women's gold-medal game last month which also featured Canada and the USA.
"This is the one that counts," Farmer said. "It's been a long journey - the last four years since Sochi building up to this moment. We have one game to go, and it all comes down to Sunday. Nothing else matters at this point. We've just got to bring it."
The final day of competition and the Closing Ceremony can be watched live right here on the International Paralympic Committee's website. Highlights of each day's action are also available.