PyeongChang 2018: Golden chance for Mark Arendz
Canadian looks to complete his Paralympic medal haul with gold in standing biathlon
07 Mar 2018
Imagen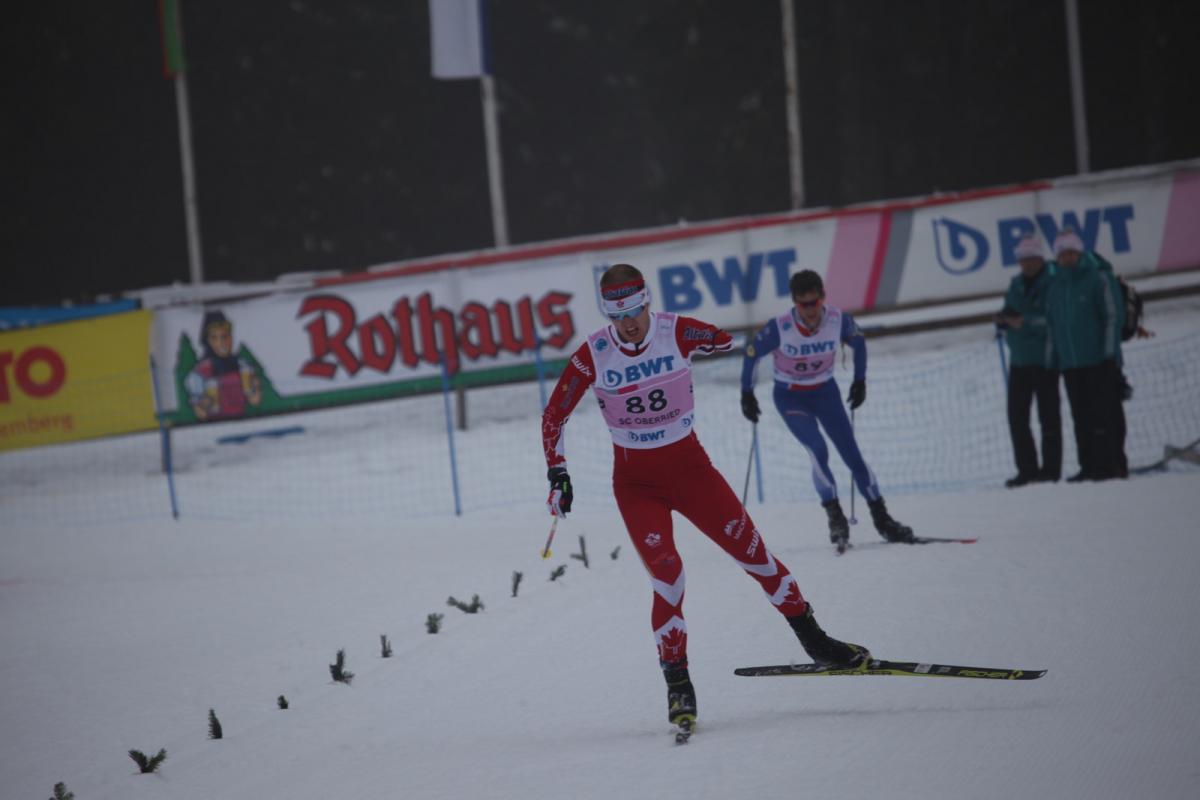 ⒸOberried 2018
By Lena Smirnova | For the IPC
"To me, the perfect race is where I don't make any mistakes. I ski the fastest I could. If it is biathlon, I shot clean with perfect rhythm and a single hole as a group."
There is only one colour of Paralympic medal missing from Mark Arendz's collection. Now the Canadian Nordic skier will have another chance to seize the coveted gold when he competes at the PyeongChang 2018 Paralympic Winter Games.
Arendz has already competed at two Paralympic Games, in Vancouver and Sochi, and finished his Sochi 2014 campaign with one silver and one bronze in the standing biathlon events.
"The standing men's field is one of the most competitive categories," Arendz said of going for gold in PyeongChang. "In any given race there are a half dozen guys who could win. It means that to win or even podium, there is no room for mistakes. That is what makes it exciting."
Arendz competes in both biathlon and cross-country events, but traditionally his specialty is biathlon, which he was first inspired to try after watching the 2002 Olympic Winter Games.
"At first, skiing was just fun, going out on my farm with my dad and brother, oh, and the dogs," Arendz said. "Watching biathlon from the 2002 Salt Lake Olympics, I was intrigued by the sport. Once I tried, I fell in love with it."
He participated in his first World Para Nordic Skiing World Cup in January 2007, and then went on to compete at his home Paralympic Games.
"I have always been competitive, that showed as I wanted to improve. Right after attending my first Games in Vancouver 2010, that was when the drive to become the best ignited," Arendz said.
"I think what gives me the edge in biathlon is my ability to adapt to the conditions," he added. "With varied conditions on the range, from wind to light to noise, I control these variables and still shoot well. With that also comes the fact I can refocus if something changes suddenly or I miss. Instantly figuring out what happened and correcting any errors."
In the four years since Sochi 2014, Arendz maintained his top position in biathlon. He finished second overall in the standing biathlon World Cup last season, and also won gold in the 2017 World Para Nordic Skiing Championships in the biathlon middle distance and sprint.
This season's World Para Nordic Skiing World Cup was more challenging for Arendz who dropped to fifth place overall in the standing biathlon rankings.
"I focus on the factors of my race that I can control," Arendz said about his strategies to stay positive despite getting mixed competition results. "Some races I focus on one single technique in a particular section of the course. Other races I focus on several small pieces. Slowly all these focuses and pieces come together for a spectacular result. Especially in shooting, it is critical to acknowledge mistakes and correct them instantly."
Now on the eve of his third Paralympic Games, Arendz is aiming to finish the "perfect race" in PyeongChang.
"To me, the perfect race is where I don't make any mistakes. I ski the fastest I could. If it is biathlon, I shot clean with perfect rhythm and a single hole as a group. On the course, any transition between techniques is smooth and efficient. I only imagine that the skiing would feel effortless," he said. "In any of these races, my mind is in a near-meditative state, a balance between natural and conscious movements."
"I feel on my day I can challenge the best skiers on the course or the range."
Every competition as well as the Opening and Closing Ceremonies can be watched live right here on the International Paralympic Committee's website. Highlights of each day's action will also be made available.
The Paralympic Winter Games take place in PyeongChang, South Korea from 9-18 March. Tickets can be purchased here.