PyeongChang 2018: Overtime thriller sees USA beat Canada
Winner from Farmer hands USA its third straight Paralympic title
18 Mar 2018
Imagen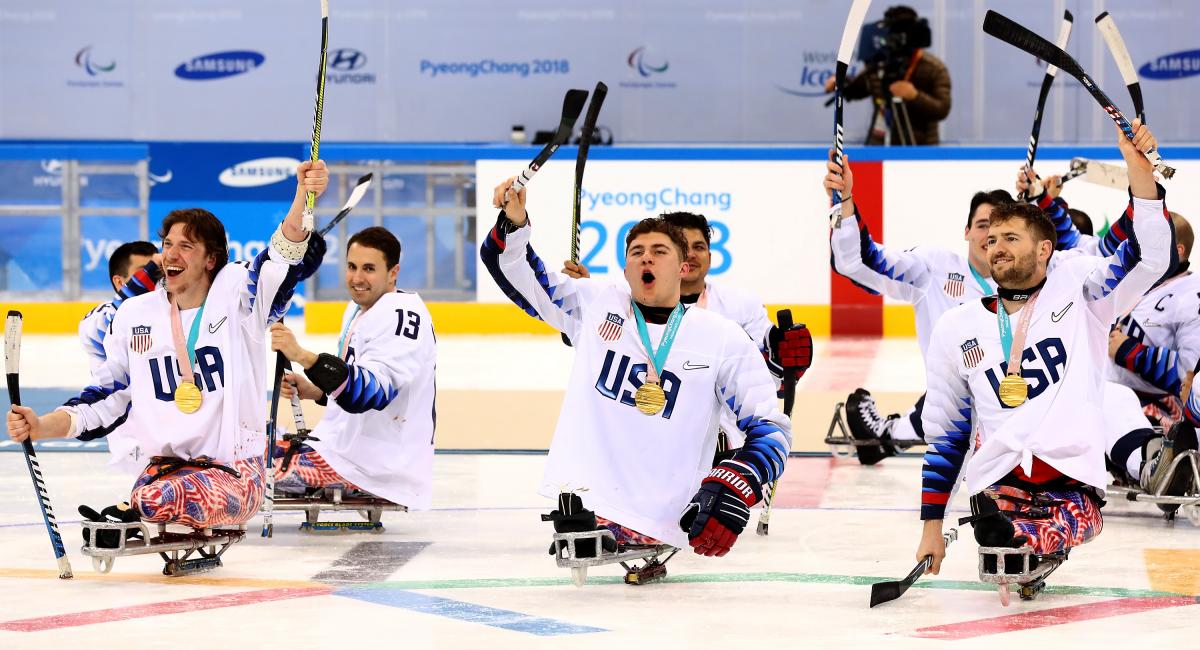 ⒸGetty Images
By Stuart Lieberman | For the IPC
Already playing in his second Paralympics at just 20 years old, Princeton University student Declan Farmer played the role of the hero – twice - for the USA in the PyeongChang 2018 gold medal game against arch rivals Canada on Sunday (18 March) at the Gangneung Hockey Centre.
First, with the USA down by one, Farmer scored with 37 seconds left in regulation off a pass from 19-year-old forward Brody Roybal to force a sudden-death overtime period. Then, 3:30 into overtime, Farmer sliced the puck between two defenders and into the net to give the Americans their record-extending third consecutive and fourth overall Paralympic title in Para ice hockey with a thrilling 2-1 victory.
Farmer's gold medal-winning score also tied him for most goals by one player at a single Paralympics; Sylvester Flis also had 11 goals for the USA at the Salt Lake City 2002 Games.
"This is incredible," Farmer said. "This is what you dream of, playing your arch rival in the Paralympic gold medal game and going to overtime. That was the best group hug celebration that we'll ever have.
"We were scratching and clawing our way through that whole second and third period trying to get that goal. Steve Cash was shutting it down as the best goaltender in Para ice hockey history, and we were able to get that tying goal for him. In overtime, we were confident and just went out and did the job."
Five-time Paralympian Billy Bridges, a member of Canada's title-winning team at the Torino 2006 Games, initially broke open the scoring with 2:54 left in the first period, sending a slap shot right past Cash's head for his 10th point of the tournament. With the goal, Canada became just the second team to score on Cash in the last three Paralympics and first at these Games.
The USA did not have a single shot on goal in the opening 15 minutes, but outshot their opponents 8-3 in the second period. Canada ventured close to doubling its lead just over three minutes into the frame, barrelling through a cluster of US players in the crease with the puck, pushing the net off its hinges in what would be ruled a no-goal.
Farmer, a little too giddy with the puck in the crease, missed what looked like USA's best opportunity to tie the game two minutes into the final frame. Then with two minutes left on the game clock, the USA pulled Cash from the net, allowing for an extra skater. Canadian defenceman Rob Armstrong came close to doubling his team's lead, but his shot at an empty net flailed off course.
In the closing seconds, Roybal passed the puck from the left circle to Farmer in front of the net, who chipped it in to send it to overtime. Farmer's overtime goal, off a helper from captain Josh Pauls, would then seal the deal for the American squad that was playing in honour of former coach Jeff Sauer, who passed away last year from pancreatic cancer.
"It's an absolutely unbelievable feeling to rally from down one to winning in overtime, and to be able to do it in the memory of coach Sauer is something that's really special for us," Pauls said.
Cash, now a three-time Paralympic champion and four-time Paralympic medallist, stood his ground to end the tournament with just one goal conceded.
"I'm still dreaming at this point. It's going to take a little bit to sink in," Cash said. "I think the key to being a goaltender in that position of being down is to just hit the reset button when they scored. A bounce went their way, and those things happen, but you can't let those get you down."
Dominic Larocque, who lost his leg in an explosion in Afghanistan as a member of the Canadian Forces, had 14 saves on the day for a Canadian team that fought until the very end on the shoulders of Bridges, captain Greg Westlake and leading scorer Tyler McGregor.
"This was a really good showcase of the sport today, and all of my teammates should be proud of what they've done," Bridges said. "This game was so much more than 45 minutes. It was the last four years of training and effort, and because of how far some of these guys have come and how far they've come, they need to be proud of this moment."
"I don't think there's much motivation needed moving forward for us than coming just a minute short of winning gold at the Paralympics."
Highlights of the action will be made available on the International Paralympic Committee's website.