Rita Van Driel participates in UN Human Rights Council session
IPC Governing Board Member joined the annual interactive debate on the rights of persons with disabilities as part of new partnership with UN Human Rights
06 Mar 2021
Imagen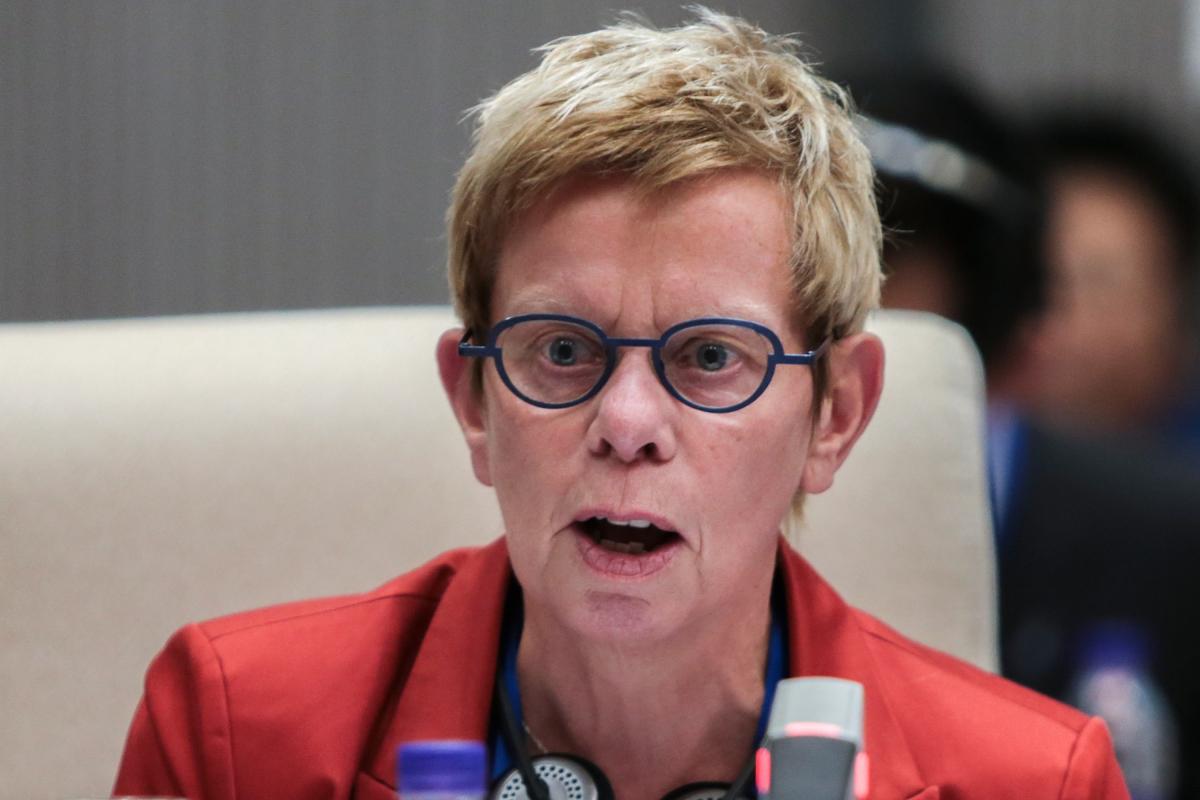 ⒸGetty Images
By IPC
International Paralympic Committee (IPC) Governing Board Member Rita Van Driel joined the UN High Commissioner for Human Rights Michelle Bachelet at the annual interactive debate on the rights of persons with disabilities, held as part of the 46th session of the Human Rights Council on Friday, 5 March.
The debate seeks to bring greater understanding on the importance of physical activity and sports for persons with disabilities as a means to strengthen their participation and inclusion in society, with positive outcomes across health, education, employment and other areas of life. 
It highlighted implementation measures and identified good practices to promote the participation of persons with disabilities in physical activities and sports, including through international, regional and national efforts to ensure equal access and funding for inclusive and disability-specific sports, accessible infrastructure, assistive technologies and awareness-raising.
Gerard Quinn, United Nations Special Rapporteur on the rights of persons with disabilities; Jaime Cruz Juscamaita, Peruvian self-advocate and Inclusion International representative; and Bodour Almeer, FIFA World Cup Qatar 2022 Sustainability Director, also joined the discussion.
Van Driel said: "As the global governing body of the Paralympic Movement, the IPC's vision is to make for an inclusive society through Para sport. We firmly believe that Change Starts with Sport, that sport is a tool for transforming lives and societies, and that sport can play a significant role in advancing and accelerating the Sustainable Development Goals. We believe in this because we have lived it in our own skins.
"We have found, the best way to engage global audiences and empower persons with disabilities is through the Paralympic Games. Widely regarded as the world's third biggest sport event, the Paralympics attract cumulative TV audiences of billions of people worldwide helping to break down barriers and drive social change.
"Thanks to the outstanding athletic performances and increasing global media coverage, the Paralympics are a platform for changing attitudes towards disability and, most importantly, creating greater opportunities.
"The fact that the Human Rights Council is hosting a debate on this is a step in the right direction. We specifically want to congratulate the report that the OHCHR (Office of the United Nations High Commissioner for Human Rights) has put together around the participation in sports under article 30 of the Convention on the Rights of Persons with Disabilities which we had the privilege to peer review."
This invitation for the IPC to participate came off the organisation's landmark agreement with the OHCHR signed last December to collaborate on several initiatives that will further the rights of persons with disabilities.
Bachelet added: "The participation of persons with disabilities in physical activity and sport is an important and timely issue. Sport contributes powerfully to an individual's health and well-being. It reinforces inclusion in the community and complements an enormous spectrum of broader physical activities in daily life, including through recreation and leisure. 
"The Convention on the Rights of Persons with Disabilities recognises the role of sport and physical activities in fostering inclusion and we should increase our efforts to make their social, emotional and health benefits available equally to persons with disabilities. Achieving equal access for all to sports and physical activities will require sound planning. 
"Athletes can be powerful symbols of courage, discipline, fairness and the celebration of our shared humanity. The Paralympic Games have been spectacularly successful in driving attention to the athletic achievements of persons with disabilities. I am delighted to announce that my Office is working in partnership with the International Paralympic Committee and I invite all other sports organisations to become active agents of change for disability rights. 
"Athletes with disabilities should enjoy the same level of support as all other athletes so that they, too, can excel. States and sports organisations should increase their efforts to address existing inequalities, ensuring access to appropriate assistive technologies and financial support. 
"The participation of persons with disabilities as organisers, spectators, referees, athletes, community leaders and entrepreneurs will be transformational for this sector. States and sports organisations that embrace human rights should include measurable targets and assessments of their progress in achieving disability rights."