's-Hertogenbosch 2019: First champions crowned
Steve Prowse and Ruben Vanhollebeke win vision impaired titles
06 Jun 2019
Imagen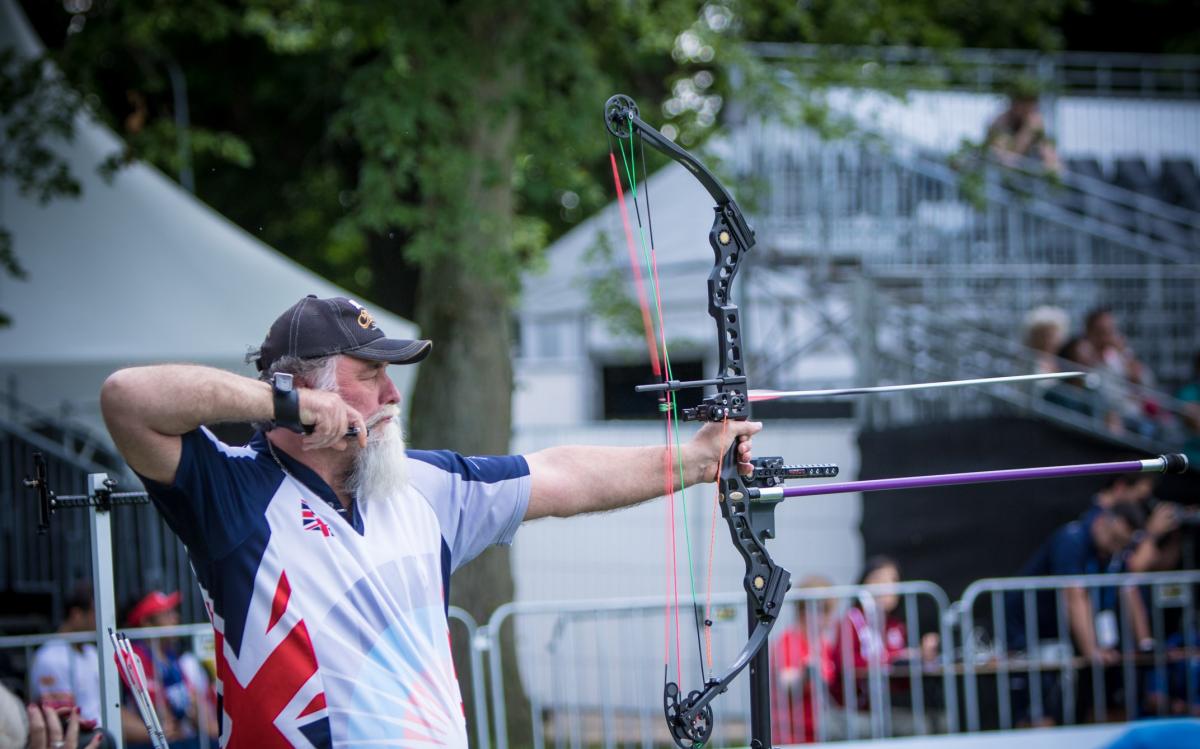 ⒸWorld Archery
By World Archery and IPC
"You still have to beat them all. We feel prepared to shoot against them"
The first set of gold medals of the 2019 World Archery Para Championships were awarded on Wednesday in 's-Hertogenbosch, Netherlands.
Great Britain's Steve Prowse beat Italian archer Giovanni Vaccaro, 6-2, to secure gold and his third vision impaired 2/3 title, while a new champion in Belgium's Ruben Vanhollebeke took the vision impaired 1.
"It was a bit shaky for a couple of arrows," Prowse said. "I think the old nerves kicked a bit on the last two. And then it came back again, so I was chuffed, you know. It was good."
The 60-year-old Prowse opened the match with 24 points against Vaccaro's 19 to take an early 2-0 lead. The Brit then landed a nine, seven and a final 10 to secure the title.
Prowse last won his first vision impaired world title in 2007 in Cheongju, South Korea. His second title came four years ago in Donaueschingen, Germany, where he beat British teammate Peter Price to the gold.
"We've got a new grandchild coming tomorrow," Prowse said. "We're going back tonight and straight to the hospital in the morning to hopefully see the new grandchild."
The bronze medal match saw Great Britain's Nicholas Thomas beating his teammate Phillip Tranter in straight sets, 6-0.
The vision impaired 1 final saw new world record holder Vanhollebeke take gold over Cyprus' Christos Misos, 6-0.
The 42-year-old scored a pair of 18s and a 20 over Misos' 14, 4 and 10 to secure his first world title.
"It's unbelievable," Vanhollebeke said. "It's something I've worked for 15 years now and it's finally worked for me. I'm really, really happy. The cherry on the cake."
An emotional Daniel Martin of Spain beat Jordi Casellas Albiol of Andorra 7-3 to the bronze medal in the division.
Team match-ups decided
Ukraine's compound men and China's compound women set new world records during team match-play.
Turkey and China both have a shot at three team gold medals in these Championships after the finalists were decided on the eliminations field.
On Sunday, Turkey and China will contest the recurve women's open team title. The Turkish archers confirmed their strong shape as they beat 6-2 Italy to advance to the final.
"China is the reigning world champion but when it comes to winning, it doesn't matter who stands in front of you on the line," said Turkey's Zehra Ozbey. "You still have to beat them all. We feel prepared to shoot against them."
The W1 men's team will also see Turkey take on China on Saturday's final.
Turkey's third chance for team gold is in the compound men's open event.
Erdogan Aygan, Bulent Korkmaz and Murat Turan beat Ukraine in the semi-final, 234-229, one round after the Ukrainian team set a new world record of 235 points for the 24-arrow 50-metre match.
The USA's Matt Stutzman confirmed the new record to the three men to whom he had just lost the match.
Another world record was set in the compound women's open team event.
China scored 236 out of possible 240 points during a quarter final victory over Russia.
"We shot one point more than the men's record so I'm very happy," said China's Zhou Jiamin.
There will be a rematch of the recurve men's open team final from two years ago in Beijing, China. Reigning champion Russia will shoot against the USA after the latter beat China in a semi-final shoot-off.
Michael Lukow was on the silver medal-winning team that lost to Russia at the last Worlds. He believes the USA will win gold this time.
"It is going to be interesting, yes. It will be fun to go again for the gold against Russia. And now to get now gold instead of silver," Lukow said.
The 2019 World Archery Para Championships, which continues Thursday with individual and team playoff rounds, runs until Sunday. Complete results are available on World Archery's website.