's-Hertogenbosch 2019: Super seven
Archers strike world records on opening day
04 Jun 2019
Imagen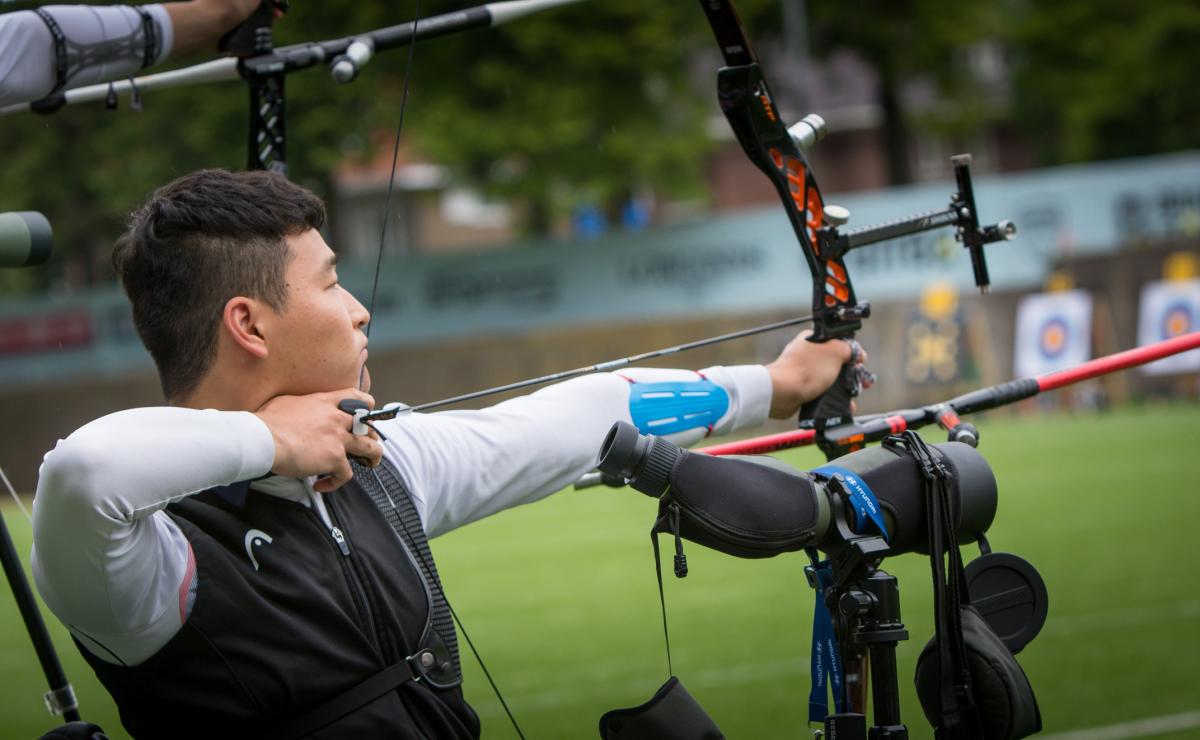 ⒸWorld Archery
By World Archery and IPC
"We were surprised to see we beat the world record"
South Korea's Kim Min Su led a record-breaking opener at the World Archery Para Championships on Monday's qualification rounds in 's-Hertogenbosch, Netherlands.
The 20-year-old said he wanted to win three gold medals at the Championships. He looks well on his way to that goal after breaking the men's recurve open world record with 662 out of a possible 720 points for the 72-arrow 70-metre ranking round.
Iran's Pouriya Jalalipour, who shot 658, had broken Russia's Bato Tsydendorzhiev's previous record of 655 points. But Kim's seven-point increase will stand.
"I didn't expect I would break the world record," said Kim, bronze medallist from the 2018 Asian Para Games in Indonesia. "I was just following my coach's instructions and trying to do what I did in practice and I set the record. It feels really good. On the other hand, it's a bit like I don't know what happened."
Tsydendorzhiev, China's Wang Sijun and Zhao Lixue, Russia's Anton Ziapaev and France's Guillaume Toucoullet completed the top eight in the men's recurve open.
Records for Russia
Seven world records were broken on day one, with the Russian women's compound open team owning a few.
Stepanida Artakhinova and Svetlana Barantseva finished top over the compound and recurve women's open ranking rounds, scoring 693 and 625 points, respectively.
Seven-time Worlds medallist Artakhinova finished ahead of Great Britain's Jodie Grinham (686) and Jessica Stretton (684).
Artakhinova, Tatiana Andrievskaia and Anastasia Dzhioeva improved their own world record for team qualification with a combined score of 2037 out of a possible 2160 points.
"We were surprised to see we beat the world record," said Tatiana. "We were just shooting, step by step. However, at home, we've achieved even better results than the one from today. But we are happy."
Recurve women's leader Barantseva jumped up from ninth with 300 points for the first 36 arrows to first for the full round, after adding 325 for the back half.
Paralympic Champion Zahra Nemati followed in second with 623, and Italy's Elisabetta Mijno third with 621.
China's Gao Fangxia, Lin Dandan and Wu Chunyan broke the recurve women's open team qualification record by 32 points.
Iran claimed the recurve mixed team ranking round world record, and China the compound mixed team record.
More on target
USA's Matt Stutzman, Andre Shelby and Ben Thompson shot a combined 2091 out of a possible 2160 points to set a new world record for the compound men's open team ranking round.
"We were after the record," said Stutzman, the top individual qualifier with 704 points. "We've been talking about it probably since Italy unofficially shot it [in Dubai]. Something like 'if we can just come out here and just get the world record, boom, just bring it back to the US.'"
The USA already held the official world best mark at 2063 points.
Iran qualified second and China third in the compound men's open team competition.
Stutzman's field-leading 704 was six more than China's Ai Xinliang and Iran's Alisina Manshaezadeh, who were second and third with 698 points.
Slovakia's Marcel Pavlik, Thompson, Turkey's Bulent Korkmaz, Shelby and Great Britain's Nathan MacQueen completed the top eight.
Belgium's Ruben Vanhollebeke also set a world record in the vision impaired category, scoring 428 out of a possible 720 points.
The 2019 World Archery Para Championships, which continues Tuesday with qualification and eliminations, runs until Sunday. Complete results are available on World Archery's website.