's-Hertogenbosch 2019: Stretton enjoys fairy tale career
Teenage Paralympic champion poised to write more golden chapters
29 May 2019
Imagen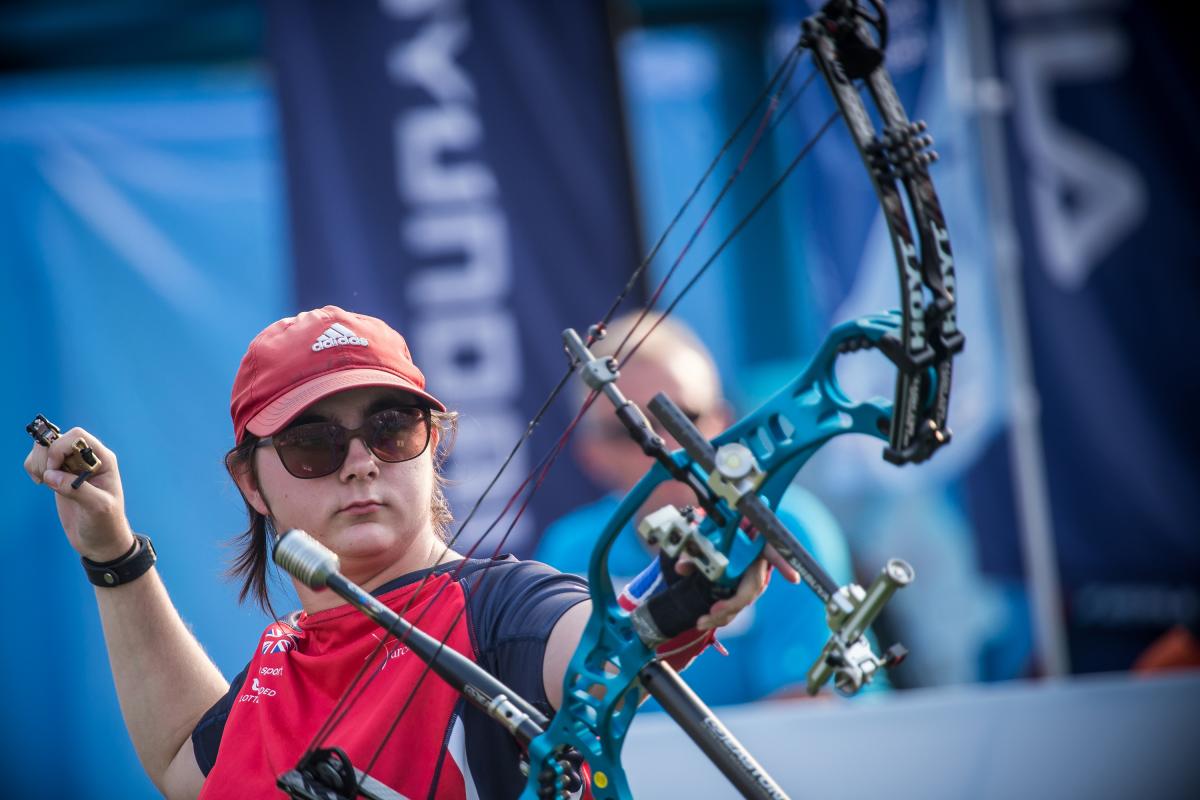 ⒸGetty Images
By Lena Smirnova
Jessica Stretton feels at home in a fantasy world.
With several fiction books on the go at the same time, the fantasy world is familiar domain for the Para archer from Great Britain. Unlike most fantasy book readers, however, Stretton's real life also borders on the fantastical.
Stretton was not only the youngest Para archer at the Rio 2016 Paralympic Games, but also finished her debut Games with two gold medals, ensuring a British sweep of the women's individual W1 and boosting Great Britain to top spot in the mixed team W1.
A year later, she repeated the feat at the 2017 World Championships in Beijing.
At the time, most of Stretton's reading material was textbooks. As she prepared for school exams, the teenager's archery training was mostly limited to weekends and free time during the week.
Now having passed those tests, she is devoting herself more to the sport and features prominently among the top medal prospects at upcoming competitions.
"In both the lead up and for two years after [Rio 2016], I was a full-time student going for my GCSE's, followed by my A-levels, which took up a lot of my time," Stretton said.
"My main focus back then was my studies. Now, having finished with school for the moment, I am able to become a full-time athlete, and spend more energy focusing on my shooting. My approach has changed from being only semi-focused on my shooting, with my studies to distract me, whereas now, I can put my full attention on shooting."
Young age, adult mindset
Stretton has proved that she has the discipline and maturity well beyond her 19 years.
"I suppose I have always felt older than I am, but this is probably because I spend a lot of my time in the company of adults, rather than people my own age," said Stretton, whose training mates include archery veterans and Paralympic champions John Stubbs and John Cavenagh.
"This has caused me to mature quicker than those my age normally do. Sometimes I still feel my age, but not so much since I turned 18 and stopped needing a chaperone."
Archery turned out to be the perfect fit for the sage teenager. One of its main appeals, Stretton said, is that it is not as dependent on age as other sports, so her youth is not a disadvantage.
"Archery is one of those amazing sports where age doesn't matter much," she said. "As long as you can hold and shoot a bow, then you can join in the sport. Physical strength can factor into someone's ability to shoot, but there are ways around that, either getting a lighter bow setup, or working hard in the gym, or both.
"There are ways to adapt the sport to suit each individual's needs. I haven't ever really struggled with holding a heavier bow, my setup is not 'light', but it isn't the heaviest setup out there."
Real-life fantasy
While studying for school exams is behind her, books are still a big part of Stretton's life.
"I must admit, outside of archery, I am pretty boring. I mostly spend my time reading, or with my family and friends," she said. "I am not the most sociable of people, so when I can, I will find a quiet space and stick my head in a book until someone comes to get me to eat or go somewhere."
She is currently reading A Curse so Dark and Lonely by Brigid Kemmerer - a retelling of Beauty and the Beast set in the modern era, while her long list of favourites includes the series Percy Jackson and the Olympians by Rick Riordan, An Unfortunate Fairy Tale by Chanda Hahn, and The Chronicles of Ixia by Maria V. Snyder.
"Reading and archery are my two biggest passions! I always have more than one book on the go at once, as I never know what I'll fancy reading tomorrow," Stretton said. "Fantasy books are my go-to, and my favourite genre."
Stretton's own life might also have its next fantasy chapter written soon as the 19-year-old looks ahead to defending her medals at the Tokyo 2020 Paralympic Games and the 2019 World Championships in 's-Hertogenbosch, Netherlands.
"My goals vary from competition to competition, depending on what I'm working on at the time and what I want to achieve at that competition," Stretton said.
"For a major competition such as the World Championships, I tend to focus more on outcome-based goals as that is when I really need to put in a good performance, but if it is a quota-place year and the best place for me to put my focus is the team, then getting a quota place for my country becomes a priority."