Stirling 2019: Scotland skip aims for home success
Aileen Neilson will lead hosts in quest for Worlds medal
26 Feb 2019
Imagen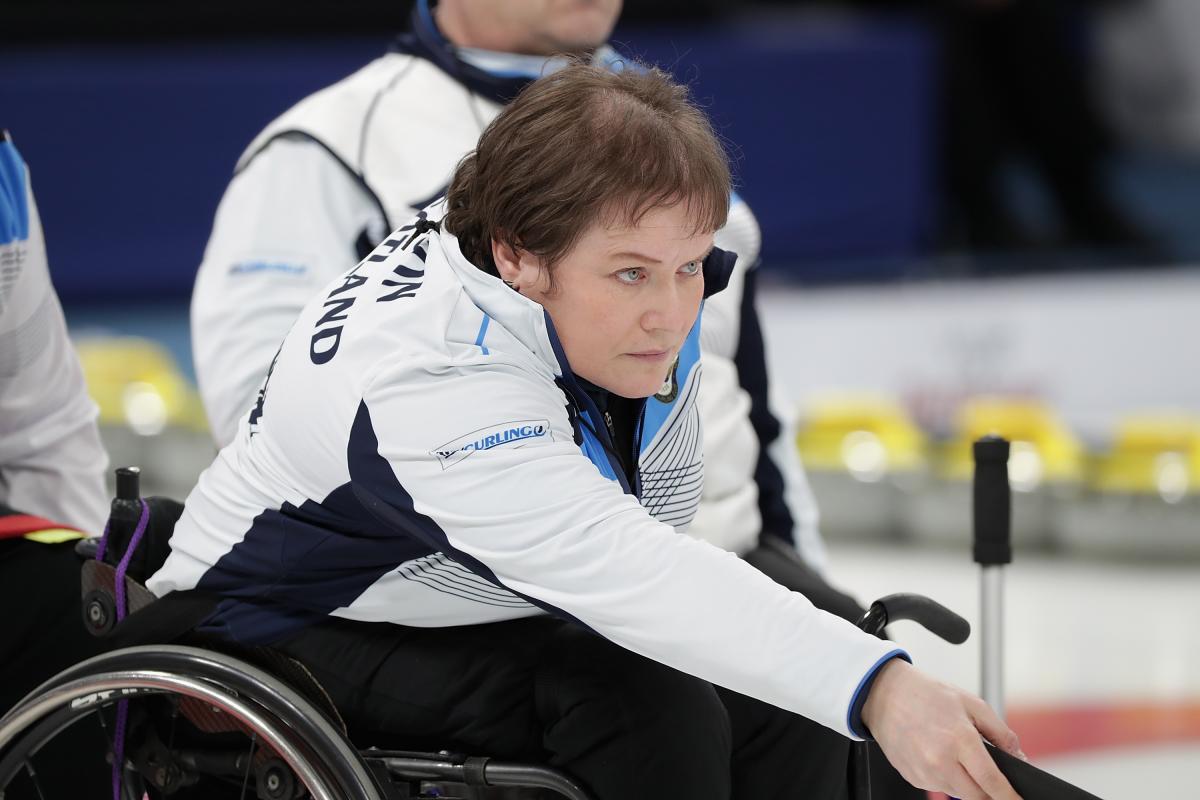 ⒸGetty Images
By Amp Media | For the IPC
"We spend more time with our squad mates than with our family sometimes. So it's vital to know how to get the best out of each other, on and off the ice. In a tough game, your teammates can pull you through. I'm feeling good about this squad."
With the biggest wheelchair curling event on the calendar outside the Paralympic Games coming to her homeland, Scotland skip Aileen Neilson knows that this year is perhaps her best chance to add the medal that's eluded her in an otherwise sparkling career: gold.
"To be on the podium would be fantastic, but gold is the colour I'm missing," says Neilson about the World Wheelchair Curling Championship 2019, which takes place in Stirling, Great Britain, from 3-10 March. "I'd love to add that to the collection, and it's very exciting to be on home ice.
"Back in 2005, when I'd just started curling, I got to know the Scotland players who won gold at Braehead. It was my inspiration to get more involved. We'd love to do the same thing. We'll have family and friends to cheer us on, and the advantage of not having to travel. Going one better than winning that silver in 2011 would be fantastic."
A decade of success
While wheelchair curling's standard has improved radically since she got involved, Neilson isn't worrying about any particular opponent. "The main threat is the ice," she says. "It's the team that gets to grips with it that wins. We're not like football. When we throw a shot, there's no one trying to kick the stone away. It's all in your hands. There are lots of talented curlers coming to play, but you can't control the opposition."
Neilson has been there or thereabouts in numerous tournaments, taking world bronze in 2007 and 2017, plus silver in 2011, with Scotland. As skip of Team GB, she finished sixth at the Vancouver 2010 Paralympic Winter Games, and got bronze at Sochi 2014. PyeongChang was less pleasing, as the British finished seventh.
"Skipping the team in Sochi was probably the highlight of my career," she says. "And I can look back on PyeongChang with some fond memories. We played with a different team and another coach, and can take a lot of positives from it. There are a lot of things we have learned from the experience. You've got to look forwards. As soon as you step off that ice, you're looking at the next four years, and what the plan is."
Leading by example
Neilson has also relished her role as a trailblazer – breaking through as a female competitor in a once male-dominated mixed event. "Being the first female wheelchair curler at the world championships and Paralympics was big," she says. "Maybe not so much for me, because I'm just concentrating on every stone, but hopefully I've inspired others.
"We were just out in Finland and there were four females skipping. Hopefully down the line we will have parity with the able-bodied curlers and can have both a female and a male championships. It would show a huge progression. We've evolved already in terms of technique and tactics, but if there were five spots available on a women's team, it would give more people a chance to play."
In the meantime, the 47-year old, affectionately nicknamed 'Mother Goose', is enjoying her time as the matriarch of an excellent mixed side. "It's important to be a team, because we do spend a lot of time together," she says. "We spend more time with our squad mates than with our family sometimes. So it's vital to know how to get the best out of each other, on and off the ice. In a tough game, your teammates can pull you through. I'm feeling good about this squad."
Good enough for that elusive gold? Only time will tell…