Three individuals to receive Paralympic Order in Mexico City
Sylvana Mestre, Georgios Fountoulakis and Dr. Axel Bolsinger will be recognised for their contributions to the Paralympic Movement.
03 Nov 2015
Imagen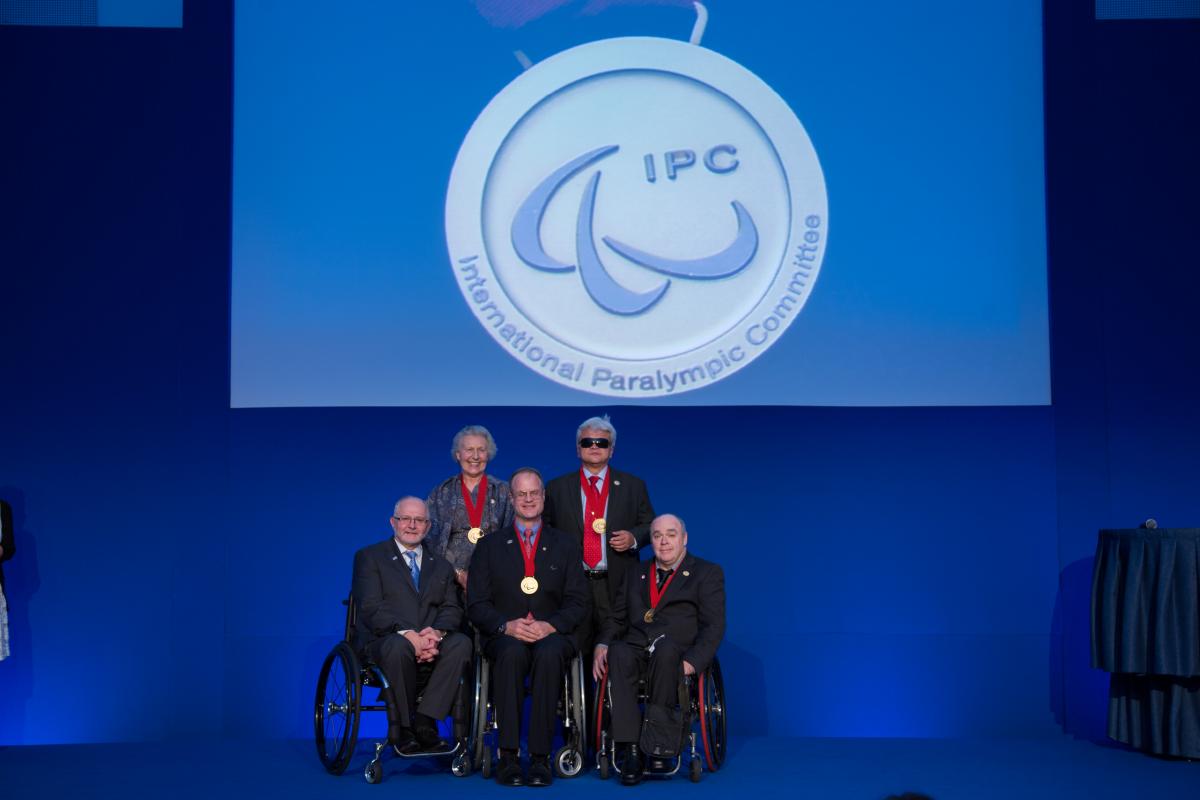 ⒸGeorge Santamouris
By IPC
The International Paralympic Committee (IPC) will award three individuals with the Paralympic Order – the highest tribute a person connected with the Paralympic Movement can achieve – during the 2015 Paralympic Awards in Mexico City on Saturday 14 November.
The 2015 Paralympic Order recipients are: Sylvana Mestre, former Chairperson of the IPC Alpine Skiing Sport Technical Committee (STC); Georgios Fountoulakis, President of the Hellenic Paralympic Committee; and Dr. Axel Bolsinger, Ophthalmologist Adviser and Classifier for the German National Paralympic Committee (NPC).
All three have made important contributions to the Paralympic Movement and have illustrated the Paralympic ideals either in the sporting world or via outstanding services to the cause of the Movement.
Mestre was a member of the IPC Alpine Skiing STC from 2002-2006, and eventually moved to Chairperson from 2007-2014. During her time with the STC, she worked on various development projects, which increased the number of young people practicing the sport and improved the sporting calendar to feature distinct levels of competition across age groups and ability levels.
In 2006, she organised an IPC Alpine Skiing Development Camp in France, involving 55 youngsters aged 11-17. Many of the camp graduates have gone on to win Paralympic and World medals, including France's Marie Bochet, Austria's Claudia Loesch and Slovakia's Miroslav Haraus.
Mestre also co-founded Play and Train in 2010, a Non-Governmental Organisation (NGO) dedicated to providing people with an impairment and their families the opportunities to practice, learn and train in sports and leisure activities, regardless of their ability, gender or age.
"When I received the letter [that I won], I was working in a Play and Surf camp in the Canary Islands with a bunch of young people with different impairments, and tears came down my face while a big smile came out," Mestre said.
"I was flattered; I felt so honoured though I thought why me?" Mestre continued. "I do what I do because I love my work. For me, every day is a challenge while teaching someone with an impairment to practice sport in a correct way."
Fountoulakis worked for the Hellenic Power Company (DEI), where he began to fight for the rights of employees, such as people with impairments. At the same time, he competed in wheelchair basketball, and through sport, he got involved with administration. His tireless efforts led to the development of sports federations for athletes with impairments and eventually the Hellenic Paralympic Committee.
Through the National Sports Federation for Persons with Disabilities and the Hellenic Paralympic Committee, Fountoulakis extended the Paralympic Movement throughout Greece.
He became Chef de Mission of the Hellenic Paralympic delegation at Athens 2004 and London 2012, and Deputy Chef de Mission in Sydney 2000. He was also Chef de Mission of numerous national teams in World and European Championships.
"I feel incredibly privileged especially since through me, the entire Hellenic Paralympic Movement is being awarded; it is a Movement that I have been serving for decades and has gained a great momentum over the years," Fountoulakis said.
"The responsibilities now are even greater. It is my prime duty now to pass on the flame of knowledge and Paralympic ideals to the younger generation so that para-sport in my country will to continue its growth based on the same values we have established all these years."
Dr. Bolsinger has significantly improved the standard, quality and transparency in visual classification and has been a strong advocate for fair-play in Paralympic sports. He set a high value on instructions and education of visual impairment (VI) classifiers, as well as on scientific analysis and medical technical equipment in visual classification.
Dr. Bolsinger participated as a VI classifier at the Sydney 2000, Salt Lake City 2002, Athens 2004, Torino 2006 and Beijing 2008 Paralympic Games. Between 1996 and 2011, he was the leading ophthalmologist and member of the medical committee of NPC Germany. As International Blind Sports Federation (IBSA) Europe Medical Officer, he supported and developed the professional discussion and expertise between the international VI classifiers and organised international meetings and seminars for VI classifiers.
He published numerous articles and lectures on blind sports and visual classification in medical and scientific literature, as well as many medical congresses. In view of the EUR 12,000 price tag, he initiated a fundraising campaign with LIONS International in 2003-04 to purchase the automatic refractometer. This was used for the first time to classify athletes at Athens 2004 and then future World Championships.
"Winning this honour gives me a sense of great gratitude and pride," Dr. Bolsinger said. "I see the order as recognition of my long standing commitment to serve significant realisation and development in visual classification as an important contribution to fair play and to ensure that visually impaired athletes can perform at their best in a highest possible fair system in Paralympic Sport."
Bolsinger, Fountoulakis and Mestre were among 18 nominees for the Paralympic Order from the IPC membership. The nominees were reviewed by the IPC Selection Committee, who narrowed the nominees to 13. The IPC Governing Board then voted on who they believe should receive the Paralympic Order.