Tokyo 2020: Ana Custodio grabs world's attention
Brazilian's unique technique leads national team to greater achievements
18 Sep 2018
Imagen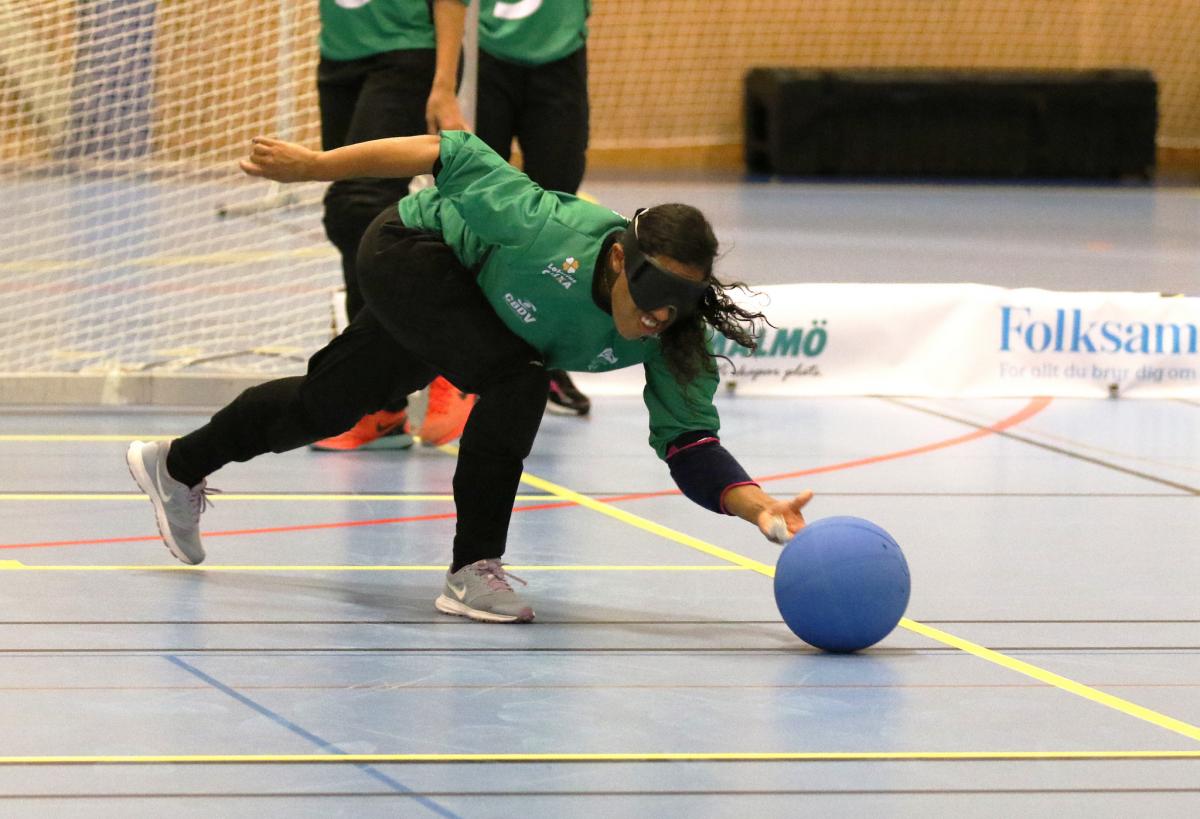 ⒸTadeu Casqueira/CBDV
By IPC
"I find it funny that my pitch is of a different style from the standard"
Brazil's Ana Custodio grabbed everyone's attention at the Goalball World Championships in Malmo, Sweden, in June with her unique style.
Using a technique of throwing the ball backwards between her legs in a way rarely seen in the sport, Custodio helped her team to their best ever finish of bronze.
She was also Brazil's top scorer with 22 goals.
"I find it funny that my pitch is of a different style from the standard," Custodio said. "I have been playing in this way since the 2004 Paralympics in Athens, but now with the expressive result of our team it drew the most attention."
Brazil's previous best finish had been fifth in 2014, Custodio could not be happier with the bronze in Sweden.
"My greatest feeling is happiness, because it is something that Brazil had not yet achieved. And with the bronze we secured the spot for the Games in Tokyo and crowned a whole lot of work."
With their first medal under their belts and qualification for the 2020 Paralympics sealed, Brazil's attention now turns to Japan. Can they now win their first medal at the Games?
"Sure enough, we are very confident in winning a medal in Tokyo because dreaming and believing are the first steps to making a dream come true," Custodio said.
Rio 2016 home legacy
While there are always improvements to be made, Brazil have secured a great legacy from hosting their own Paralympic Games in Rio de Janeiro in 2016.
The country's approach to goalball, as with many of their Paralympic sports, is more professional and they have a growing club scene.
"In the Brazilian team we have monthly meetings lasting between eight to 10 days, where we carry out the technical and tactical trainings with the team," Custodio said.
"In parallel to the work carried out in the national team I carry out the training activities with the team of my city (APADV) and also do the gym training daily."
They also have new players coming through as well as experienced athletes returning to the side, planning towards Tokyo 2020.
"We have many outstanding young players emerging in Brazil with potential to be in the national team. In Brazil, all basic work that is done aims to foster young athletes.
"Apart from them, we also have the return of the athlete Victoria Amorim [who took a break to have a baby] - she is left wing of the team, has a style of pitch equal to mine and that was highlighted in the last competitions in which she participated."
Dreams through goalball
For Custodio, goalball has been an integral part of her life since she lost her sight at the age of 12. The Brazilian had to undergo an emergency surgery to remove a head tumour which led to atrophy of the optic nerve.
"Goalball is everything in my life, because it was through him that I overcame the loss of vision, improved my physical abilities and acquired greater autonomy and independence in my daily activities. It was also a fundamental factor to obtain my financial stability and accomplish my other dreams."
Ten men and 10 women's teams will line-up for Tokyo 2020 including Brazil, Germany and Belgium in the men's who qualified at the 2018 IBSA Goalball World Championships.