Toyota keeps Movement moving in Kazakhstan
Four minibuses for athletes donated to NPC
13 Jun 2018
Imagen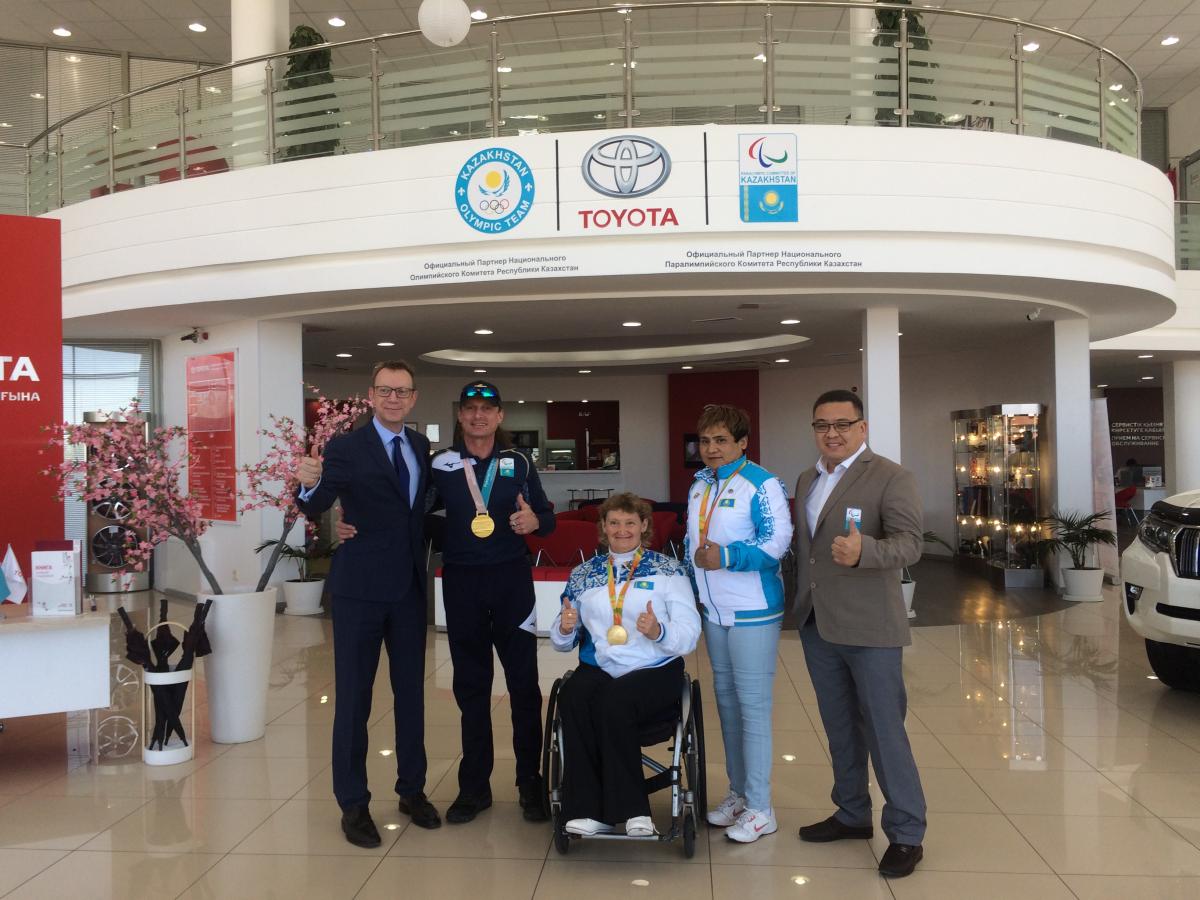 ⒸNPC Kazakhstan
By NPC Kazakhstan and IPC
The Paralympic Movement in Kazakhstan continues moving thanks through the National Paralympic Committee's (NPC) partnership with Toyota, after the automotive manufacture provided buses to support the NPC's activities.
Four buses were provided for the NPC's daily organisational activities, particularly for the transportation of athletes. Of the four, two Hiace minibuses were completely adapted to support the needs of Para athletes.
NPC Executive Director Yerlan Suleimenov said: "I would like to note that Toyota Corporation is a global partner of the International Paralympic Committee, and Toyota Motor Kazakhstan, through international cooperation, strengthens cooperation at the regional level.
"Never before has the global partners committed themselves to supporting the National Paralympic Committees, but Toyota, as one of the most advanced companies in the world, looks further and sees deeper. Thus, today we are witnessing a historic moment - the strengthening of the partnership between the NPC and the company Toyota Motor Kazakhstan.
"At the global level, Toyota supports the Paralympic Movement of Kazakhstan through educational programmes. At the national level, Toyota Motor Kazakhstan provides the Paralympic Committee with buses specially equipped with a wheelchair lift. Thanks to these buses, the logistics and organisation of training sessions for Paralympic athletes will become more efficient and comfortable.
"We are confident that this contribution will be part of a large process in winning new medals and, in general, in the development of Paralympic sports in Kazakhstan."
Last October, Toyota and NPC Kazakhstan signed a cooperation agreement that saw the automobile brand committing to support the team at the Paralympic Games, as well as at other sports competitions of the international level until 2024.
The cooperation is part of Toyota's new global initiatives. In 2017, the automotive brand launched the global corporate campaign "Start Your Impossible" to convey its desire to create a more open, strong society in which everyone can challenge the impossible.
President of Toyota Motor Kazakhstan Keith Matthew Simmons said: "We happily provide our cars to the National Paralympic Committee as part of the development of the Paralympic Movement throughout the country. Paralympic athletes who daily accept new challenges inspire us with their spirit of continuous improvement, sharing our vision to strive for better. I believe that the Paralympic Games contribute to maximising their potential, and we are ready to support them from our side."
At the PyeongChang 2018 Paralympic Winter Games, Kazakhstan was represented by six athletes in two sports -cross-country skiing and biathlon. Cross-country skier Alexander Kolyadin captured the country's first gold medal at a Paralympic Winter Games.