Youngsters cap off 2021 races with first World Cup medals
US and Italian riders strike double golds in the final competition before the Lillehammer 2021 World Championships starting on 12 January
19 Dec 2021
Imagen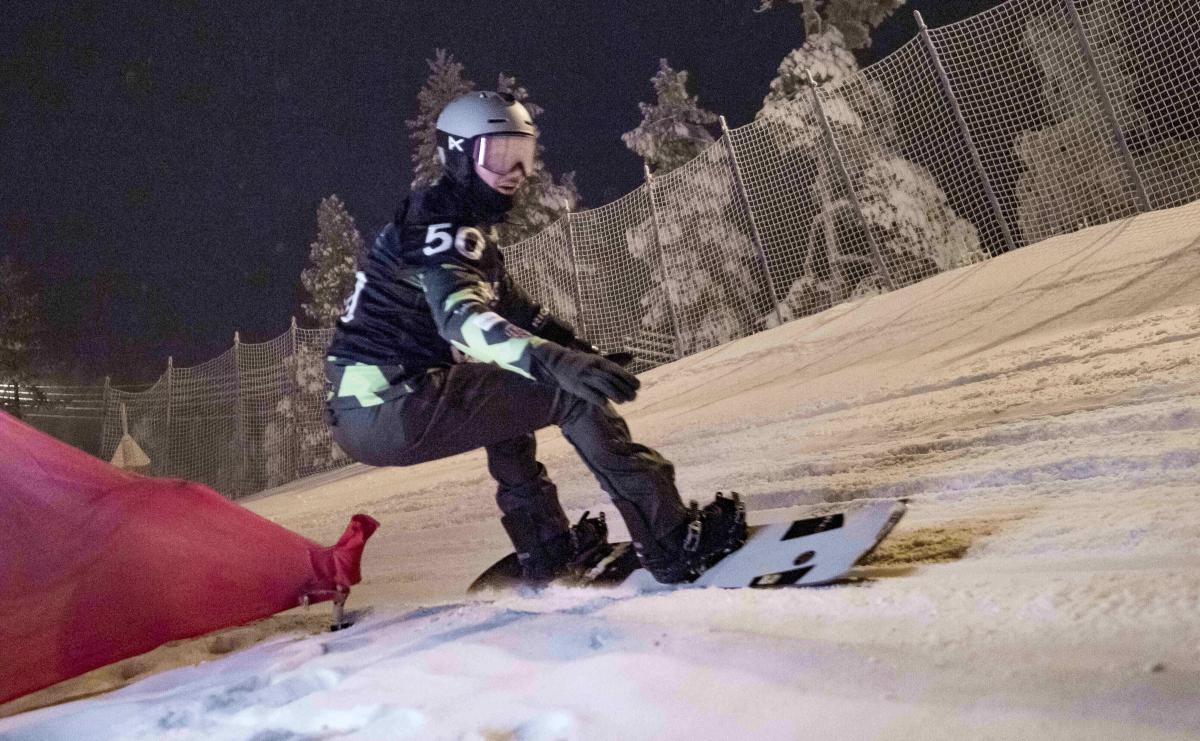 ⒸSimo Vilhunen/Finnish Snowboard Association
By Lena Smirnova | For World Para Snow Sports
The final Para snowboard competition of 2021 proved to be a shining moment for young talent as several of the youngest World Cup competitors marked their career's best results - and in some cases, their first podiums - to cap off the year.
Italy was among the biggest winners at the season's third World Cup, which Hochfuegen, Austria hosted from 17-19 December.
SILVER AND BRONZE FOR MORO
In addition to men's SB-UL rankings leader Jacopo Luchini, who took back-to-back gold medals in the two banked slalom races, the Italian team cheered for the performances of its youngest member, Mirko Moro, who celebrated his 19th birthday one day before the competition started.
Moro won his career's first World Cup medals - two bronze in snowboard cross - last season and added a silver and bronze in banked slalom to his collection in Hochfuegen.
"If I have to say in which I feel more comfortable, I would certainly say in banked slalom because the risks there are limited since you don't have to drop in with the other riders," Moro said.
"But I admit that I like the boardercross much more because of the adrenaline and the billions of different situations that can happen."
Unable to shave off time in Run 2, Moro had to settle for bronze in the first banked slalom race.
"I was not able to improve on my time, though not for lack of will," Moro said.
"I tried different things in the first and second run, but unfortunately I made mistakes in some aspects and the result was that I lowered the time only by 0.01. Tomorrow the goal is to improve enough to take second place."
And that is what Moro did, lowering his time from a best of 1:20.46 on the first day to 1:17.95, which put him 3.25 seconds ahead of bronze medallist Masataka Oiwane of Japan in the second banked slalom.
SWISS SURPRISES
Switzerland's Aron Fahrni took a surprise silver in the opening race of his career's first World Cup competition thanks to a blazing second run.
It was also the first World Cup and first World Cup podium for Fahrni's teammate Ellen Walther. The SB-LL1 rider made her debut at the Europa Cup in Landgraaf, the Netherlands in late November and moved up to the World Cup level in Hochfuegen, where she took two silver medals behind double Paralympic champion Brenna Huckaby of the USA.
"I learned a lot about myself, especially how I can compensate with some body parts to improve my snowboarding," Walther said of how the experiences of racing at two Europa Cups have helped her to progress.
"I experienced the exciting feeling of racing boardercross and learned how important the fun part is. I think you have to be focused, but also enjoy the good feeling of snowboarding. This attitude helped me today because I was struggling with this course."
DOMINANT USA
USA riders and Paralympic champions Noah Elliott and Evan Strong also found a way to triumph in Hochfuegen.
Elliott was victorious in the men's SB-LL1, overcoming four-time world champion Chris Vos, who swept gold in the banked slalom races at home in Landgraaf, and banked slalom specialist Bruno Bosnjak of Croatia.
Meanwhile, Strong won two golds in the men's SB-LL2 class. He shared the podium with his teammate, first-time World Cup medallist Garrett Geros.
The 22-year-old took silver and bronze in the races in Hochfuegen.
"I didn't care about results today, I was just gonna have a blast on course," Geros said of his mentality going into the first race.
"When I pulled out of that start gate, I just let out a holler and was waving at people going up the lift and just having so much fun. I didn't have a worry in the world about my results. I was just having fun on my snowboard."
Geros got his start in snowboarding thanks to the non-profit Adaptive Action Sports and is currently in his fourth season of international racing.
"I didn't expect to be on the podium in my first year at all just because of the skill level I was at, at the time. It was my first year snowboarding and I didn't know a lot. But after seeing my progress through the year I knew with hard work I could make something of this sport," Geros said.
"I worked all summer to prepare for this season and today when I got up on that podium it was an amazing feeling. I worked so hard this summer to get it and I finally was able to step up on that podium."
DOUBLE GOLDS FOR THE NETHERLANDS AND SPAIN
It was also the first World Cup medal for SB-LL2 rider Vsevolod Shcheglov. The Russian rider finished fifth in the first race but upgraded to a silver medal on Sunday, even beating Strong's time in the second run.
"I am happy that I was able to win a medal in the final race before the new year. It is a big honour for me to compete with such renowned athletes like Evan Strong," Shcheglov said.
"I slept badly tonight so I had a terrible headache all morning, but this still didn't stop me from getting on the podium," he added.
"What helped me is my experience of riding on a hardboard. We don't have a banked slalom course anywhere in Russia, so I train regular slalom."
In the women's SB-LL2 class it was double gold for Dutch rider Lisa Bunschoten, who has yet to lose a banked slalom race this season.
Spain's Irati Idiakez Lopez also won double gold in the women's SB-UL and shaved more than four seconds off her time between the two races.
Full results from the World Cup in Hochfuegen are available on the World Para Snowboard website.