Imagen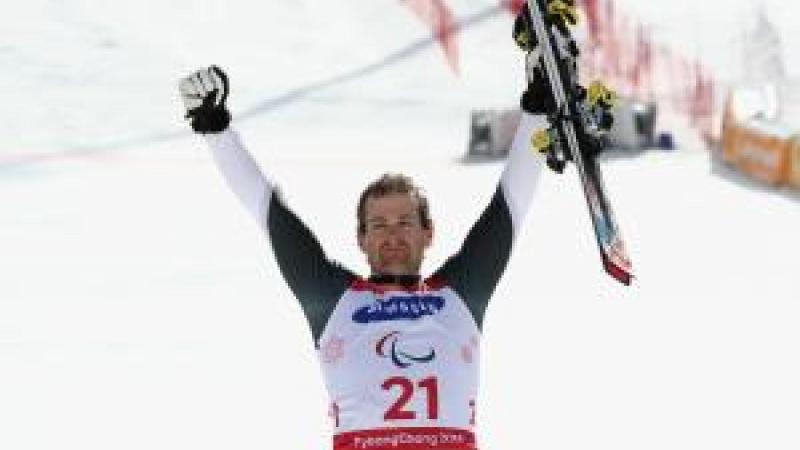 A stomach complaint affected Adam Hall at Sochi 2014, as he ended off the podium in all alpine skiing events.
But the New Zealander was determined to return to the Winter Paralympic podium after his historical gold in the men's slalom standing at Vancouver 2010. And he did it.
Hall had his best Winter Paralympic performance at PyeongChang 2018, claiming gold in the slalom and bronze in the super-combined.
He is a veteran on the circuit despite a host of setbacks, having made his international debut in 2005. In 2007 and 2008, Hall had injuries which impacted his performances and jeopardised his preparations for the major events.
In addition, he suffered a ruptured anterior cruciate ligament and a torn meniscus in his knee during 2008. Hall recovered on time to secure silver at the 2009 World Championships.
He also took bronze in slalom at the 2013 and 2017 World Championships.
Hall has shown diversity throughout his career with wins across both speed and technical disciplines.
The athlete, farmer and public speaker was born with spina bifida and required several operations on the nerves in his back when he was a child.
Biography
Impairment information
Type of Impairment
Spinal Cord Injuries
Origin of Impairment
Congenital
Further personal information
Family
Wife Elitsa Storey, daughter Gracelynn [2019]
Sport specific information
When and where did you begin this sport?
He began skiing at age six in Cardrona, New Zealand.
Why this sport?
He first tried skiing at age six when a friend's mother suggested he try it. Three years later he was introduced to snowboarding, but eventually switched back to skiing because snowboarding was not on the Paralympic Winter Games programme at the time.
Name of coach
Jane Stevens; Ben Adams, GBR
International debut
Competing for
New Zealand
General interest
Hobbies
Cycling, kayaking, golf, outdoor activities. (snowsports.co.nz, 18 Mar 2018)
Memorable sporting achievement
Winning a bronze medal and a gold medal at the 2018 Paralympic Winter Games in Pyeongchang, his first Paralympic medal since the 2010 Games after failing to win a medal at the 2014 Games. "To be able to reclaim a [Paralympic] gold medal after an eight-year gap was pretty remarkable and something which is pretty rare in the history of the sport. There has not been many people who have done that, so that was a pretty big accomplishment. But also the Whang Youn Dai Achievement Award [at the 2018 Games] and that recognition as well was pretty spectacular." (odt.co.nz, 17 Jan 2019)

Most influential person in career
His mother Gayle, who died in a car accident in 2010 just over a month after he won his first Paralympic gold medal in Vancouver. (tvnz.co.nz, 13 Oct 2020; stuff.co.nz, 18 Mar 2018)
Injuries
He sustained a concussion while competing in the downhill event at the 2015 World Championships in Panorama, BC, Canada. He returned to the slopes three days later to compete in his second event of the championships. (Athlete, 17 Jul 2016)

His performances at the 2014 Paralympic Winter Games in Sochi were affected by a stomach complaint. (tvnz.co.nz, 14 Mar 2014)

He competed through the 2008 season with a ruptured anterior cruciate ligament [ACL] and a torn meniscus in his knee. He underwent surgery to repair the meniscus at the end of the season and was sidelined for six weeks. (Athlete, 17 Jul 2016)

In 2007 he tore the meniscus in his knee. After the competition season had finished he underwent surgery and was unable to train for six weeks. (Athlete, 17 Jul 2016)
Sporting philosophy / motto
"Dream it, live it, love it." (Athlete, 17 Jul 2016)
Awards and honours
He was named NZ Snowsports Athlete of the Year in 2008, 2009, 2012, and 2019. He has also been named NZ Snowsports Adaptive Skier of the Year on at least five occasions. (snowsports.co.nz, 01 Jan 2020)

He received the Whang Youn Dai Achievement Award at the 2018 Paralympic Winter Games in Pyeongchang. The award is given to two Paralympians who best embody the spirit of the Paralympic movement. He was the first New Zealander to have received the honour. (paralympics.org.nz, 18 Mar 2018)

He was named the 2018 Athlete of the Year at the Halberg Awards in New Zealand. (snowsports.co.nz, 04 Nov 2020)

He was flag bearer for New Zealand at the opening ceremony of the 2014 Paralympic Winter Games in Sochi. (nowtolove.co.nz, 22 Feb 2018; insidethegames.biz, 06 Mar 2014)

In 2011 he was made Member of the New Zealand Order of Merit in recognition of his services to sport. (snowsports.co.nz, 01 Dec 2012)
Milestones
At the 2018 Paralympic Winter Games in Pyeongchang he became the first New Zealand athlete to have competed at four Paralympic Winter Games. He was also the only New Zealand athlete to win a gold medal in Pyeongchang. In addition, he was the only New Zealand athlete to win a gold medal at the 2010 Paralympic Winter Games in Vancouver. (SportsDeskOnline, 01 Nov 2020)
Famous relatives
His wife Elitsa represented the United States of America in alpine skiing at the Paralympic Winter Games in 2006 and 2010. (stuff.co.nz, 05 May 2017)
Impairment
He was born with spina bifida and required several operations on the nerves in his back when he was a child. His impairment affects both legs with significant muscle weakness. (stuff.co.nz, 18 Mar 2018; Athlete, 17 Jul 2016; vancouversun.com, 15 Mar 2010)
Other information
PARALYMPIC VETERAN
He is due to compete at the Paralympic Winter Games for the fifth time at Beijing 2022. He made his debut at the 2006 Games in Turin, where his best result was 41st in the men's standing downhill, and then won gold in slalom in both 2010 and 2018. "I am definitely recognised. The exposure in New Zealand has been pretty phenomenal over the years and people walk down the street and recognise the performances from Vancouver over 10 years ago. Being a relatively small population, the exposure is great. After Torino I could have walked away from that experience and thought, 'Bugger this, I'm done' but for me it was about gaining experience and learning from my competitors about what they were doing to be the best in the world. It's remarkable that I am where I am 18 years into a career when you never know what is going to happen. I never thought it would last this long and I'm thankful that it has." (paralympic.org, 02 Feb 2022)

VIRTUAL REALITY TRAINING
He and his fellow national team members used virtual reality technology to train in Wanaka, New Zealand, ahead of the 2022 Paralympic Winter Games. The technology, designed by the University of Canterbury's Human Interface Technology Lab, offered the New Zealand skiers the chance to virtually experience the Beijing slopes used for the Games. "The [Paralympic] test event was cancelled last season [and] with the virtual reality stuff it gave us an opportunity to be here [Beijing] at the test event without being here, which was really cool. There's been so much talk about how intimidating this hill [for slalom] was going to be, how crazy the speed would be. It's scary, just how familiar it is. New Zealand always punches well above its weight with that good Kiwi ingenuity, and finding something out there and always finding ways to get ahead of your competition. So if you are stuck in a pandemic and can't travel, we will find a way to stay at the top. It has been a pretty amazing experience with what you have been able to do, with that technology. It is insane, really." (OIS, 08 Mar 2022; stuff.co.nz, 04 Mar 2022)

OTHER ACTIVITIES
He has served as the chairperson of the World Para Alpine Skiing Athletes Focus Group. (paralympic.org, 02 Apr 2020)

SKIING ROMANCE
He met his wife Elitsa, whom he married in 2014, on a chairlift while at a training camp in Winter Park, CO, United States of America, in the lead-up to the 2006 Paralympic Winter Games in Turin. She was born in Bulgaria with club foot, which led to the amputation of her right leg, before being adopted by a US couple. (nowtolove.co.nz, 18 Mar 2018; stuff.co.nz, 18 Mar 2018)
Results
IPC Alpine Skiing World Championships (Kangwonland, South Korea)

| Event | Medal | Unit | Date | Rank |
| --- | --- | --- | --- | --- |
| Men's Slalom Standing | | Final | 2009-02-20 | 2 |
| Men's Giant Slalom Standing | | Final | 2009-02-21 | 12 |
2011 IPC Alpine Skiing World Championships (Sestriere, Italy)

| Event | Medal | Unit | Date | Rank |
| --- | --- | --- | --- | --- |
| Men's Super-G Standing | | Final | 2011-01-18 | 10 |
| Men's Super-Combined Standing | | Final | 2011-01-19 | 8 |
| Men's Slalom Standing | | Final | 2011-01-20 | 10 |
IPC Alpine Skiing World Championships (La Molina, Spain)

| Event | Medal | Unit | Date | Rank |
| --- | --- | --- | --- | --- |
| Men's Super-G Standing | | Race 1 | 2013-02-21 | 9 |
| Men's Slalom Standing | | Race 1 | 2013-02-24 | 3 |
| Men's Super-Combined Standing | | Race 1 | 2013-02-25 | 9 |
2015 IPC Alpine Skiing World Championships Panorama (Panorama, Canada)

| Event | Medal | Unit | Date | Rank |
| --- | --- | --- | --- | --- |
| Men's Downhill Standing | | Race 1 | 2015-03-04 | 9999 |
| Men's Super-Combined Standing | | Race 1 | 2015-03-07 | 6 |
| Men's Giant Slalom Standing | | Race 1 | 2015-03-08 | 19 |
| Men's Slalom Standing | | Race 1 | 2015-03-10 | 9999 |
2017 IPC Alpine skiing World Championships Tarvisio, ITA (Tarvisio, Italy)

| Event | Medal | Unit | Date | Rank |
| --- | --- | --- | --- | --- |
| Men's Downhill Standing | | Race 1 | 2017-01-25 | 11 |
| Men's Super-G Standing | | Race 1 | 2017-01-26 | 15 |
| Men's Super-Combined Standing | | Race 1 | 2017-01-28 | 9 |
| Men's Slalom Standing | | Race 1 | 2017-01-31 | 3 |