Imagen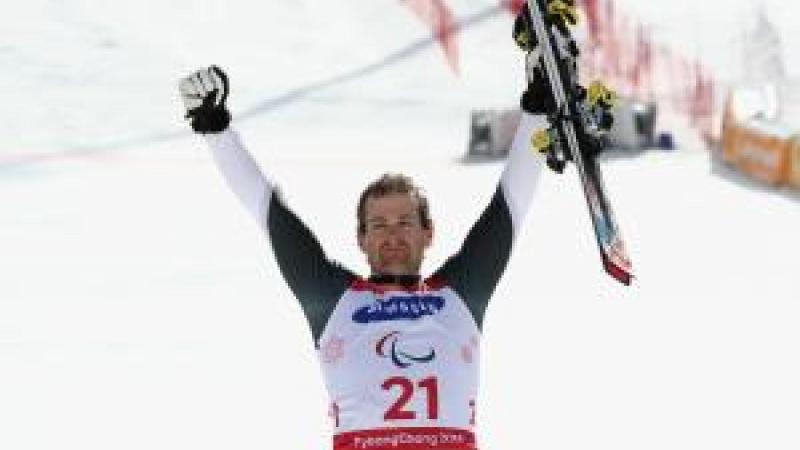 A stomach complaint affected Adam Hall at Sochi 2014, as he ended off the podium in all alpine skiing events.
But the New Zealander was determined to return to the Winter Paralympic podium after his historical gold in the men's slalom standing at Vancouver 2010. And he did it.
Hall had his best Winter Paralympic performance at PyeongChang 2018, claiming gold in the slalom and bronze in the super-combined.
He is a veteran on the circuit despite a host of setbacks, having made his international debut in 2005. In 2007 and 2008, Hall had injuries which impacted his performances and jeopardised his preparations for the major events.
In addition, he suffered a ruptured anterior cruciate ligament and a torn meniscus in his knee during 2008. Hall recovered on time to secure silver at the 2009 World Championships.
He also took bronze in slalom at the 2013 and 2017 World Championships.
Hall has shown diversity throughout his career with wins across both speed and technical disciplines.
The athlete, farmer and public speaker was born with spina bifida and required several operations on the nerves in his back when he was a child.
Results
IPC Alpine Skiing World Championships (Kangwonland, South Korea)

| Event | Medal | Unit | Date | Rank |
| --- | --- | --- | --- | --- |
| Men's Slalom Standing | | Final | 2009-02-20 | 2 |
| Men's Giant Slalom Standing | | Final | 2009-02-21 | 12 |
2011 IPC Alpine Skiing World Championships (Sestriere, Italy)

| Event | Medal | Unit | Date | Rank |
| --- | --- | --- | --- | --- |
| Men's Super-G Standing | | Final | 2011-01-18 | 10 |
| Men's Super-Combined Standing | | Final | 2011-01-19 | 8 |
| Men's Slalom Standing | | Final | 2011-01-20 | 10 |
IPC Alpine Skiing World Championships (La Molina, Spain)

| Event | Medal | Unit | Date | Rank |
| --- | --- | --- | --- | --- |
| Men's Super-G Standing | | Race 1 | 2013-02-21 | 9 |
| Men's Slalom Standing | | Race 1 | 2013-02-24 | 3 |
| Men's Super-Combined Standing | | Race 1 | 2013-02-25 | 9 |
2015 IPC Alpine Skiing World Championships Panorama (Panorama, Canada)

| Event | Medal | Unit | Date | Rank |
| --- | --- | --- | --- | --- |
| Men's Downhill Standing | | Race 1 | 2015-03-04 | 9999 |
| Men's Super-Combined Standing | | Race 1 | 2015-03-07 | 6 |
| Men's Giant Slalom Standing | | Race 1 | 2015-03-08 | 19 |
| Men's Slalom Standing | | Race 1 | 2015-03-10 | 9999 |
2017 IPC Alpine skiing World Championships Tarvisio, ITA (Tarvisio, Italy)

| Event | Medal | Unit | Date | Rank |
| --- | --- | --- | --- | --- |
| Men's Downhill Standing | | Race 1 | 2017-01-25 | 11 |
| Men's Super-G Standing | | Race 1 | 2017-01-26 | 15 |
| Men's Super-Combined Standing | | Race 1 | 2017-01-28 | 9 |
| Men's Slalom Standing | | Race 1 | 2017-01-31 | 3 |
Lillehammer 2021 World Para Snow Sports Championships (Lillehammer, Norway)

| Event | Medal | Unit | Date | Rank |
| --- | --- | --- | --- | --- |
| Men's Downhill Standing | | Race 1 | 2022-01-14 | 17 |
| Men's Super-G Standing | | Race 1 | 2022-01-15 | 22 |
| Men's Super-Combined Standing | | Race 1 | 2022-01-17 | 15 |
| Men's Super-G Standing | | Race 1 (from SC) | 2022-01-17 | 24 |
| Men's Slalom Standing | | Race 1 | 2022-01-21 | 2 |