Imagen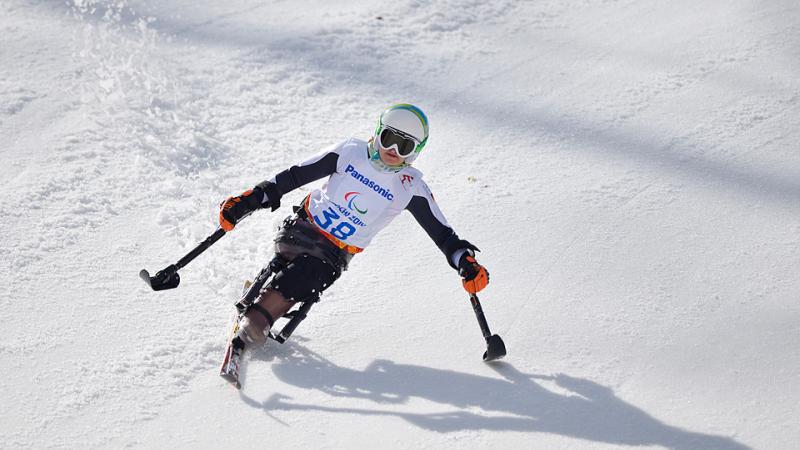 Anna-Lena Forster
Alpine Skiing
Only the very bravest of athletes would try to come in between the long-standing rivalry of two of the world's best women's sit alpine skiers.
But that is exactly what Anna-Lena Forster did at Sochi 2014, successfully elbowing her way onto the podium three times alongside multiple Paralympic and world champions Austria's Claudia Loesch and Germany's Anna Schaffelhuber.
Forster take another step forward four years later as she topped the podium in the women´s slalom and super-combined sitting events.
Born with her impairment, Forster made her international debut in 2012 having taken up alpine skiing at the age of six.
Forster has multiple World and Europa Cup podiums under her belt and has built herself a formidable reputation of being able to pull out her best performances when it matters most.
The 2015-16 season saw Forster break into the World Cup top three for the first time. Not only did she win the slalom, super-G and downhill globes, the German sent a clear message that she had arrived by claiming the overall women's sitting World Cup.
Forster was able to come between Schaffelhuber and Loesch again at the 2017 World Championships, claiming silver in the slalom to sit between the pair on the podium. She also maintained her World Cup form, finishing in the top three in slalom, giant slalom and super combined and third in the overall women's sitting rankings.
In 2017/2018, Forster ended in second place in the overall World Cup standings.
Biography
Impairment information
Type of Impairment
Limb deficiency
Origin of Impairment
Congenital
Further personal information
Occupation
Athlete, Customs Officer
Languages
English, French, German, Italian
Higher education
Psychology - Albert Ludwigs University of Freiburg: Germany
Sport specific information
When and where did you begin this sport?
She began skiing at age six with VdK Munchen in Germany.
Why this sport?
Her parents and her brother are passionate skiers, and they encouraged her to take up the sport. "When I was born my parents weren't so sure whether the tradition of a ski holiday was still possible. It was a coincidence that my hometown of Singen had an event where Para sports were presented. Among other things, we found monoskiing. I was relatively young, but the ski instructor said we should wait a few more years until I could fit the ski. Then my parents measured me every year. We tried it out when I was age six, with quite a bit of cushion in the seat shell. But at least it worked so far that I could drive. For the next four years, I took a ski course every year. Until the trainer said, 'You don't even have to look any further, I think you have talent'. From then on, I was part of the youth team."
Club / Team
BRSV Radolfzell: Germany
Name of coach
Justus Wolf [national], GER
General interest
Nicknames
Leni, Lenchen (skiteam-alpin.org, 03 Dec 2012)
Hobbies
Trampolining, climbing, swimming. (faz.net, 07 Mar 2022)
Memorable sporting achievement
Winning two gold medals at the 2018 Paralympic Winter Games in Pyeongchang. (anna-lena-forster.de, 01 Jan 2020)
Most influential person in career
Her parents. (sportschau.de, 23 Mar 2021)
Hero / Idol
German Para alpine skier Anna Schaffelhuber. (faz.net, 07 Mar 2022)
Sporting philosophy / motto
"At my first ski courses I often cried because I felt very cold or my leg hurt. The older I got, the more aware I became of what I love about skiing: freedom. The freedom to be out in nature and ski like everyone else. The freedom you feel when you stand on a mountain and you can look over everything." (paralympic.org, 14 Jan 2021)
Awards and honours
She and biathlete Martin Fleig were flag bearers for Germany at the opening ceremony of the 2022 Paralympic Winter Games in Beijing. (IPC Entries, 04 Mar 2022)

In 2014 and 2016 she was named Sportswoman of the Year by the Baden Disabled and Rehabilitation Sports Association [BBS] in Germany. (suedkurier.de, 07 Dec 2016)

In 2014 she received the Silbernes Lorbeerblatt [Silver Laurel Leaf] in Germany. (bundespraesident.de, 05 May 2014)

In 2013 she received a gold medal in recognition of her sporting achievements from the town of Radolfzell in Germany. (wochenblatt.net, 17 Apr 2013)
Ambitions
To win gold medals at the 2022 Paralympic Winter Games in Beijing. (paralympic.org, 22 Jan 2022)
Impairment
She was born without her right leg and missing bones in her left leg. "My parents never stopped me. They let me try everything. Able-bodied children are also allowed to fall down and gain experience of what works and what doesn't. This is an important way of life." (badische-zeitung.de, 11 Mar 2017; suedkurier.de, 10 Mar 2010)
Other information
MENTAL STRENGTH
She was disappointed with her results at the 2015 World Championships, and began working with a psychologist after the tournament to help her deal with nerves. She saw the benefits at the 2018 Paralympic Winter Games in Pyeongchang, where she overcame a difficult start to end up going home with two gold medals. "Going to see a psychologist] helped a lot. I realised I needed to stay positive and trust my abilities. The 2018 Paralympic Winter Games didn't start well for me. I crashed in the downhill and then in the super-G I finished fourth. That was not the plan. It affected my confidence and I was very stressed. Others had medals, and I'd lost. But then I spoke to family and friends, and they were a big influence. My family got me going again. That's where the positivity came in. They told me I could do it and they cheered me up. They made me strong and got me believing. I began thinking, 'You can do it' ahead of the other events." (paralympic.org, 09 Jan 2019)
Results
IPC Alpine Skiing World Championships (La Molina, Spain)

| Event | Medal | Unit | Date | Rank |
| --- | --- | --- | --- | --- |
| Women's Super-G Sitting | | Race 1 | 2013-02-21 | 5 |
| Women's Slalom Sitting | | Race 1 | 2013-02-24 | 2 |
| Women's Super-Combined Sitting | | Race 1 | 2013-02-25 | 4 |
| Women's Giant Slalom Sitting | | Race 1 | 2013-02-26 | 9999 |
2015 IPC Alpine Skiing World Championships Panorama (Panorama, Canada)

| Event | Medal | Unit | Date | Rank |
| --- | --- | --- | --- | --- |
| Women's Super-G Sitting | | Race 1 | 2015-03-05 | 9999 |
| Women's Super-Combined Sitting | | Race 1 | 2015-03-07 | 5 |
| Women's Giant Slalom Sitting | | Race 1 | 2015-03-08 | 4 |
| Women's Slalom Sitting | | Race 1 | 2015-03-10 | 3 |
2017 IPC Alpine skiing World Championships Tarvisio, ITA (Tarvisio, Italy)

| Event | Medal | Unit | Date | Rank |
| --- | --- | --- | --- | --- |
| Women's Downhill Sitting | | Race 1 | 2017-01-25 | 4 |
| Women's Super-G Sitting | | Race 1 | 2017-01-26 | 6 |
| Women's Super-Combined Sitting | | Race 1 | 2017-01-28 | 3 |
| Women's Giant Slalom Sitting | | Race 1 | 2017-01-30 | 4 |
| Women's Slalom Sitting | | Race 1 | 2017-01-31 | 2 |
Kranjska Gora/Sella Nevea 2019 World Para Alpine Skiing Championships (Kranjska Gora/Sella Nevea, Slovenia)

| Event | Medal | Unit | Date | Rank |
| --- | --- | --- | --- | --- |
| Women's Giant Slalom Sitting | | Race 1 | 2019-01-22 | 3 |
| Women's Slalom Sitting | | Race 1 | 2019-01-24 | 1 |
| Women's Downhill Sitting | | Race 1 | 2019-01-30 | 2 |
| Women's Super-G Sitting | | Race 1 (from SC) | 2019-01-31 | 4 |
| Women's Super-Combined Sitting | | Race 1 | 2019-01-31 | 3 |