Imagen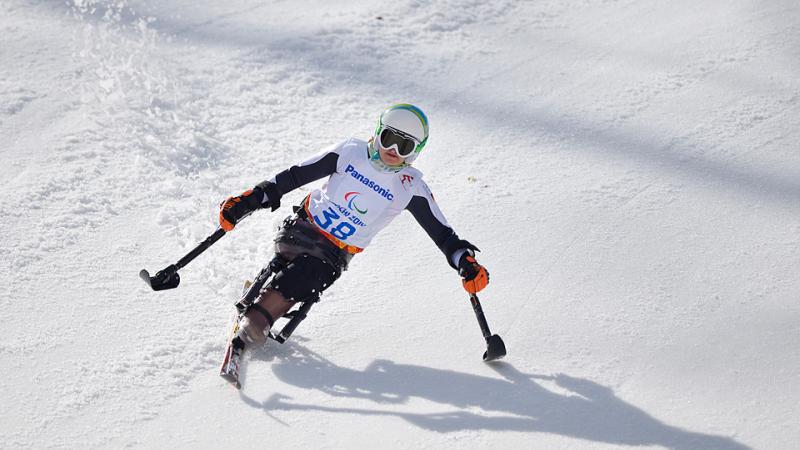 Anna-Lena Forster
Alpine Skiing
Only the very bravest of athletes would try to come in between the long-standing rivalry of two of the world's best women's sit alpine skiers.
But that is exactly what Anna-Lena Forster did at Sochi 2014, successfully elbowing her way onto the podium three times alongside multiple Paralympic and world champions Austria's Claudia Loesch and Germany's Anna Schaffelhuber.
Forster take another step forward four years later as she topped the podium in the women´s slalom and super-combined sitting events.
Born with her impairment, Forster made her international debut in 2012 having taken up alpine skiing at the age of six.
Forster has multiple World and Europa Cup podiums under her belt and has built herself a formidable reputation of being able to pull out her best performances when it matters most.
The 2015-16 season saw Forster break into the World Cup top three for the first time. Not only did she win the slalom, super-G and downhill globes, the German sent a clear message that she had arrived by claiming the overall women's sitting World Cup.
Forster was able to come between Schaffelhuber and Loesch again at the 2017 World Championships, claiming silver in the slalom to sit between the pair on the podium. She also maintained her World Cup form, finishing in the top three in slalom, giant slalom and super combined and third in the overall women's sitting rankings.
In 2017/2018, Forster ended in second place in the overall World Cup standings.
Results
IPC Alpine Skiing World Championships (La Molina, Spain)

| Event | Medal | Unit | Date | Rank |
| --- | --- | --- | --- | --- |
| Women's Super-G Sitting | | Race 1 | 2013-02-21 | 5 |
| Women's Slalom Sitting | | Race 1 | 2013-02-24 | 2 |
| Women's Super-Combined Sitting | | Race 1 | 2013-02-25 | 4 |
| Women's Giant Slalom Sitting | | Race 1 | 2013-02-26 | 9999 |
2015 IPC Alpine Skiing World Championships Panorama (Panorama, Canada)

| Event | Medal | Unit | Date | Rank |
| --- | --- | --- | --- | --- |
| Women's Super-G Sitting | | Race 1 | 2015-03-05 | 9999 |
| Women's Super-Combined Sitting | | Race 1 | 2015-03-07 | 5 |
| Women's Giant Slalom Sitting | | Race 1 | 2015-03-08 | 4 |
| Women's Slalom Sitting | | Race 1 | 2015-03-10 | 3 |
2017 IPC Alpine skiing World Championships Tarvisio, ITA (Tarvisio, Italy)

| Event | Medal | Unit | Date | Rank |
| --- | --- | --- | --- | --- |
| Women's Downhill Sitting | | Race 1 | 2017-01-25 | 4 |
| Women's Super-G Sitting | | Race 1 | 2017-01-26 | 6 |
| Women's Super-Combined Sitting | | Race 1 | 2017-01-28 | 3 |
| Women's Giant Slalom Sitting | | Race 1 | 2017-01-30 | 4 |
| Women's Slalom Sitting | | Race 1 | 2017-01-31 | 2 |
Kranjska Gora/Sella Nevea 2019 World Para Alpine Skiing Championships (Kranjska Gora/Sella Nevea, Slovenia)

| Event | Medal | Unit | Date | Rank |
| --- | --- | --- | --- | --- |
| Women's Giant Slalom Sitting | | Race 1 | 2019-01-22 | 3 |
| Women's Slalom Sitting | | Race 1 | 2019-01-24 | 1 |
| Women's Downhill Sitting | | Race 1 | 2019-01-30 | 2 |
| Women's Super-Combined Sitting | | Race 1 | 2019-01-31 | 3 |
| Women's Super-G Sitting | | Race 1 (from SC) | 2019-01-31 | 4 |
Lillehammer 2021 World Para Snow Sports Championships (Lillehammer, Norway)

| Event | Medal | Unit | Date | Rank |
| --- | --- | --- | --- | --- |
| Women's Downhill Sitting | | Race 1 | 2022-01-14 | 1 |
| Women's Super-G Sitting | | Race 1 | 2022-01-15 | 1 |
| Women's Super-Combined Sitting | | Race 1 | 2022-01-17 | 1 |
| Women's Super-G Sitting | | Race 1 (from SC) | 2022-01-17 | 1 |
| Women's Giant Slalom Sitting | | Race 1 | 2022-01-20 | 9999 |
| Women's Slalom Sitting | | Race 1 | 2022-01-22 | 1 |