Imagen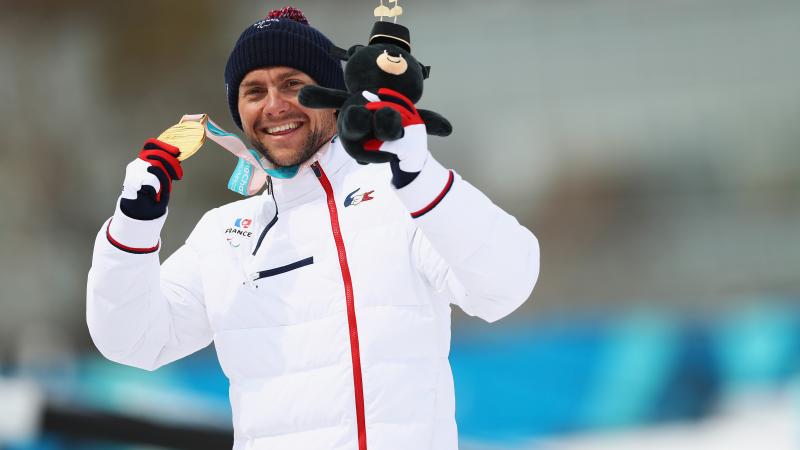 Benjamin Daviet
Nordic Skiing
Since winning his first major international medal at Sochi 2014, France's Benjamin Daviet has been on an upward curve in the men's Nordic skiing standing category.
Most recently, he won five golds across biathlon and cross-country events at the first two World Cups of the 2018/19 season.
Daviet has firmly placed among the best skiers in the world for two years now.
In 2018, he enjoyed the best performance of his life by winning two golds and one silver in biathlon, and one gold and one silver in cross-country at the Paralympic Winter Games in PyeongChang, South Korea.
One year before, an incredible performance saw him leave with three world titles - two from cross-country and one in biathlon – from Finsterau, Germany. He also won the men's biathlon standing World Cup.
While working as a plumber during the summer months and as a mechanic on cable cars during the winter, Daviet lives the other side of his life training hard on the trails.
He has been on the French team since 2011 and just three years later he reached his first World Cup podiums right before his appearance in Sochi.
His first World Championships podiums came in 2015 where he reached the top three four times, including gold in the relay.
The following season he rose to second and third in the cross-country skiing and biathlon overall rankings respectively.
Results
IPC Nordic Skiing World Championships Solleftea (Solleftea, Sweden)

| Event | Medal | Unit | Date | Rank |
| --- | --- | --- | --- | --- |
| Men's Sprint - Classic Standing | | Final | 2013-02-25 | 7 |
| Men's Long Distance - Free Style Standing | | Final | 2013-02-27 | 9999 |
| Men's Short Distance Standing | | Final | 2013-02-28 | 14 |
| Men's Middle Distance Standing | | Final | 2013-03-01 | 10 |
| Men's Middle Distance - Classic Standing | | Final | 2013-03-05 | 5 |
2015 IPC Nordic Skiing World Championships Cable (Cable, United States of America)

| Event | Medal | Unit | Date | Rank |
| --- | --- | --- | --- | --- |
| Men's Short Distance Standing | | Race 1 | 2015-01-24 | 2 |
| Men's Long Distance - Free Style Standing | | Race 1 | 2015-01-25 | 2 |
| Men's Sprint - Classic Standing | | Race 1 | 2015-01-28 | 2 |
| Men's Long Distance Standing | | Race 1 | 2015-01-30 | 3 |
| Open Relay | | Final | 2015-02-01 | 1 |
2017 IPC Nordic skiing World Championships Finsterau, GER (Finsterau, Germany)

| Event | Medal | Unit | Date | Rank |
| --- | --- | --- | --- | --- |
| Men's Middle Distance Standing | | Final | 2017-02-11 | 2 |
| Men's Long Distance Standing | | Final | 2017-02-14 | 1 |
| Open Relay | | Final | 2017-02-15 | 1 |
| Men's Sprint Standing | | Final | 2017-02-18 | 3 |
| Men's Middle Distance - Free Style Standing | | Final | 2017-02-19 | 1 |
Prince George 2019 World Para Nordic Skiing Championships (Prince George, Canada)

| Event | Medal | Unit | Date | Rank |
| --- | --- | --- | --- | --- |
| Men's Middle Distance Standing | | Final | 2019-02-16 | 1 |
| Men's Middle Distance - Free Style Standing | | Final | 2019-02-17 | 1 |
| Men's Sprint - Free Style Standing | | Final | 2019-02-18 | 1 |
| Men's Sprint Standing | | Final | 2019-02-20 | 1 |
| Men's Long Distance Standing | | Final | 2019-02-21 | 1 |
| Open Relay | | Final | 2019-02-23 | 2 |
| Men's Long Distance - Classic Standing | | Final | 2019-02-24 | 5 |
Lillehammer 2021 World Para Snow Sports Championships (Lillehammer, Norway)

| Event | Medal | Unit | Date | Rank |
| --- | --- | --- | --- | --- |
| Men's Middle Distance - Classic Standing | | Final | 2022-01-13 | 8 |
| Men's Sprint Standing | | Final | 2022-01-15 | 5 |
| Men's Middle Distance Standing | | Final | 2022-01-16 | 3 |
| Men's Long Distance - Free Style Standing | | Final | 2022-01-18 | 5 |
| Men's Long Distance Standing | | Final | 2022-01-20 | 3 |
| Men's Sprint - Classic Standing | | Final | 2022-01-22 | 8 |
| Open Relay | | Final | 2022-01-23 | 2 |